This viral TikTok blow dry hack achieves the Dyson Airwrap look in five minutes
This TikTok blow dry trick is the dream shortcut to flicky hair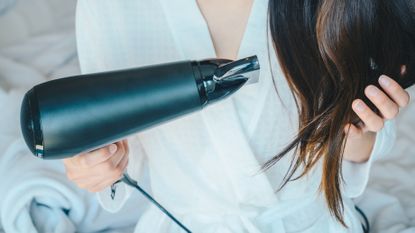 (Image credit: Getty Images)
A genius TikTok blow dry hack that beauty fans are saying provides the look of hair styled by the pricey Dyson Airwrap has gone viral.
When it comes to hair, nailing the ultimate blow out can be tough. You can be the proud owner of one of the best hair dryers on the beauty market and have a huge stash of must-have hair products and STILL struggle with co-ordinating your round brush and dryer for the ultimate blow dry.
That's why when the Dyson Airwrap came along, those obsessed with a voluminous and bouncy look, created by going from damp to styled hair in minutes (as long as you know how to use the Dyson Airwrap) gave it a rep as one of the most iconic additions to the hair game, ever.
But with a hefty price tag of £450 ($550), the Dyson Airwrap is one of the priciest stylers out there.
So there's no wondering why a TikTok video, demonstrating a hack that commenters are saying gives the same results as the Dyson Airwrap round brush attachment, has gone viral.
If 'work smarter, not harder' is your motto when it comes to styling your locks, this one's for you.
The five-minute trick for drying hair with that sought-after, subtle bounce at the end has racked up over 600 thousand likes and seven million views on TikTok so far.
The clip, shared by user @yazblends, shows how simply twisting strands of hair while drying them with a hot heat and leaving them to set can result in salon-worthy finish.
"Split hair into two sections and twist away from face," the text accompanying the video reads.
"Make sure your blow dryer is on hot, then let it sit for one to two minutes," the tutorial continues.
The comment section beneath the clip is flooded with mind-blown TikTok users, in shock that they'd never encountered this Dyson Airwrap dupe before.
"Wow, this looks similar to the Dyson Air Wrap but doesn't cost $600," one wrote.
"I've been wasting so much time curling with a round brush," another chipped in.
A third piped up to vouch for the hack, vowing that it's effective, writing, "I used to do my hair like this for years and I promise it lasts."
One more recommended giving tresses a final spritz with hairspray to help the style stay in place, typing, "Extra hot tip, put hairspray on while it's still twisted."