This $5 product will give you a dramatic 'false lash' look and it literally takes 30 seconds
Get longer lashes instantly with this $5 product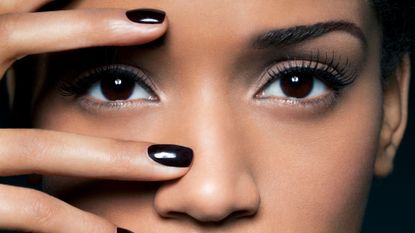 (Image credit: Getty Images)
A professional makeup artist has revealed her bargain trick for getting super-long 'false-lash' effect lashes and we're obsessed.
Let's face it - we all want longer lashes. You can apply eyelash growth serums, or buy the best mascara, but sometimes your efforts to get long and full lashes still don't cut it. TikTok, however, has yet again come to the rescue with a trending hack about how to get that coveted false lash effect - without the hassle of actually applying fake lashes.
Makeup artist Erin Parsons (who has almost 2 million followers, we might add) revealed the lash trick she's been doing for years on her celebrity clients for Maybelline.
Erin notes in her TikTok that, when she works as a makeup artist on Maybelline's campaigns, she's not allowed to use false lashes on the models - so she's had to develop a method to get the lashes as thick and long as possible without adding in a sneaky lash strip or two.
She uses her own lashes, which she notes are pretty straight, in her TikTok to demonstrate the method.
First, she starts with an eyelash curler to get the lashes primed. She says that, even if you have naturally curly lashes, it's beneficial to use a curler just to get your lashes lifted a little more than they regularly would be.
After adding a little eyeliner, go in with your mascara wand and apply two coats, as you usually would. Erin says she prefers waterproof, but ultimately your choice of mascara doesn't matter too much, as the pièce de résistance step of this makeup hack comes next.
Erin says that the trick for making this hack work is finishing off with an eyelash comb, which helps to separate your lashes, helping them appear thicker and fuller. "I go in and physically separate each lash," she says in the video. Eyelash combs are about to become one of the new makeup bag must-haves for us after watching this video and rarely cost more than $5 (£4).
---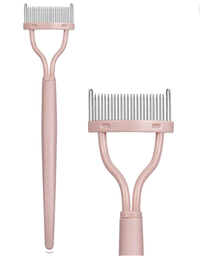 Eyelash Comb, Acavado Eyelashes Mascara Separator Tool Lash Comb with Metal Teeth, $4.99 (£4) | Amazon
The perfect tool for separating lashes after mascara to get rid of a clumpy look, making your lashes look much fuller and thicker.
She says you can keep repeating the mascara and comb-through process until you achieve the lash look you desire.
When the process is over, you can see a noticeable difference in Erin's lashes - and they definitely look more like falsies.
Madeline Merinuk is woman&home's US lifestyle news writer. She covers celebrity, entertainment, fashion, and beauty news but is also obsessed with internet trends - you can find her reciting trending TikTok sounds out loud at any given time.
After winning multiple student journalism awards for her investigative work, she graduated from Hofstra University in 2021 with a B.A. in Journalism. After graduating, she worked at today.com, the digital site for the Today Show, where she wrote pop culture news and interviewed big-name personalities like Emily Ratajkowski, Haley Lu Richardson, Emma Corrin, and more.
Her personal interests, in no particular order, are: cheese, Joni Mitchell, reading, hot yoga, traveling, having multiple chapsticks in every handbag at all times, and dancing to ABBA songs as if she were in the Mamma Mia movies.