Sarah Jessica Parker's secret to radiant skin is actually surprisingly simple
Sarah Jessica Parker opens up about managing her beauty routine, as well as the tips and tricks she's learned over the years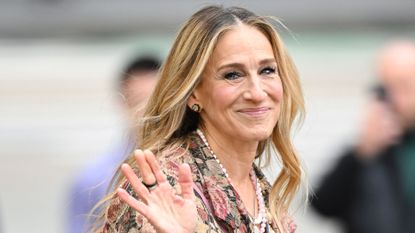 (Image credit: Getty Images)
Sarah Jessica Parker gets candid about her beauty routine as she reveals her surprisingly simple skincare routine.
If there's one person we're going to take skincare advice from, it's none other than Carrie Bradshaw herself - aka, Sarah Jessica Parker. The actress recently opened up to Vogue France (opens in new tab) about all things beauty amid the announcement of her being appointed a RoC ambassador, and she had some pretty valuable nuggets of wisdom.
Upon being asked about her amazing skin, SJP admitted it's mostly down to vitamins and a good diet but also mused that she has super sensitive skin, so she doesn't test out a lot of new products on a frequent basis. "I actually don't test a lot of skincare products... I don't waste time changing or adding to my routine. In fact, I sometimes get overwhelmed by products with too many instructions and steps!" she says.
The actor says that the best thing to do with skincare, contrary to popular belief from product consumers on TikTok, is to keep it simple. "For me, simplicity has always been the key. I have sensitive skin so if I find a product that suits me, I use it for a long time," she says.
She also notes that she was told a long time ago to never pick at blemishes or imperfections. "A wise man once told me never to pick at blemishes and imperfections, to leave them alone, and use a topical product, not your fingers, to clear them up. I've stuck to that advice ever since," she recalls.
Since SJP is often wearing a lot of makeup on set, she explains that she doesn't like to wear much makeup when she's not working. "So I don't wear much make-up unless I have to. There are two reasons for this. Firstly, because I'm often wearing make-up for months and months on end on set, sometimes as much as 16 to 18 hours a day," she says.
She's likely referring to the many hours she's been spending on set recently, filming the second season of the Sex and the City reboot, And Just Like That (which Kim Cattrall threw some shade at last year after she announced she would not be appearing in the reboot).
SJP also says that not wearing makeup simply feels more comfortable. "The second reason is that I feel much more like myself when I'm not wearing makeup," she says.
While we admire her standpoint on not wearing makeup (it really is the best feeling sometimes!), we also love what she has to say about how she perceives aging. For starters, she says she doesn't think that much about her age (which is 57), and doesn't see it as something to stress about.
"I don't see the point of trying to suspend time. Of course, I do care about my appearance from time to time and I do want to look presentable when it's appropriate," she says, giving a relatable message to women everywhere. "But in any case, I really can't do much about what people think of my appearance."
Recently, And Just Like That season two began filming, and we've already seen some amazing behind the scenes sartorial looks from Carrie - as well as a striking photo of her and ex-lover Aidan holding hands while walking the streets of NYC. We couldn't help but wonder... are they getting back together for season 2? Only time will tell.
Madeline Merinuk is woman&home's US lifestyle news writer. She covers celebrity, entertainment, fashion, and beauty news but is also obsessed with internet trends - you can find her reciting trending TikTok sounds out loud at any given time.
After winning multiple student journalism awards for her investigative work, she graduated from Hofstra University in 2021 with a B.A. in Journalism. After graduating, she worked at today.com, the digital site for the Today Show, where she wrote pop culture news and interviewed big-name personalities like Emily Ratajkowski, Haley Lu Richardson, Emma Corrin, and more.
Her personal interests, in no particular order, are: cheese, Joni Mitchell, reading, hot yoga, traveling, having multiple chapsticks in every handbag at all times, and dancing to ABBA songs as if she were in the Mamma Mia movies.