Dior has launched a luxury suncare line and it smells *DIVINE*
The luxury brand has recently ventured into the world of SPF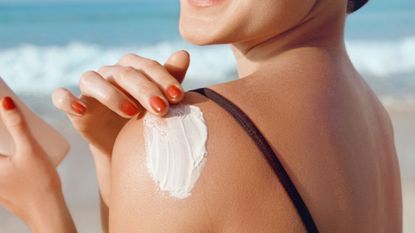 (Image credit: Getty Images)
Dior recently launched a new SPF line called Dior Solar - and we're adding it to our carts immediately.
We all know that SPF is the most important ingredient you can use to protect the skin on your face and body, especially during the summer months when the sun's rays are at their strongest. Plus, it's important to care for your skin after you're in the sun, too, giving your body those hydrating nutrients it so desperately needs after a day of sun exposure. Needless to say, wearing one of the best facial sunscreens is an absolute summer skincare must.
Luxury fashion and makeup brand Dior knows this - which is why they just released their new suncare line, Dior Solar. This collection features three new products, a body oil, a self-tanner, and an after-sun balm.
The Sublimating Oil boasts a hydrating and glowy formula that, when applied, will make your skin and hair glisten - especially if you already have been laying in the sun.
"Dior Solar The Sublimating Oil is a sparkling dry oil for face, body, and hair that enhances them all year round with the characteristic glow of a warm, sunny summer," Dior's description of the product reads.
After application, the oil embellishes the skin with a radiant glow thanks to its pearly, sparkling texture so the skin is noticeably more beautiful and the tan is enhanced with each application.
---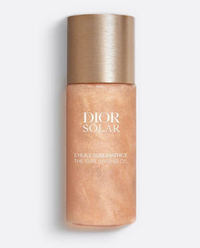 DIOR SOLAR THE SUBLIMATING OIL, $70 (£48) | Dior
This sumptuous Dior oil is formulated with 95%* natural-origin ingredients and offers a highly appealing texture that spreads over the skin with a pleasant monoi fragrance.
The Self-Tanning Gel does exactly what the name denotes. The gel's self-tanning action is gradual, for a natural look so skin feels revitalized with a luminous, satiny glow. The tanning intensity varies depending on the number of times the product is applied to the skin, meaning you can build up to the color you want to achieve gradually.
---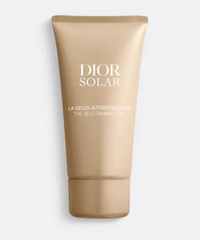 DIOR SOLAR THE SELF-TANNING GEL, $52 (£37) | Dior
Dior Solar The Self-Tanning Gel is a gradual self-tanner for the face, leaving an even tan and a natural finish.
But it's the After-Sun Balm that we're totally obsessed with! Formulated to hydrate the skin after prolonged sun exposure - which is crucial for skin that is burnt or healing.
It has a fresh and calming texture that immediately reduces feelings of skin discomfort but its monoi fragrance is absolutely to die for, it's summer in a bottle!
---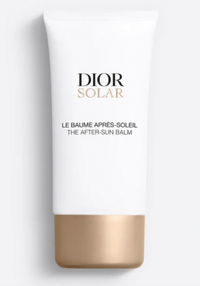 DIOR SOLAR THE AFTER-SUN BALM, $52 (£37) | Dior
The After-Sun Balm is a refreshing face and body balm with a light, melting texture. Composed of 94%* natural-origin ingredients, this balm soothes and intensely hydrates skin after sun exposure, while maintaining tanning.
The new products are all formulated with upward of 90% natural ingredients - making them great for those who are trying to stick to products with natural components.
Madeline Merinuk is woman&home's US lifestyle news writer. She covers celebrity, entertainment, fashion, and beauty news but is also obsessed with internet trends - you can find her reciting trending TikTok sounds out loud at any given time.
After winning multiple student journalism awards for her investigative work, she graduated from Hofstra University in 2021 with a B.A. in Journalism. After graduating, she worked at today.com, the digital site for the Today Show, where she wrote pop culture news and interviewed big-name personalities like Emily Ratajkowski, Haley Lu Richardson, Emma Corrin, and more.
Her personal interests, in no particular order, are: cheese, Joni Mitchell, reading, hot yoga, traveling, having multiple chapsticks in every handbag at all times, and dancing to ABBA songs as if she were in the Mamma Mia movies.