Did you spot what's wrong with Kirsten Stewart's hair as she plays Princess Diana in new Spencer film?
Avid fans are voicing concern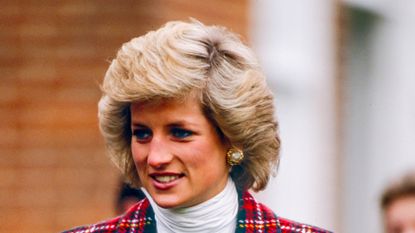 (Image credit: Julian Parker /Getty Images)
If you're suffering from withdrawal symptoms after watching The Crown, new film Spencer, which depicts three momentous days in the life of Princess Diana should fill that void. But what has caused an unexpected storm of publicity around the film is Kirsten Stewart's hair as she plays Princess Diana.
A teaser photo has been shared by production company Neon, in which Stewart is wearing a tartan jacket, a cream roll-neck and large 80s-style pearl earrings.
While many fans say the resemblance between Stewart and Princess Diana is uncanny, others have been quick to point out an issue with the 30-year-old actress's hair.
More from woman&home.com:
It's believed that the look Stewart is recreating in the image is of Diana when she visited Portsmouth in 1989. And while the outfit is almost identical and the creamy blonde highlights are spot on, eagle-eyed fans say her coiffed blonde bob is too long and lacks Diana's signature feathered layers.
One comment on @neonrated's Instagram feed reads: 'She needs a better 80's feather to her hair, and it needs to be fuller, bigger, it's too flat.'
It seems the new photo has also sparked a heated conversation around whether a British actress should have been used to play Princess Diana and even the replica of her sapphire engagement ring has come under scrutiny.
'Looking forward to this movie! Love Princess Diana. However, her ring is so iconic. A 12 ct sapphire surrounded by 14 diamonds on a single band. This ring is wrong. Hers didn't have a triple split shank,' noted one Instagram user.
Despite the latest furore, this publicity snap has whet our appetite for the movie, which is set to be released later this year.
Autumn looks like it's going to be an incredible season for films that pay homage to iconic public figures. As well as Spencer, we can also look forward to Lady Gaga's portrayal of Patricia Reggiani, the ex-wife of Maurizio Gucci in the House of Gucci. Netflix who?
Fiona Embleton is a beauty writer who is now Acting Beauty Editor at Stylist. She is obsessed with Isabel Marant and cats.