Why the new CeraVe Foot Cream will save your soles this winter
It's another essential launch from the drugstore skincare brand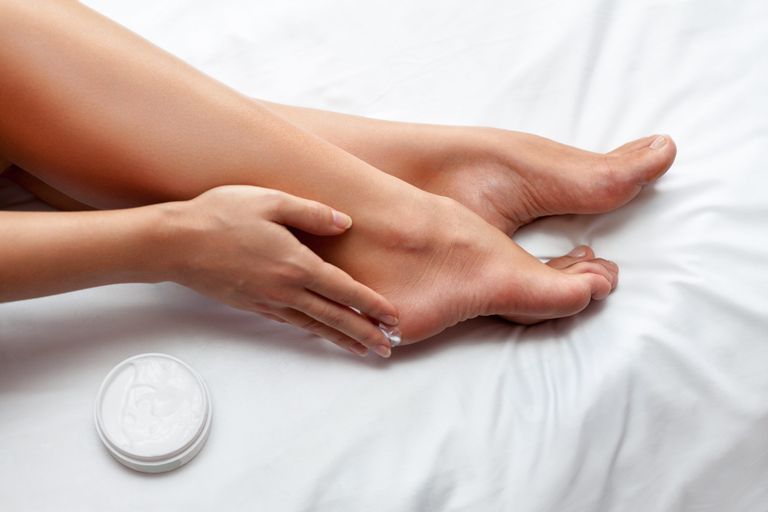 (Image credit: Getty Images/iStockphoto)
Real talk: How much foot maintenance do you usually do over the winter months?
No judgement, let me share some truths with you. I may have spent this summer merrily performing home pedicures, DIY facials and gels nails at home but my zeal for preening is definitely tailing off.
I'm also a firm believer that our compensation for long, dark, drizzly days is the opportunity to slack off a bit in the grooming department. And seeing as my feet won't see the light of day until March lest I lose a toe, they're first in line for this wilful neglect. So why am I talking to you about the new Cerave Foot Cream then?
Because, this new launch from the people that brought you my favourite budget hydrating cleanser is the ultimate slacker's elixir. CeraVe SA Renewing Foot Cream, to use it's full name, demands so little of you and yet gives so much. With about 20 seconds of your time and zero elbow grease it's possible to keep your feet ticking over nicely 'till spring.
View CeraVe SA Renewing Foot Cream, £8.50, Lookfantastic.com
What's in CeraVe SA Renewing Foot Cream?
If you're familiar with this brand's much-loved SA Smoothing Cream for face and body you'll know that SA stands for salicylic acid. This beta hydroxy acid (BHA) is an excellent exfoliant that helps soften the skin and gently dissolve the substance that holds old cells together. This makes it easier to shed dry, dead skin. This foot cream contains a pretty high dose of salicylic, 2% to be precise. That dose is more than you would find in your average BHA facial cream but is ideal for your hardy old feet.
The formula also contains urea, an unsexy sounding but very effective moisture-binding ingredient, usually found in hardcore foot and hand creams with names like 'Gardeners Choice'. As with all the brand's products, CeraVe Foot Cream contains ceramides to replenish the skin barrier and help it retain moisture, plus it also packs in rich nourisher glycerin.
How do I use it?
This is the best bit! Keep it on your bedside table and smother a bit on before bed. That's it. You'll wake up with slightly softer skin and a smug sense of keeping up standards.
If you manage to use it a couple of times a week throughout the winter, it will make all the difference to what you're faced with come spring. Less build-up, fewer heel cracks, and generally less unloved-looking tootsies. Not bad forsomething that takes basically no time or effort and doesn't require you to sit around with freezing feet for half an hour.
Anyway, don't take my word for it. Listen to an actual foot doctor instead.
"One of the most common foot conditions I see in practice are heel fissures," explains Consultant Podiatrist, Ghazaleh Rahimi. "Also known as calluses with cracks, which occurs commonly during winter months, due to indoor heating and hard water."
"This is a common condition for some in winter months and requires daily routine to keep skin well moisturised and to prevent further damage.CeraVe's SA Renewing Foot Cream offers the complete solution to ensure that your feet are healthy and hydrated."
If only there was an equivalent 20-second solution for winter body hair neglect.
CeraVe, I'm counting on you...
As woman&home's Senior Beauty Editor, Fiona Mckim has tried more products than she's had hot dinners and nothing makes her happier than raving about a brilliant beauty find on womanandhome.com or her instagram grid (@fionamckim if you like hair dye experiments and cute shih-tzus)

Fiona joined woman&home as Assistant Beauty Editor in 2013, working under legend Jo GB, who taught her everything she needed to know about the industry (clue: learn about ingredients and employ extreme cynicism).
In a previous life, Fiona studied journalism back home in bonnie Scotland and honed her skills as a magazine features writer, with a brief and terrifying stint on the showbiz gossip pages of a tabloid newspaper in between. She's a skincare fanatic who can't resist adding an extra step to her routine if it's all the rage in Japan, loves fragrance, has fun with makeup and never turns down the chance to test a new hair tool. Basically, she loves it all.

When not slathering herself in self tan or squinting at a tiny ingredients list on a moisturiser, you'll probably find Fiona enjoying something to do with food - cooking it, eating it, cajoling her friends into trekking across London to try a hyped pop-up in a dirty car park.