Meet the best Black Friday bedding deals—from Brooklinen, The White Company, and more
Sleep better with these Black Friday bedding deals across retailers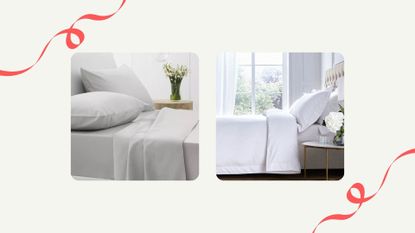 (Image credit: Future)
Cozy up to these Black Friday bedding deals, with bargains on fitted sheets, duvets, pillowcases, and more.
When it comes to bedroom upgrades, we never recommend cutting back on bedding. After all, the comfier the bedding, the better night's sleep you'll get. Of course, we're not only talking about sheets, there are pillowcases, duvets, mattress protectors, and other accessories to consider.
Fortunately, the best Black Friday bedding deals have arrived—and the selection is endless, from value bundles to weighted blankets. These steals hail from leading brands, like Brooklinen, that normally offer discounts every once in a while. So, snap them up quickly, as there's no knowing how long they'll be around.
Where to find the best Black Friday bedding deals in the U.S.
Our pick of the best Black Friday bedding deals in the U.S.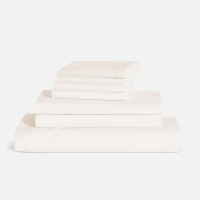 (opens in new tab)
Brooklinen Luxe Hardcore Sheet Bundle: From $240 $192 (save up to $66) (opens in new tab) | Brooklinen
The dubbed internet-favorite brand is presenting its lowest prices of the year, even on the Luxe Sateen Sheets. Made of 480-thread count cotton, this best-selling bundle includes flat and fitted sheets, one duvet cover, and four pillowcases. Each inclusion is buttery-soft, hardwearing, and OEKO-TEX® certified for chemical safety.
(opens in new tab)
Casper Comfy Bundle: From $239 $191.20 (save up to $67.80) (opens in new tab) | Casper
Every best mattress should be accompanied by a hardwearing bedding set. Cue: The top-rated Comfy Bundle, which houses the Original Casper pillow and Percale Sheet set, crafted from organic cotton and a breathable weaved fabric. Each inclusion is plush, crisp, and sweat-wicking.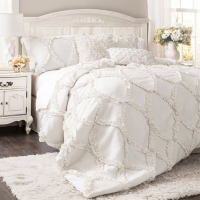 (opens in new tab)
Erion Microfiber Traditional 3 Piece Comforter Set: $409 $69.49 (save $339.51) (opens in new tab) | Wayfair
Score 83% off this ultra-luxe comforter set, available in four solid neutral hues and multiple sizes. Depending on your order, the bundle comes with a comforter, two shams, and an accent pillow. Regardless. this ruffled trellis design elevates any room across themes, from modern farmhouse to French Country.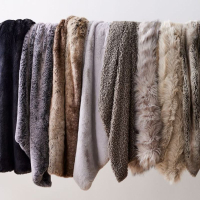 (opens in new tab)
Faux Fur Throws: From $100 $50 (save up to $85) (opens in new tab) | West Elm
Ring in the snowy season with a cozy faux-fur throw, now 50% off at West Elm. Available in various colors and sizes, this blanket is made from silky-soft fibers. Aside from being a plush companion, it layers nicely on beds, sofas, and chairs as a decorative piece.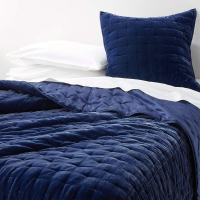 (opens in new tab)
Audra Velvet Navy Bed Linens: From $249.95 $74.97 (save up to $199.98) (opens in new tab) | Crate & Barrel
Audra bedding is sumptuous, silky, and versatile, coming in a mix of hues. And now, this luxury linen is under $100. It's normally an expensive buy, so act fast. Plus, stocks are flying off the shelves.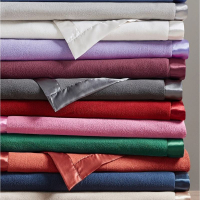 (opens in new tab)
Martha Stewart Collection Soft Fleece Blanket: From $50 $15 (save up to $53) (opens in new tab) | Macy's
Now's the perfect time to scoop up this top-rated blanket (along with the best mattress deals, of course!). This fleece blanket is offered in a range of lush colors and sizes, meaning there's something for everyone.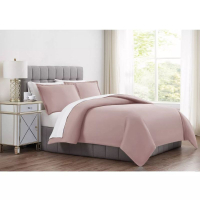 (opens in new tab)
Charisma Duvet & Sham Set: From $69.98 $41.98 (save up to 40) (opens in new tab) | Target
Made of cotton and polyester sateen fabric, this set bundles a sham and duvet with corner ties and button closure. The set also includes antimicrobial properties for a cleaner sleep. Bag it for under $100, limited-time-only.
Where to find the best Black Friday bedding deals in the UK
Our pick of the best Black Friday bedding deals in the UK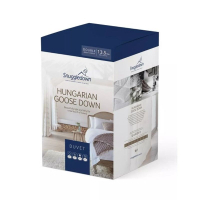 (opens in new tab)
Snuggledown Hungarian Goose Down Duvet: From £237 £142 (save up to £170) (opens in new tab) | Debenhams
Score 40% off on this cult-classic duvet before it's too late. The duvet is made of 300-thread count cotton, jacquard fabric, and Hungarian goose down, its most notable feature. Hungarian goose down is a breathable, soft, and lightweight filling that ensures a better night's rest.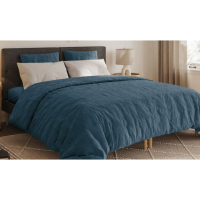 (opens in new tab)
Washed Linen Set: From £259 £142.45 (save up to £125.55) (opens in new tab) | Emma Sleep
Save over £100 on this washed linen set, including a duvet cover, fitted sheet, and pillowcase for one price. (You can order up to 10 of each!) This bundle is sweat-wicking to regulate temperature and comes with a 30-day trial. Don't forget to explore our pick of the best Emma mattress sales.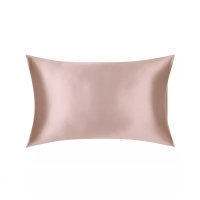 (opens in new tab)
The Ultimate Collection Silk Standard Pillowcase: £45 £36 (save £9) (opens in new tab) | John Lewis
If you love Slipsilk but recoil at the price range, you've come to the right place. This luxury silk pillowcase is now 20% off at John Lewis, coming in many colors to suit your bedroom. It's smooth, breathable, and hypoallergenic, crafted from Mulberry silk for quality assurance. What's more, silk bed linen maintains skin and hair's moisture levels overnight. Begone, wrinkles and hair static—now all you need is the best pillow money can buy.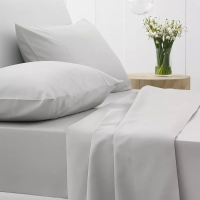 (opens in new tab)
Sheridan Fitted Sheet: From £55 £27 (save up to £42.50) (opens in new tab) | Debenhams
Crafted from plush cotton yarn and a sateen weave, this set comforts and supports sleepers in every position. It's offered in solid hues that can easily be mixed and matched with other pieces. Best of all, it's currently half off.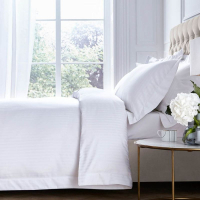 (opens in new tab)
Pimlico Bed Linen Collection: From £55 £22 (save up to £33) (opens in new tab) | Dusk
This assembly embodies the four Cs: classic, crisp, clean, and currently on sale for 60% off the original price. It's soft to the touch, wrapping the skin in luxurious cotton and 800-thread count.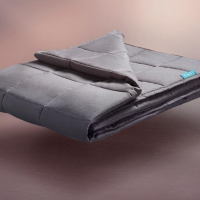 (opens in new tab)
Orbit Weighted Blanket: £169 £84.50 (save £84.50) (opens in new tab) | Simba Sleep
Drift off in plush luxury, courtesy of the Orbit Weighted Blanket. Compared to traditional options, weighted blankets are scientifically proven to aid sleep and reduce stress—the greatest savings of all. For more discounts, check out our roundup of the best Simba mattress sales.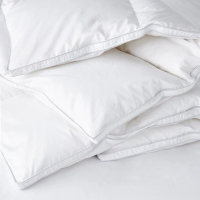 (opens in new tab)
Canadian Goose Down Duvet: From £550 £440 (save up £195) (opens in new tab) | The White Company
Encased in cotton sateen, this duvet is luxurious, cozy, and supremely large. It's ideal for all seasons, with a lightweight feel that doesn't skimp in warmth. Shoppers say it's worth every penny.
Is Black Friday the best time to shop bedding deals?
Though Black Friday makes a compelling case to shop bargains, it's not the only time to save. Shoppers can expect steep price cuts during major shopping holidays, such as Memorial Day, Fourth of July, President's Day, Labor Day, and Veteran's Day. Additionally, retailers frequently offer steals throughout the year—from bundles, gifts, and sitewide sales.
Black Friday bedding deals: practical shopping tips of 2021 (and beyond)
Shopping for bedding requires a unique approach, with many factors to consider. Luckily, you have us—the reliable experts. Here's how to shop smarter this Black Friday:
Seasonality: Be sure to invest in a bedding that's suitable for every season. For the balmy summer season, fitted sheets are airy and sweat-wicking. Come wintertime, you'll want more coverage with a plush throw or fleece blanket.
Temperature: Think about how you sleep. Do you sweat throughout the night? Or, do you need a mountain of blankets for warmth every night? You wouldn't stick to just sheets if you sleep cold, now would you?
Value: When in doubt, shop for sets. Bundles streamline the essentials in one place—at one price. Many come with sheets, pillowcases, duvet covers, and more. It's a no-brainer.
Room theme: Consider your current aesthetic and personal preferences. Are you into vibrant, statement pieces or want your bedding to blend in with your interior scheme?
Dominique worked as a shopping writer at Woman & Home and while with the brand she covered products, sales and deals, and market news across categories. Before joining the team, she penned stories as an editorial fellow at Insider Reviews, the affiliate commerce team at Insider Inc./Business Insider. The bespectacled NJ transplant specializes in commerce journalism, women's lifestyle content, and hoarding makeup—much to her mother's dismay.