The Queen's bird of paradise brooch is one of her favorites, but what's the history behind the fascinating piece?
The Queen wore her iconic bird of paradise brooch at the opening of the new Elizabeth line in Paddington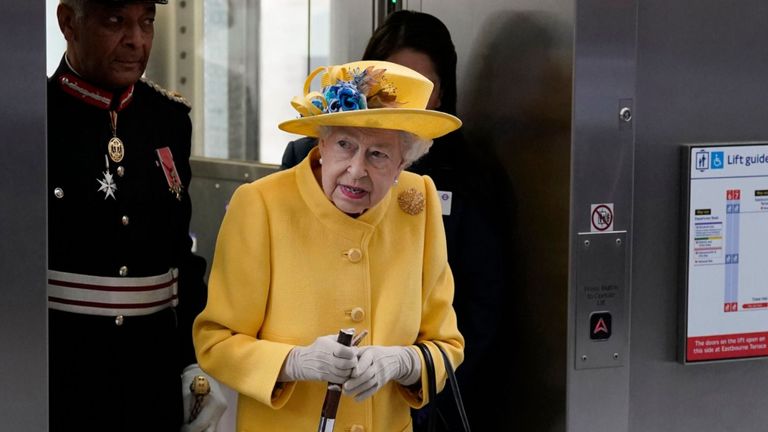 (Image credit: ANDREW MATTHEWS / Contributor / Getty Images)
The Queen looked fabulous in yellow with a bird of paradise brooch at the opening of the new Elizabeth line at Paddington Station earlier.
The Queen, who is 96, officially opened the new line earlier today.
The queen pinned a gold and diamond brooch to her yellow double-wool coat.
The Queen made a surprise appearance to celebrate the opening of a new tube line in Paddington wearing a stunning yellow hat with matching outfit. The royal added a charming sparkle of style to her ensemble by donning a bird of paradise brooch to her coat and the history behind the item, which she frequently wears to various events, is one for the books.
The stunning gold and diamond brooch was actually gifted by the government of Singapore to the Queen as a Diamond Jubilee celebration back in 2012.
Of all Queen Elizabeth's brooches, this is the only one designed in a traditional Peranakan style, which is a combination of ancient Chinese and Malay influences. The piece was made by Singapore jeweler Thomis Kwan and purchased from his stock collection without the guru's realization that it was going to be given to the Queen. The cost? $6,800.
Unsurprisingly, following reports of the gift, similar jewelry pieces sold out.
The Singaporean government's selection of this specific piece as a gift for the Queen wasn't random. In fact, the design of the brooch is meant to resemble a bird of paradise plant. Native to South Africa and introduced to Britain in 1773, the plant was actually named after one of the Queen's own ancestors: Charlotte of Mecklenburg-Strelitz.
The item is beautifully striking, made of 18-karat yellow gold, it also features a set of 61 diamonds. It is no surprise, then, that the Queen has been repeatedly spotted wearing the piece. Back in 2017, she pinned it to another yellow outfit, this one at the Epsom Derby. She then sported it in 2019 alongside an orange coat and matching hat while visiting the Science Museum in London.
Anna Rahmanan is a New York-based writer and editor who covers culture, entertainment, food, fashion and travel news. Anna's words have appeared on Time Out New York, the Huffington Post, Fortune, Forbes, Us Weekly, Bon Appetit and Brooklyn Magazine, among other outlets.