'He is hilarious!' Prince Edward surprises fans with his cake cutting skills during royal visit
Bless him!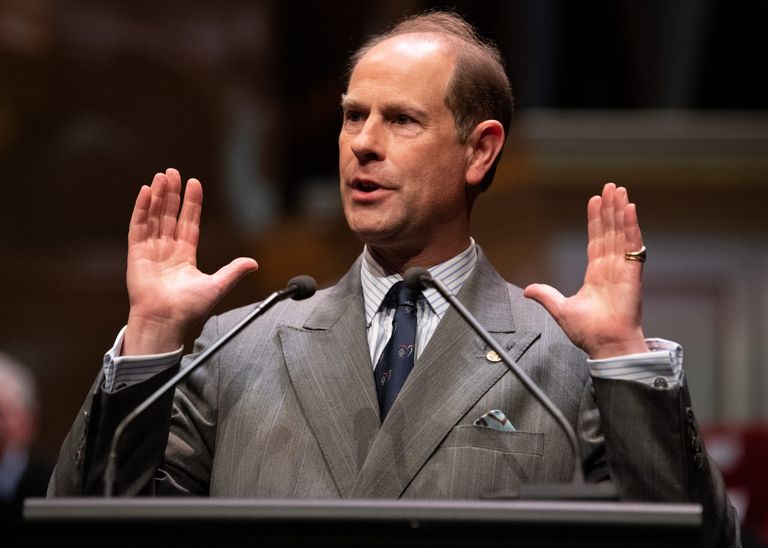 The Royal Family are used to royal engagements, often involving unveiling plaques or cutting cakes - but Prince Edward has a very unique way of doing it.
The Earl of Wessex visited Lakeland Community Care Centre for their 25th anniversary.
Fans are loving a video where he's seen enthusiastically cutting the cake at the event.
The Royal Family's official Twitter account shared a video of The Earl of Wessex's visit to the Northern Ireland care centre, writing, 'Later, it was a happy moment for members of the local community and volunteers at Lakeland Community Care Centre, as The Earl of Wessex joined them in celebrating their 25th anniversary! 🍰 #RoyalVisitNI'
The hilarious clip showed the Prince counting down with a 'ready, one, two, three', before he immediately plunges the knife into the cake and cuts it in an over exaggerated way.
Everyone seemed to love this, with members of the public cheering in the video, as well as people on Twitter responding to the video.
One fan wrote, 'Hahaha I love his cake cutting!!!!'
MORE: The Countess of Wessex wears stunning pink jumper as she visits her newest royal patronage
Another added, 'Prince Edward goes the extra mile when it comes to pro forma royal duties'
A third said, 'We don't see the Earl of Wessex enough. He is hilarious!'
During his time at the community centre, the Earl was given a tour of the garden and met with many members.
'Lakeland Community Care Centre provides care for rural Fermanagh residents and offers space for social and sport activities', reads a tweet from The Royal Family's official page.
MORE: Take a look at Bagshot Park, Prince Edward and Sophie Wessex's sprawling country home in Surrey
Earlier this year, Prince Edward celebrated his 20th wedding anniversary with The Countess of Wessex.
They married at St George's Chapel at Windsor Castle on 19th June 1999, six years after they met.
The royal couple have two children, Lady Louise Windsor and James Viscount Severn, who sometimes accompany them on various royal days out.
We love following the Wessexes, whether it's the Countess' chic style or the Earl's hilarious personality. They both know how to impress the crowds, that's for sure!