The Duchess of York opens up about cosmetic procedures she's had done ahead of her 60th birthday
The Duchess has shared her secrets to looking younger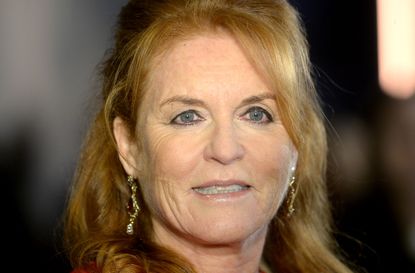 (Image credit: Getty)
With her 60th birthday just days away, the Duchess of York, Sarah Ferguson, has opened up about the cosmetic procedures she has undergone.
The Duchess of York, Sarah Ferguson, has revealed which cosmetic procedures she has had done.
The Duchess has admitted she is happy to be honest about her treatments.
Many fans of the royal have pointed out just how youthful the Duchess looks considering her age, and now she has confessed that her appearance isn't completely natural.
Opening up on how she appeared so glowy and youthful at her daughter, Princess Eugenie's wedding to Jack Brooksbank last year, she explained, "The happiness was shining out of me because my daughter was getting married. I was so glad. I love Jack. When I'm passionate about anything, my eyes shine.
"Above all, it was being joyful for Eugenie that made me look good. But I'd had some laser treatment on my face which helped, too."
Although she has previously gone under the needle for Botox "a long time ago", Duchess Sarah admitted that she now opts for pain-free, non-invasive laser treatments, which can be done in just 90 minutes.
Preferring to undergo the "6 dimension" laser facelift offered by her long time friend Dr Gabriela Mercik at her Harley Street clinic, the mum-of-two explained, "I don't like the frozen look I'm so animated and I like to be myself. I don't like the thought of needles and am very glad if I look well and happy."
READ MORE:Duchess of York Sarah Ferguson to make history at Princess Beatrice's wedding
Five years ago she also tried out a thread face lift, which is a treatment where threads are inserted into the skin to hold it firmer.
The threads dissolve after six to eight months but the results are thought to last for around two years.
"It's like garden trellising for sweet peas," the Duchess said. "You insert the threads under the skin with a fine needle and they hold everything up."
"They also encourage collagen production. It takes a couple of months, then the sweet peas bloom!
"Before I had it done I thought, 'Oh this is going to be painful' but it wasn't bad. My skin responded well. I think if you look at photos of me after I had it done, I look much better."
Hammering home how she isn't ashamed to admit to tweaking her face with Dr Mercik's treatments in the name of looking younger, she added, "I've been her guinea pig with new treatments too. I'm really happy to be open about what I've had done."