Duchess of Cornwall shows off cheeky side with funny remark during charity visit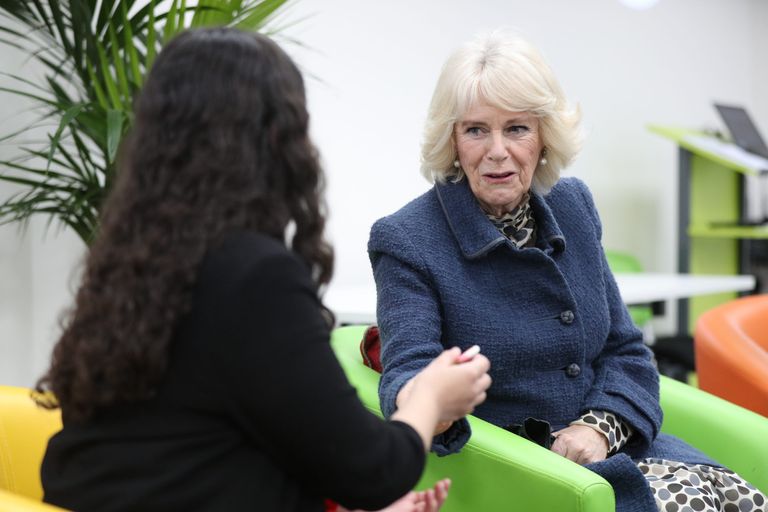 The Duchess of Cornwall made a very cheeky remark while visiting charity.
Duchess Camilla visited the Barnardo's Child and Sexual Abuse and Exploitation Services earlier today (February 5).
During the visit, the royal made a funny (and very cheeky) remark while speaking to children at the centre.
This follows royal news that Prince Charles teamed up with Katy Perry for a special cause.
Duchess Camilla visited the charity, of which she's been president of since 2007, and met with children and staff.
While speaking to a little girl about her squishy fiddle toy that helps her calm down when she's feeling anxious, Camilla joked she also needed the toy – and was tempted to steal it away!
She told the girl, "You'd better take it back otherwise I may steal it!"
The sweet moment was shared in a short clip by royal reporter Emily Andrews, who also revealed Camila posed for children in a speed-drawing exercise.
READ MORE: This is absolutely wonderful' Duchess of Cornwall surprises royal fans with her dance moves during engagement
The fun exercise is used by experts at Barnardo's as an ice-breaker for groups who never met before, and each child is given only one minute to complete a section.
The reporter shared the results of the activity on Twitter – and we think Camilla looks pretty good with blue hair!
Emily wrote, 'Camilla had her portrait done by all four of the @barnardos girls. Each was given one minute to help complete a section. It's used as an ice-breaker for groups who haven't met before. I particularly liked Camilla's blue eyebrow and she was very taken with it!'
Posting a snap of the finished piece, she added, 'The finished portrait of Camilla was very good! The girls wanted to draw her with blue hair and a blue eyebrow to compliment her blue coat.'