'This is absolutely wonderful' Duchess of Cornwall surprises royal fans with her dance moves during engagement
Looking fab!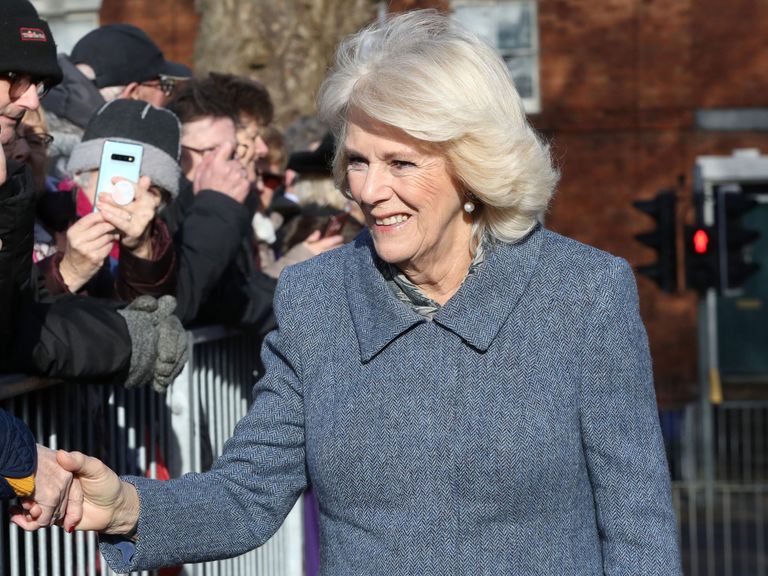 (Image credit: Getty)
The Duchess of Cornwall surprised royal fans with her dance moves during an engagement, as she continued her stylish streak in the perfect winter co-ord.
The Duchess of Cornwall continued her stylish streak today as she stepped out in the perfect winter co-ord.
The ever-trendy royal spent the day at the Cornhill community centre, where she met with members of the Royal Voluntary Service.
During the visit, she took part in a Israeli circle dance at the International Dance Class, and royal fans loved to see her dance moves. One said, 'She's fantastic and deserves way more recognition for her meaningful work!'
Another added, 'This is absolutely wonderful. I think Camilla is just FABULOUS.'
The videos of the dance were shared by royal reporter Rebecca English, who then thanked royal fans for their positive feedback on the duchess - and gushed about her herself.
She wrote on Twitter, 'Just to say thanks for all the lovely messages re my Duchess of Cornwall posting. She is indeed a joy to work with and never bats an eyelid at whatever is asked of her. That sense of fun comes across in her work and it's nice to see people respond well to it.'
Duchess Camilla is a royal patron of the RVS and made sure to look chic and stay warm in her blue tweed skirt and blazer co-ord.
She wore the simple collared jacket with the matching pleated skirt, which added an air of glamour to the outfit with its satin blue hem detail.
READ MORE:The Duchess of Cornwall surprises royal fans with unexpected reaction when asked on camera if she'll miss Harry and Meghan
Staying practical, the Duchess, who is married to heir to the throne, Prince Charles, opted for a pair of below the knee suede boots with a slight heel and a pair of cosy and simple black tights.
Camilla's footwear seems to be a firm favourite of hers. She wore them just a few days ago when she carried out four solo visits across the West Midlands, teaming the boots with a smart, dogtooth print coat.
Sticking to her usual accessory, Duchess Camilla clutched her well-loved DeMellier calf leather handbag today.
The future Queen consort regularly ventures out with the Mini Venice bag in tow and owns the classy piece in several different colours.
The Mini Venice is available in an unbelievable amount of prints and colour ways, so it's no surprise Camilla has a few in her handbag collection.