Rosamund Pike to star in toxic thriller in her most outrageous role since Gone Girl
The new movie, 'I Care a Lot' already has rave reviews!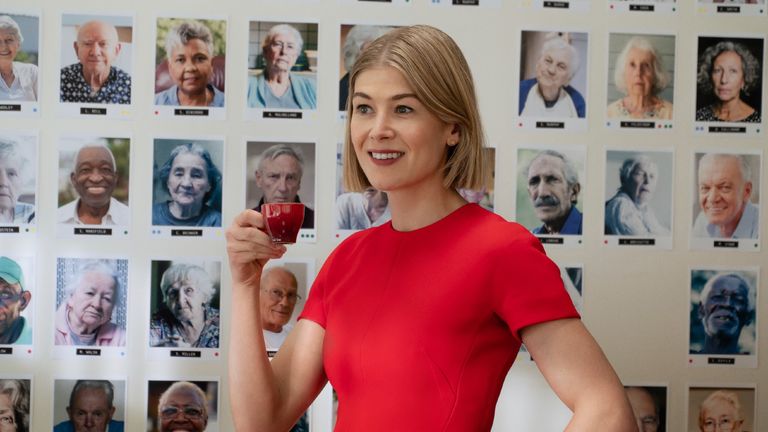 (Image credit: Seacia Pavao / Netflix)
New movie, I Care a Lot, starring Rosamund Pike, already has rave reviews from critics who say this is her 'most outrageous Hitchcock-blonde turn since Gone Girl'
Rosamund Pike set screens alight in 2014, with her portrayal of Gone Girl's femme fatale Amy Dunne. Fans loved her in this complicated role and praised Rosamund for her incredible embodiment of this loathsome character - and now she is doing it again. I Care a Lot directed and written by J Blakeson, sees Rosamund Pike star as an equally evil character.
She plays Marla Grayson, a woman who acts as a legal guardian for elderly people who need care. She then exploits these vulnerable people by conning them and taking all of their money. The film will be released on Amazon Prime on 19 February and has been described as a dark comedy thriller.
Read more from woman&home:
• Best pillow for a comfortable, pain-free night's sleep
• Best scented candles for a warm and cozy home this winter
• Best kindles for digital book lovers - we help you decide which one to buy
The reviews for the film have been outstanding and particularly praise Rosamund for her portrayal of this ruthless character. Reviewer, Peter Bradshaw, writes in The Guardian, "Pike offers a window display of pure predatory wickedness, lighting up the screen with her sociopath haircut, shades and fashion-plate outfits, like Nurse Ratched's aspirational granddaughter."
Variety writer, Owen Gleiberman states, "I Care a Lot is a sleekly unnerving thriller. It's built around a scam just plausible enough to give you pause, and a protagonist who's so efficient in her diabolical ruthlessness that you can scarcely take your eyes off her vicious amoral glow."
Rosamund told Vogue, that after she read the script she told director J Blakeson, "'This is the most exciting female character I've read in years."
Rosamund explains that because of this, Marla Grayson, was an exciting character to explore, "my exploration of the character was about digging into [her until] I could own her appetites — her unabashed hunger for wealth, power and all the things I don't care about. Marla thinks: 'I've been screwed and so now I'm going to play dirty,'" said Rosamund.
Fans are counting down the days for the release of this new film, they have taken to social media to share their excited anticipation. One fan wrote, "words cannot describe how ready I am to see this". Another commented that she could see similarities between this character and Rosamund's Gone Girl character Amy. They said, "Oh I'm getting Amy vibes?!? Excited is an understatement!"
Some fans were primarily excited to see the supporting cast. Other stars in this film are Peter Dinklage (Game of Thrones), Chris Messina (The Mindy Project), Eiza González (She's Missing), and Dianne Weist (Life in Pieces). One fan wrote on Twitter, "Brilliant actor. Will watch this just because of Peter Dinklage." Another wrote, "Dianne Weist! Amazing!"