The Duchess Of Cambridge's Wedding Perfume Is Available For You To Buy For £59.95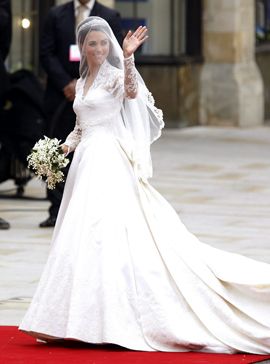 By Amy Hunt
If there's one thing that's for sure, it's that anything the Duchess of Cambridge wears or uses is guaranteed to sell out within minutes. And that fact is even more true if the product or item of clothing she loves is affordable, as many of the Duchess' thrifty purchases, are. Lucky for us!
However, there's one item that's escaped the grasp of keen shoppers over the years. The perfume that Catherine wore on her 2011 wedding day to Prince William was a specific, signature scent.
She wore White Gardenia Petals by Illuminum on her special day, a fact that at the time was confirmed by Clarence House after a flurry of enquiries.
In the time following the wedding however, the brand reported that they had subsequently sold out of every single bottle of the 50ml perfume worldwide!
The sell-out effect of the glowing bride was clear, and left many royal fans gutted that they didn't get the chance to smell like the Duchess.
Even now, the scent is consistenly sold out in almost all perfume retailers, such as Selfridges.
But it seems as though one kind-hearted eBay seller is doing their best to help everyone keen to grab the chance to douse themselves in the perfume much beloved by the Duchess.
A 50ml vaporiser of the scent is now being stocked on eBay, for the grand old price of £59.95. The seller has managed to get their hands on the Duchess' perfume, which is now very rarely available, stating, "We have been able to acquire the Original, and now Rare stock of which some of which has been discontinued and is therefore unavailable in the shops."
Buy Illuminum White Gardenia Petals here.
And luckily for us, there's not too much difference between this version of the fragrance and the Duchess' original eau de toilette.
Apparently, the "vaporizer" perfume is just the French word for a spray, which, in our eyes, is pretty similar to how we'd recognise the perfumes we use every day.
However, as with all products favoured by Catherine, it looks as though the revival of this perfume could well be over soon, as the available perfumes are likely to sell out.
The seller themselves has written, "I must stress that once this stock is gone there will be no more available as this is the last of the original stock that is available for purchase."
Will you be picking some up while you've got the chance? If it's good enough for the Duchess on her wedding day, it's good enough for us, right?