Key Pieces Of Life Advice From Helen Mirren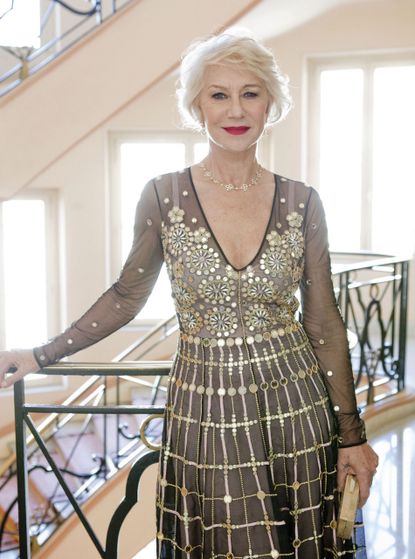 (Image credit: Helen Mirren shot by Charlotte Medlicott for L?Oreal Paris Age Perfect Rosy Glow Day Cream)
This week, whilst accepting an award at ELLE's Women in Hollywood event (opens in new tab), Helen shared her personal tips on how to live life to the fullest.
Her speech included five key pieces of life advice for women:
1) Never drink alcohol unless you are celebrating something, upset on something, or if it's a day that ends with the letter 'Y.' And never drink when you are driving.
2) There are no rules about love - I don't believe - but don't be in a rush to get married, honestly. I married Taylor much later in my life and it's worked out just great. Give your partner the freedom and support to achieve their ambitions. Very important and that goes both ways, men and women.
3) At the blackjack table, always split aces, eights and nines. Believe me, it really improves the odds.
4) Connect with friends daily, I don't mean on Facebook. Better to have three great friends than 300 friends on social media. Friends you can really talk to.
5) And finally, ignore anyone who judges the way you look, especially if he or she is someone anonymous miserable creep, lurking on the Internet or is a bloated, small headed dinosaur-y handed candidate for president.
During her acceptance speech Helen also mentioned that punctuality was one of the secrets to her success!
Here's what the inspiring Helen Mirren had to say when she met w&h's Beauty Director, Jo Glanville Blackburn ...
Meeting at the Martinez Hotel, Cannes, Dame Helen Mirren is just as genuine and graceful in life as on the screen. At 70, her infectious joie de vivre and constant desire to shake things up has her embarking on a road trip in a campervan with Donald Sutherland this month to film The Leisure Seeker. In preparation for the role, she'll be getting a buzz cut, as her character has cancer.
I definitely think we, as women, are now getting more confident with age and it's all down to the changing political and economic climate. It's about seeing more women in the workplace: in business, in medicine, in science and in politics. Because, just like men, you don't get to be high up in these worlds until you're in your 40s, 50s, 60s or even 70s. So I'm always thrilled to see, say when there's an oil spill in the Gulf or a political crisis in China, that the expert who comes on the screen is a woman. I'm often asked: "Why are there not more roles for older women in drama?" But I've always said: "Change the roles for women in real life and the roles for women in drama will change." And that's certainly been the case.
I find the stage more emotionally and physically demanding than the screen. It's the responsibility on you that it's 7.30pm, seven times a week and you're on and there's nothing you can do about it! It's different with film, you do your best absolutely, but you have a little wiggle room in movies - "can I do it one more time?" - and if you really have made a mess, they'll just cut it out! The difficult thing on set is the hours... it's a very, very long day.
The ultimate self-indulgence is one I share with my husband, Taylor [Hackford]. In Chinatown LA, there's this fabulous restaurant and across the road, there are all these places where they massage your feet. So there's nothing better than having a huge Chinese dinner and having your feet massaged straight afterwards. That's pretty cool.
I love the whole bathing experience and a steam bath. In LA, I also like to have a Korean Bath, where you get scrubbed from top to bottom by these fierce Korean ladies, and you honestly come out of there feeling 5lb lighter. All the dead skin has gone and you feel amazing, so clean.
PURE ESCAPISM
My holiday memories as a child were of being at home. We never went away. My mum was an East Ender and my father was a Russian immigrant and London taxi driver, so when they started their family they looked at Southend-on-Sea to live. My mum thought, "Wow, that's the perfect permanent holiday spot to bring up two children", and she was absolutely right! So for my sister and I, our holidays were always at home. Now holidaying is, of course, a different thing. My husband and I have just spent the past eight or nine years renovating a wonderful 500-year-old building near Lecce in southern Italy. I love it there; I fit in. The whole lifestyle, the community and the people. It's so me.
I love fashion, and acting has helped me develop a more individual sense of style. I'm proactive in choosing what I wear, rather than having a stylist tell me. I've always been drawn to the costume side of fashion, such as Alexander McQueen and Christian Lacroix, those imaginative, embellished artisanal pieces. To be in the presence of those clothes, not even necessarily wearing them, just to admire them in real life is an amazing experience.
THE REAL ME
Contrary to what everyone says, I don't not allow retouching, I'm very laissez-faire about it all. But when I was offered the gig to be an ambassador for L'Oréal, which was very exciting, I said "please don't retouch me". In the US, they retouch pictures for film posters, but that's their business, of course, they're advertising the movie. But I look at it and I think, "I don't look like that in real life and certainly not in the movie," so I didn't want something to say "this is me Helen Mirren" and for L'Oréal to perpetuate something that isn't true. But it wasn't even an issue, as L'Oréal UK don't retouch images of me unless maybe there's a hair out of place or a bra strap showing, which was music to my ears. All my life I've been looking at 16-year-old girls selling beauty, so I think it's fabulous that they're using a 70-year-old woman to sell products to other 60-80-year-old women. I recently noticed a newspaper feature called "Clothes for Every Age", only it stopped at 60. Hello? And me in another ten years, please!
RED CARPET MOMENTS
My best red carpet tip is "be comfortable". If you're wearing some boned, push-up construction that's digging into your body every time you move, it hurts. So it always amazes me how many dresses you see on the red carpet that don't fit properly. If you're comfortable and you're enjoying it, it shows, as opposed to feeling as if you can't move.
Heels or flats? In Cannes this year, I really wanted to wear gold flats, but I just couldn't find any. I think women should wear either, but I do love putting on a pair of high heels as they make you feel a certain way.
I love to experiment with the way I look. I don't have any one way of doing my make-up, so I always tell make-up artists on set to do what they want. I like to see what they have up their sleeve because we can all get a bit stuck in our ways sometimes, and forget we can change direction. I like to mess around a bit.
I'm tempted to dye my hair violet. My pink hair moment got lots of attention! I was inspired while watching America's Next Top Model: there was this girl who suddenly had bright pink hair for one episode and then in the next it was gone, so I thought, "Oh, I can dye it pink and it's not forever." It got everyone talking. I do my own colour (L'Oréal Paris Excellence Age Perfect Layered-Tone Crème Colour in 9.31 Light Beige Blonde) but I must admit, violet is tempting me now! It's a lovely colour and I've seen it on a lot of girls recently.
Helen is the face of L'Oréal Paris Age Perfect Golden Age Rosy Re-Fortifying Day Cream and Excellent Age Perfect hair colour in 9.31, available nationwide
Helen Mirren shot by Charlotte Medlicott for L'Oreal Paris Age Perfect Rosy Glow Day Cream