Barack Obama's much anticipated summer playlist is out and it's pretty awesome
Turns out, former President of the United States of America Barack Obama loves Beyonce, Miles Davis, Prince and Maggie Rogers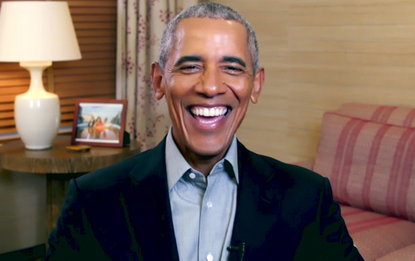 (Image credit: ABC / Contributor)
Every summer, former United States of America president Barack Obama releases his seasonal music playlist and reading list. Every year, fans of the politician are astounded by his obvious good taste and 2022 seems to be no different.
Barack, who recently celebrated the Queen's Platinum Jubilee, posted his lists on Instagram yesterday and followers are still commenting on the merits and drawbacks of his selections.
"Every year, I get excited to share my summer playlist because I learn about so many new artists from your replies," Barack wrote in the caption of his musical roundup post. "It's an example of how music really can bring us all together. Here's what I've been listening to this summer. What sounds would you add?"
The politician's musical leanings clearly span a variety of genres, with 44 selections that touch upon rap, pop, soul, R&B and much more.
Within the realm of soul, Barack mentioned Miles Davis' Blue in Green, Aretha Franklin's Save Me, Al Green's I Can't Get Next to You and Otis Retting's I've Been Loving You.
The former president is also listening to his pal's Beyoncé's new hit, Break My Soul, and Harry Styles' Music for a Sushi Restaurant (that one is, indeed, shocking). Other standouts include Kendrick Lamar's Die Hard, Kacey Musgraves' Keep Looking Up, Prince's Let's Go Crazy and Dancing in the Dark by Bruce Springsteen, whom Barack has collaborated with on their Renegades podcast.
Plenty of Barack's followers took to celebrating his picks in the comments sections of his post. "Great playlist," someone stated matter-of-factly.
"The taste. Per usual," another noted.
Some of the artists mentioned on the list also commented on the post, thanking the president for the various mentions. "I am most honoured, Mr. President," wrote Fatboy Slim, whose Praise You made the ranking, for example.
Barack's summer reading list, a tad bit shorter than his musical one, also generated loads of commentary. In total, the politician listed 14 books as must-reads, including The Candy House by Jennifer Egan, Velvet Was the Night by Silvia Moreno-Garcia, Why We're Polarized by Ezra Klein and To Paradise by Hanya Yanagihara. Barack also included a specific selection "for hoops fans" Chris Herring's Blood in the Garden: The Flagrant History of the 1990s New York Knicks, marketed as "the definitive history" of the team.
"I've read a couple of great books this year and wanted to share some of my favorites so far," Barack wrote in the caption to his post. "What have you been reading this summer?"
"I look forward to this list every year!," one of the former president's followers wrote.
"I always love and look forward to these lists," someone else commented on Instagram. "It really gives people exposure. 😌"
Plenty of others added their own picks in the comments section of Barack's Instagram account, including The Song of Achilles by Madeline Miller, The Bluest Eye by Toni Morrison, A Man Called Ove by Fredrik Backman and Viola Davis' memoir, Finding Me.
After browsing through both lists, one thought reigns supreme - if the former president of the US has enough time to read extensively and regularly listen to music, we shouldn't be complaining about our days feeling too short.
Anna Rahmanan is a New York-based writer and editor who covers culture, entertainment, food, fashion and travel news. Anna's words have appeared on Time Out New York, the Huffington Post, Fortune, Forbes, Us Weekly, Bon Appetit and Brooklyn Magazine, among other outlets.