Barack Obama and Bruce Springsteen are taking their Renegades podcast to print
Readers will get a deep dive into their lives with the release of Renegades: Born in the USA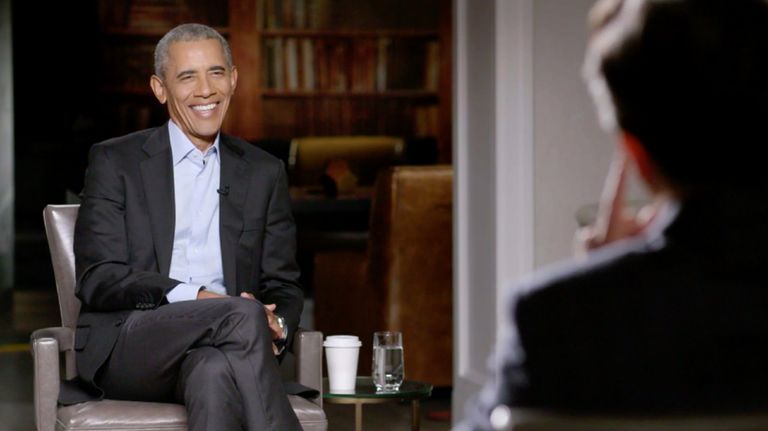 (Image credit: CBS via Getty Images)
President Barack Obama and Bruce Springsteen are officially turning their reflective "Renegades" podcast into a book. The book, titled Renegades: Born in the USA, is set to take a look at both figures' origin stories and the significant moments that helped shape who they are today.
The Obama's have kept busy since leaving the White House after the 2016 election. While Michelle Obama has partnered with the Girl Scouts and shared mental health tools, President Obama and his long-time friend Bruce have decided to adapt their Spotify podcast of the same name, into a hardcover book.
The pair made the announcement July 22, with a book trailer to help build anticipation for its release on October 26, 2021. In it, we get a closer look at their friendship as President Obama attempts to drive one of Springsteen's convertibles, and is shocked over the fact his legs can't fit in it.
According to the trailer, the book will "explore the mythology of America, the music and dreams that unite us, the contradictions that divide us, the lure of the open road, and the call back home."
The book will also feature around 320-pages that begin with introductions by Obama and Springsteen, along with Obama's never-before-seen annotated speeches (which includes his remarks from the 50th Anniversary of the Selma to Montgomery Marches) and handwritten lyrics by Springsteen. The co-authors have also included photos from their personal archives, which would help make this an elegant coffee table book to welcome guests with. Fans of the podcast can also look forward to exclusive new material taken from their Renegade recording sessions.
If Oct. 26, seems too far away, the book is currently available for pre-order on Amazon for $50. If not, make sure to mark your calendars and prepare for a closer examination on the lives of a musician and past-politician as they take us for an all-American ride through their history.
Rylee is a digital news writer for woman&home and My Imperfect Life. She covers everything from beauty and fashion trends to celebrity and entertainment news.