What is Michelle Obama doing now?
She is a former First Lady, but what is Michelle Obama doing now?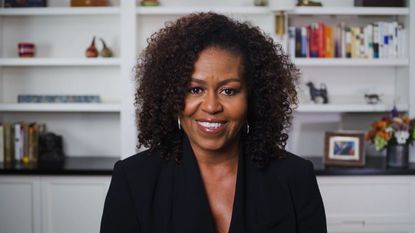 (Image credit: Getty)
She was once the first lady of the United States, but what is Michelle Obama doing now?
Michelle Obama is one of the most famous women in the world since coming into the spotlight when her husband Barack Obama became president of the United States in 2009.
But she's also successful in her own right, with a law glittering career, books and now a podcast under her belt.
Read on to find out all you need to know about the amazing Michelle Obama...
What did Michelle Obama do before?
Before husband Barack became president of the US in 2009, Michelle was a lawyer - and this is actually how she met her future husband.
She met Barack when she was an associate at the Chicago office of the law firm Sidley & Austin, after graduating law school and they married in 1992.
Michelle worked on marketing and intellectual property law at the firm.
She still hold her law license, but as she no longer needs it for work, she has kept it on a voluntary inactive status since 1993.
In 1993, Michelle became Executive Director for the Chicago office of Public Allies, a non-profit organisation which recruits young leaders with a passion for social impact.
In 1996, Michelle became the Associate Dean of Student Services at the University of Chicago.
Six years later, in 2002, she started working for the University of Chicago Hospitals, working her way up to Vice President for Community and External Affairs.
She continued this role during the primary presidential campaign in 2008, but cut back to part-time in order to spend time with her daughters, Malia and Sasha, and work for Barack's election.
However, she later took a leave of absence from the job and became the First Lady of the United States.
What does Michelle Obama do now?
Since 2017, when Barack's presidency ended, Michelle has added many strings to her bow.
Her autobiography, Becoming, was released in 2018 and by November 2019, it had sold 11.5 million copies.
Becoming was also turned into a Netflix documentary in 2020, which documented the successful book tour.
And in July 2020, Michelle released her very own podcast, The Michelle Obama Podcast.
She's featured some exciting guests on the podcast, including her husband Barack.
Did Michelle Obama attend the Inauguration of Joe Biden?
Michelle attended the Inauguration of Joe Biden on 20 January 2021 along with her husband Barack.
Sharing her excitement, Michelle wrote on Instagram: "Today is the day. After a disturbing era of chaos and division, we are entering the next chapter of American leadership with the inauguration of @JoeBiden and @KamalaHarris.
"Right now, I'm feeling more than just relief at putting the past four years behind us. I'm feeling genuinely hopeful for what's to come.

"Joe Biden and Kamala Harris are the kind of leaders our nation deserves - decent, hardworking people who reflect the best of our values.
"Most of all, they're guided by empathy, honesty, and a willingness to put the needs of our country before their own. "
Michelle's make-up artist later revealed the products she wore for the Inauguration.
Speaking to ELLE, Obama's make-up artist for the day, Carl Ray, shared the secrets to her look. "I knew she would be wearing a mask and a monochromatic outfit," he told the publication.
More from Woman & Home:
"I wanted her to have a powerful beauty look that would need to be achieved by playing up the top half of her face.
"I knew that since her whole face wouldn't be visible, the eyes and lashes would be the star of this particular look!"
He added: "I wanted an impactful smokey eye for the event. was going for a dramatic glam eye that would really play well to the camera."
Robyn is a celebrity and entertainment journalist and editor with over eight years experience in the industry. As well as contributing regular to woman&home, she also often writes for Woman, Woman's Own, Woman's Weekly and The Sun.