Barack Obama celebrates Queen's Platinum Jubilee: 'Your life has been a gift'
Former United States President Barack Obama pays tribute to the Queen during Platinum Jubilee in a video message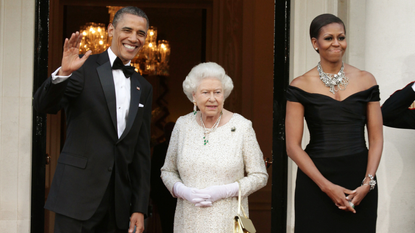 (Image credit: WPA Pool / Pool)
The latest world leader to congratulate Queen Elizabeth on her Platinum Jubilee is former United States President Barack Obama.
In a video message, the former President reflected on his first meeting with the Queen
In the clip, Barack said the Queen reminded him of his grandmother
---
Barack's celebratory message in honor of the Queen's life and legacy was aired during the BBC broadcast of Trooping the Colour.
"When you're president of the United States, you meet a lot of remarkable people, and you try under all circumstances to retain your composure," the 44th president of the United States said in the recording. "But that's harder than you think when you're visiting Her Majesty."
He went on to recount his very first visit to Buckingham Palace alongside wife and former first lady Michelle Obama.
"Before I took office, Michelle and I hadn't been to too many palaces," he said. "So we weren't sure what to expect on our first trip to Buckingham. But we shouldn't have been worried. Her Majesty put us at ease with her grace and generosity. So much so that I walked away thinking she actually reminded me a little bit of my grandmother."
Barack also described his relationship with the monarch in the years since first meeting her, ending his message with very sweet parting words.
"Certainly I can say that getting to know her was one of the great privileges of my years in office," the politician said. "Your Majesty, it would be an understatement to say the world has changed a bit in the seven decades since you first came to power. But your character never has. Your life has been a gift, not just to the United Kingdom, but to the world. And it is with gratitude for your leadership and the kindness that you've shown me and my family that I say, may the light of your crown continue to reign supreme."
Jill and I wish Your Majesty a joyful Platinum Jubilee celebration. On behalf of the United States, congratulations to Queen Elizabeth II on an unprecedented 70 years of service to the UK and Commonwealth and thank you for your friendship to the American people. pic.twitter.com/mwaZSYBuhZJune 2, 2022
See more
Barack wasn't the only American president to share a message with the queen. Current president and former vice president Joe Biden posted a video on Twitter in which him and wife first lady Dr. Jill Biden wish Queen Elizabeth a "joyful Platinum Jubilee celebration."
In the caption accompanying the clip, Joe wished the Queen congratulations, "on an unprecedented 70 years of service to the UK and Commonwealth and thank you for your friendship to the American people."
Other world leaders joined in the celebration as well. French President Emmanuel Macron posted a similar message on his social media account and North Korea's Kim Jong Un also extended official words of kindness via his foreign ministry.
Anna Rahmanan is a New York-based writer and editor who covers culture, entertainment, food, fashion and travel news. Anna's words have appeared on Time Out New York, the Huffington Post, Fortune, Forbes, Us Weekly, Bon Appetit and Brooklyn Magazine, among other outlets.