28 Christmas gifts for friends new and old
Our top Christmas gifts for friends picks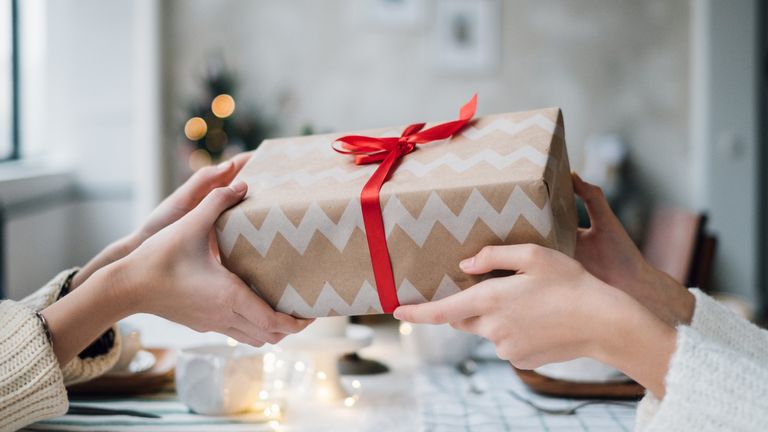 (Image credit: GettyImages)
Finding the perfect Christmas gifts for friends is harder than you'd think. As a best friend, you're expected to know what they love and need, but the reality when there are a lot of people to cater for, those Christmas lists can become overwhelming.
If you're looking for the best unique Christmas gifts for a picky pal, personalised Christmas gifts are a good option as it's likely they won't already have something similar. Plus it really shows you made the effort!
Don't forget to check our woman&home vouchers site before you shop for the latest offers and discounts from your favourite brands - think, John Lewis, Not On The High Street, Net-a-Porter and more.
From fashionable accessories to delicious sweet treats, the shops are full of dreamy presents that are just waiting to be discovered - and we're here to help you find their perfect match...
How to find brilliant and thoughtful Christmas gift for a friends
The key to finding a great present is knowing what they love. Do they adore chocolate? Is beauty their achilles heel? Or is there nothing they love more than a good pamper evening? Once you know what they spend their timing lusting over, you can shop accordingly.
Of course, some gifts always go down a treat. Flowers never fail, and this year there are new, dried versions that are bang on trend and last so much longer. Beauty sets are a firm favourite, and you can save money by choosing one from their go-to brand. Lastly, home fragrances and candles are likely to be very appreciated - especially during the chaos of Christmas!
Ready to feel inspired? We've found 18 Christmas gifts for friends - all you need to do is pick your favourite!
Best Christmas gifts for friends
Chanel Rouge Allure limited edition intense in Rouge d'or
RRP £35, Chanel
It's hard buying make-up for someone else, but you can guarantee there's not a face in your social circle that wouldn't look gorgeous with a slick of this perfect red ultra-intense creamy lipstick. You don't need me to tell you why Chanel alway goes down well with any giftee - so much so you may just have to treat yourself too! View at Boots
Azurina Selfie Grip in Cream Croc
RRP: £35, Azurina
Every group has that one friend who can't stop taking selfies and it's your job to give her a good-natured ribbing about it with this lovely phone selfie grip. Jokes aside, this is covered in real leather and can be monogrammed with up to four initials for free - truly a classy gift for the modern age. View at Azurina
Damson Liqueur Vodka
RRP £35, Liberty London
Booze is a reliably well-received gift and this tastes as good as it looks, made with sustainably sourced fruit in Yorkshire. It's versatile too, working well in cocktails, added to fizz or as a sweet dessert drink on its own. View at Liberty London
Stackers Medium Travel Jewellery Box
RRP £28, John Lewis
This handy travel trinket box looks far more expensive than it is. Pick from powder blue, taupe or chic blush pink with a velvet lining and space for a week, or weekend's worth of jewellery depending on how bling your bestie tends to go. View at John Lewis
Charlotte's Hollywood Mini Brush Set
RRP £45 Charlotte Tilbury
What to buy for the beauty addict in your group who seemingly has everything? Brushes, that's what. Even the most spend-happy cosmetic queens seem to neglect this area of their make-up bag (not exciting enough perhaps?) so will very much appreciate being furnished with some new tools. Also, these ones actually are exciting with their rose gold detail and gorgeous vintage inspired velvet case. View at Charlotte Tilbury
Lavender Bubble Candle
RRP £10, Beachampton Hall
Fancy candles make excellent gifts and this one should earn you serious kudos from any design-conscious pals. The unique bubble design is available in several colour and fragrance combinations including Cinnamon or Vanilla Bean, but this relaxing lavender-infused one is our personal favourite. View at Beachampton Hall
Limited Edition Balm Dotcom Roulette
RRP £25, Glossier
This is will be a surefire hit with beauty fans for three reasons. Firstly, it's Glossier aka one of the hottest brands in beauty right now. Secondly, it's lip balm and just about everyone regardless of their personal style loves a good lip balm (Glossier ones are great, by the way) Thirdly it's a surprise mixture of three Balm Dotcom flavours and tints in a very cool gold deck of cards inspired box - fun! View at Glossier
& Other Stories Gradient Multi-Tonal scarf
RRP £55, & Other Stories
A scarf is always a great gift, and this gorgeous gradient one will perk up any winter outfit. It's made from 100 percent wool, so you know it will be luxuriously warm, and isn't too thick or bulky, meaning she can fold it up and keep it in her bag when she's not using it. View at & Other Stories.
Wedge Fan Ring
RRP £80, Little by Little
The art-deco inspired wedge collection has to be our favourite from this contemporary jewellery brand. Each piece is carefully crafted into intricately-designed pieces that will last. A thoughtful and timeless present for a special friend or family member they're sure to treasure. View at Little by Little.
Vegan Slipper With Wooly Trim
RRP £90, All Kind
The 100% organic cotton trim makes this indoor slipper super cosy. Give the gift of comfort this Christmas with these beautifully presented slippers. View at All Kind.
Hackney Hand Wash
RRP £16, Soapsmith
Your gifts may as well be useful, and nothing goes down better than a delicious new hand soap in stunning packaging. This one, from Black-owned business Soapsmith, is designed to smell like the London suburb of Hackney - so think long summer days and balmy afternoons. The bottle is also recyclable. View at Soap Smith.
Lina Purple Champagne Saucers Set of Four
RRP £34, Oliver Bonas
A gorgeous set of new glasses is never a bad gift idea, and these champagne saucers are so beautiful. With glass detailing and purple stems, they're guaranteed to perk up a party - and hopefully encourage your friend to pop open a bottle when you're visiting! View at Oliver Bonas.
This Works Great In Bed Bodycare Gift Set
RRP £25, John Lewis & Partners
For the friend who has trouble sleeping, this set is a fantastic purchase. Containing a body wash, body lotion and the famous sleep spray, each product is designed to help you drift off - and they really do work. The deep sleep pillow spray contains a blend of lavender, vetiver and wild chamomile. View at John Lewis & Partners.
Uniqlo Fluffy Fleece Slippers
RRP £9.90, Uniqlo
We all deserve a bit of comfort during winter, and these slippers are bound to give it. The perfect shape for wearing around the house, they come in five colours; grey, pink, beige, brown and navy. And at less than £10 a pair, you can afford to pick up something else, too. View at Uniqlo.
Dried Flower Bouquet
From £17.50, Not on the High Street
Dried flowers are a great option, as they last forever and are unlikely to cost more than a regular bunch. We love the autumn colours of this selection, but you can also get bright or pastel bunches, depending on your friend's interior decor. View at Not On The High Street.
Slip Silk Sleep Mask
RRP £45, LookFantastic
A silk mask not only looks luxurious and helps aid sleep, it can also reduce the appearance of wrinkles around the eyes. Made from mulberry silk, it won't wrinkle the skin as cotton pillows can do, helping your friend wake up relaxed and crease-free. View at Lookfantastic.
Country Boozer Smelly Wax Candle
RRP £40, Loaf
Who doesn't love a candle? They make the perfect gift, and we can't think of a better one than this unique offering from Loaf, which is designed to smell like a 'country boozer'. The nostalgic scent is said to smell of 'Orange peel, pine amber, wood smoke. And a barely detectable whiff of wet dog.' We think it will remind her of nights at the local with you. View at Loaf.
Murad Ready. Radiant. Retinol
RRP £50, LookFantastic
Retinol is the 'wonder ingredient' beauty editors rave about, and this set is a great introduction to it. Containing three products - a youth renewal serum, youth renewal eye serum and youth renewal night cream - it helps tackle signs of ageing and restore luminosity in skin. Trust us, they'll love it. View now at Lookfantastic.
Ottolenghi FLAVOUR (Hardback)
RRP £27, Waterstones
A cook book always goes down well, and Ottelenghi's are some of the best. FLAVOUR features mouthwatering recipes such as Spicy Mushroom Lasagne and Romano Pepper Schnitzel, and is perfect for vegetarians, or just friends who want to eat more veggie-based recipes. View now at Waterstones.
CBD Oil Discovery Duo | 2% + 5% ml
RRP £19, CBII
CBD oil isn't going anywhere, and it's something of a wonder ingredient for those who struggle to relax or stay calm. This set contains both a 2 percent and 5 percent solution, to help your friend find the perfect balance, and contains no THC (the psychoactive component of cannabis) - which means that, no, they won't get high from it. View now at cbII.
Relux Premium 100% Natural Bamboo Bath Caddy Bridge
RRP £26.99, Amazon
Got a friend that loves nothing more than luxuriating in the bath? Make their 'me-time' even more enjoyable with a bath caddy, which can hold candles, iPads, books - and of course, a glass of wine. Trust is, this one is bound to go down a treat. View now at Amazon.
Missoma gold claw open ring
RRP £69, Missoma
Missoma is a brand loved by Meghan Markle and the Duchess of Cambridge, so we're almost certain that this gorgeous, simple ring will go down a treat. Made from 18ct gold, it's a great wear-forever purchase that looks stunning worn alone or with her other rings. View now at Missoma.
Personalised Gin Board
RRP £19.99, Not on the High Street
Gin lovers will adore this board, which is perfect for cutting up lemons, limes or whatever garnish you prefer. It can be personalised with your friend's name and a special message, and is available in three different shapes. View now at Not On The High Street.
Hotel Chocolat The Salted Caramel Hamper Collection
RRP £27.50, Hotel Chocolat
If all else fails, chocolate is the answer! Hotel Chocolat has a huge range of mouthwatering Christmas gifts, but we think this salted caramel collection is the perfect crowd-pleaser. Containing a chocolate selection, chocolate spread and even a chocolate liqueur, it'll keep them busy at least until the New Year. View now at Hotel Chocolat.
Eco Yoga Mat
RRP £40, Sweaty Betty
Your Yogi pal will love this sleek matt. Available in green and grey, it's eco-friendly and recyclable too. We love the punchy green hue for a pop of colour. Super lightweight with an amazing grip to ensure you don't slip, it's easy to wipe clean too. Perfect for at-home workouts or classes. View now at Sweaty Betty.
Kate Spade New York It's Personal Thermal Mug
RRP £16, John Lewis
Whether it's a hot cappuccino or an iced latte, this cute thermal mug is perfect for those on-the-go. You can personalise it too with the letter of your choice for that extra special touch. We love the pretty colours, guaranteed to get plenty of compliments. View now at John Lewis.
House of Disaster Savannah Leopard Pot
RRP £14, Lisa Angel
Pretty and playful, this leopard storage pot will make a sweet gift. It can be used as a planter, vase or a stylish storage container for makeup brushes or stationary. There are plenty of options! View now at Lisa Angel