Am I Urinating Too Often?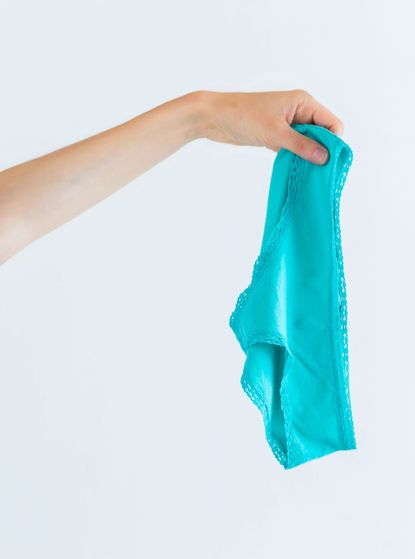 (Image credit: VOISIN/PHANIE/REX Shutterstock)
Are you struggling with urinary incontinence? Find out more about the causes and get help and support
How many trips to the bathroom have you made today? Increased frequency of urination can be a result of a number of factors, most of which are harmless and easily tackled.
Some people naturally need to urinate more than others, so don't worry if you're friend only needs the loo three times a day when you go more than double that amount. The only cause for concern is if there is a sudden change in your usual pattern.
Made a resolution to drink more water during the day? More often than not, your additional trips to the loo may be down to drinking more fluid than usual. Don't drop your healthy habit, but be aware that you may need to go to the toilet frequently.
If this isn't the case, and you find yourself needing the toilet even without having something to drink, you may have an overactive bladder.
Urinary incontinence can strike anyone of any age. It can range from a slight dribble when someone coughs - known as stress incontinence - to a sudden unavoidable need to go which is called urgency or urge incontinence.
Stress incontinence is the most common form, especially in the under 65s, and affects almost 6 million people. Although women are far more likely to suffer from it men can get it too.
People with stress incontinence leak urine when they exert themselves such as during a coughing fit, or while taking exercise - even while laughing or walking downstairs.
Around 40 per cent of incontinence patients suffer from both stress and urgency incontinence.
Keep clicking to find out how to stop urinary incontinence in its tracks...
What causes urinary incontinence?
Stress incontinence is almost always brought on by a weakening of the pelvic floor muscles. This band of muscles runs from the pubic bone at the front to the coccyx at the base of the spine. It acts like a shelf, supporting the bladder (and the bowel and womb in women). Muscles also work on the bladder opening - called the urinary sphincter - to keep it closed and prevent leakage during exertion for example when you cough. These muscles can weaken for many reasons: - Pregnancy and or a traumatic labour, typically which involved forceps or a ventouse. - The drop in oestrogen following the menopause - Obesity - Smoking as it damages the tissues in the body - Constant hacking of a chronic cough - Straining associated with persistent constipation. Urge incontinence is caused by an overactive bladder. Normally the brain tells you to empty your bladder when it is full. If you have urge incontinence the brain signals to empty the bladder before it is full and often before you have time to get to the loo.
Seeking help for urinary incontinence
Approximately 82 per cent of incontinence sufferers could be helped with treatment yet it is estimated that 50 per cent are too embarrassed to seek help. If you are affected visit your GP who can refer you onto either a specialist physiotherapist or specialist continence clinic. If you have private healthcare or you are prepared to pay then you could refer yourself to see a consultant privately. Expect to pay around £200 for an initial consultation. An appointment with a specialist physiotherapist will be cheaper. Click to read The Easiest Ways To Tone Your Pelvic Floor Muscles
Pelvic floor exercise aids for urinary incontinence
There are various products to help with pelvic floor exercises. Vaginal cones are small plastic weights which you insert into your vagina. As you clench your muscles to keep it in this works the pelvic floor. They can help you do the exercise correctly although there is no evidence that they make the muscles any stronger Aquaflex vaginal cones £22.99 www.stressnomore.co.uk (opens in new tab) Electrical stimulation. This will first be done at a clinic with the help of a physiotherapist or nurse. A probe will be inserted into your vagina which emits a mild electrical current which prompts the pelvic muscles to twitch. Once you have mastered the technique you may take the device home. You should notice results in six to twelve weeks. These are normally used to help people master the pelvic floor exercises Home devices are available on the internet but they can be expensive - in excess of £100 - and it is best to consult a healthcare professional before using one. Drug treatments
Duloxetine, a drug that has been used for stress incontinence for the past two years works by making the urinary sphincter tighter. It does have side effects such as nausea, fatigue and constipation. It is best for those who are unable or unwilling to have surgery and is successful in 30-40 per cent of cases. Urge incontinence may respond to anti cholinergic patches or tablets which relaxes the bladder and stops it from going into spasm so often. They are successful in 60-70 per cent of cases. Injections
These are not a permanent fix as their results diminish within two years. To help with stress incontinence bulking agents such as teflon or fat can be injected into the opening of the bladder to build it up and prevent it from sagging open and allowing urine to leak out. It is normally done under general anaesthetic and is generally offered for those for whom surgery is not suitable, for example women who want to extend their family. Mr Mohammed Shamin Khan, a consultant urologist at The London Clinic and Bart's Hospital, London explains the surgical options... 'The most common for stress incontinence is TVT (tension free vaginal tape) which involves making a small incision in the vagina and inserting a synthetic tape which is threaded under the opening of the bladder to mimic the action of the pelvic floor muscles. It can be done as a day case and has a success rate of 95 per cent. However there is a risk of side effects such as problems with passing urine. TOT (trans oburator tape) is a newer form of this procdure which involves threading the tape further from the bladder so there is a reduced risk of complications.
Colposuspension involves lifting the opening of the bladder but is now rarely performed as it is less successful and is more major surgery than TVT.' The Bladder and Bowel Foundation Helpline: 0870 770 3246
www.bladderandbowelfoundation.org (opens in new tab)
Botox and more in suprising places...
Lasers, fillers and Botox - those must-haves of the beauty business - are going the extra mile with treatments designed to ease those trying feminine problems Botox to lessen the loo breaks If your trips out start by charting the handiest loos, then you'll know how much an overactive bladder (OAB) can rule your life and wreck your confidence. 'The leakage is often quite large, very unpredictable and embarrassing,' says Natalia Price, consultant urogynaecologist at The Oxford Gynaecology and Pelvic Floor Centre. Surprisingly, Botox can be the rescue remedy that could make a difference. Who's having it?
Those who've tried a whole menu of treatments and still no joy. 'OAB symptoms are caused by the bladder muscle squeezing to empty urine appropriately even when it isn't full,' says Dr Price. 'This often happens without warning and when you don't want it to - hearing the sound of running water or putting your key into the latch. Botox relaxes the muscle of the bladder wall, reducing urgency and incontinence.'
What happens?
Your doctor will confirm your diagnosis, maybe do some tests and check for possible infection. A fine fibre optic tube, through which tiny amounts of diluted Botox are injected, is passed into the bladder via the urethra. 'Typically about 10-30 injection sites are used,' says Dr Price. Much ouch? Sounds eye-watering, but not so. 'In my experience most women tolerate the procedure extremely well under local anaesthetic only. There may be a prickling sensation but it shouldn't be painful.'
Does it work?
'The majority of patients are very happy and feel the treatment has changed their lives,' reckons Dr Price. 'It's simple and effective. I've been using Botox therapy for OAB under local anaesthetic in oupatient clinic for over seven years.'
Love it?
'I've had a lifetime of OAB and living on the loo! Tried every treatment from pelvic floor exercises to medication and more. Seven years ago I started Botox treatment and it changed my life. Under local anaesthetic there's no pain - just some discomfort. You feel a bit battered for a day after but that's it. It's definitely worth the effort.' Brenda Mounfield, 60, from Cheshire
Cost?
The treatment is available on the NHS if medicines or physiotherapy have failed to control your problem. Privately prices vary it can cost around £(t/c) Botox effects last about 6-9 months. Find the Oxford Gynaecology centre at oxfordgynaecology.com (opens in new tab)
Fillers - to plump up the volume It was only a matter of time before fillers - loved for their plumping and rehydrating qualities - graduated to the vulval area where loss of volume can for some be noticeable. A new version from France is becoming popular as waxing lays bare the ageing look of an intimate area.
Who's having it?
A fast growing number of women who've noticed a loss of volume. Top aesthetic practioner Dr Elizabeth Dancey is currently seeing a boom in the new Deisirial Plus treatment. 'Fat loss through exercise, diet, childbirth and hormone changes show just as much in this area as the face. What happens? After an injection of local anaesthetic, a small cannula (slightly bigger than a needle) is inserted down to the base of the labia. It's then pulled back filling as it goes. This is repeated on the other side.
Much Ouch?
Sounds as though it should but devotees say no - it's quick with just a slightly bruised feeling for a day after.
Does it work?
'The clients we've had so far are women aiming to restore the look of the vulval area for their own self esteem - just as we use fillers to plump up the face.' Can it improve your sex life? 'Improved self-esteem always improves sex life,' says Dr Dancey.
Love it?
'I'm divorced and have 3 children. I do a lot of sport and have lost real volume in a very private area. As result, I don't like to undress in front of my boyfriend. My hair removal therapist mentioned the procedure and after research I decided to give it a try. It was done sensitively and wasn't at all painful. I now feel complete again, happy to walk around naked and my boyfriend isn't aware of the change!' Elizabeth, 46, from London
Cost: Desirial Plus with Dr Dancey costs £1,000 at Bijoux MediSpa in London bijoux-medispa.co.uk (opens in new tab) Lasers - for a revamped sex life!
It's not enough that our face loses elasticity and bounce as we age, maddeningly so do more personal places. Vaginal laxity and the stress urinary incontinence (SUI) that often comes with it are tricky problems to resolve but a new laser tightening treatment could help sort the duo that's said to bother one in three of us.
Who's having it?
Right now not everyone who's trying the new FemiLift treatment is looking for a revitalised sex life - although we suspect that could change. 'The majority of women seeking treatment are motivated to find a cure for stress urinary incontinence,' says Dr Patrick Bowler Medical Director of Courthouse Clinics. 'But many who've had the treatment for SUI have also noticed an improvement in their sex lives. They tell their friends and word spreads!'
What happens?
After a consultation with a gynaecologist to see if you are suitable, treatment is simple. A slim applicator is inserted into the vaginal canal and the laser's thermal heating system produces hundreds of tiny white dots on the vaginal lining. The healing process results in more collagen and a thicker lining.
More ouch?
'There's no pain involved,' insists Dr Bowler. 'Some patients feel a slight warmth and most say it's less painful than a smear test. They chat or read while it's being performed.' Three, ten minute sessions 4 weeks apart are the norm, there's no real downtime and you can resume sex again in 7 days.
Does it work?
'The reaction is very positive, almost evangelical!' says Dr Bowler. 'A lot of women have given up hope of improving SUI, it's a condition that makes them thoroughly miserable. Once they find a solution they get busy telling their friends. It improves confidence and many report improved sex life and relationships as a result.'
Love it?
'I had the treatment because of that need to constantly go to the loo - I didn't dare laugh, sneeze or cough! It wasn't as invasive as a smear, didn't hurt at all - more a sensation that something was happening. Like a light switch going on and off. There was a big difference after the second treatment and after the third I stopped having to plan my life around knowing where there's a toilet. And sex? There was a difference!' Kimmie Baker 51, from Essex
Price?
Up to four treatments may be needed. FemiLift at Courthouse Clinics cost £1,800 for the first treatment plus consultation and three treatments £5,000.courthouseclinincs.com (opens in new tab) For details of Femilift doctors in your area go to femilift.com (opens in new tab)