This will be the wedding bouquet of 2020, according to a top florist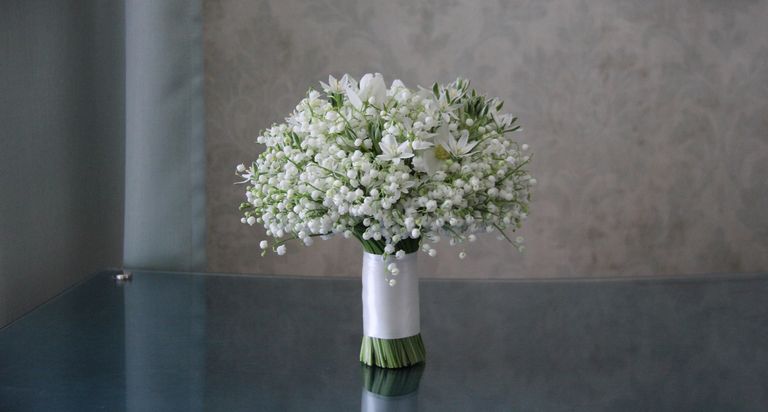 (Image credit: Lush Petals)
Getting hitched next year or know someone who is? According to a top florist, this is the wedding bouquet you won't want to be throwing anywhere!
Lush Petals, a luxury florist in London that provides luscious floral pieces and décor for the very best private and corporate events, says that Lily of the Valley is the flower that all brides will want to be walking down the aisle with in 2020.
MORE:Three grandmas turned up to a wedding in the same dress, and the internet can't get enough
Speaking about the sudden popularity of the plant, the brand's founder, Genia Silva said, "The reason I think brides love this spring flower so much is that it translates purity and innocence and is only available for a very short time in May, so quite rare and unique.
"For those brides who desire a bouquet with Lily of the valley in other months, Lush Petals can source the flowers as well. However, the price of them is so much higher when they are put of season."
Want to take it one step further? Brides are even using Lily of the Valley for buttonholes too!
Lush Petals love all-things-flowers and specialise in exquisite bouquets and stunning flower decorations for events and celebrations of any size, style or colour so they really know what they're talking about when it comes to trends!
Their previous projects have included indoor and outdoor decor of The Belvedere Restaurant in Holland Park, Christmas decoration of Hedonism Wines and Michelin-starred restaurants The Square and The Greenhouse in Mayfair.
MORE:This is the UK city with the happiest marriages, according to research
.
For more information on Lush Petals and their bridal flowers visit lushpetals.co.uk and lushpetals.co.uk/our-services/bridal-flowers or check them out on Instagram at @lush_petals.
What are your favourite blooms?