The Handbag Collection Fit For Lady Mary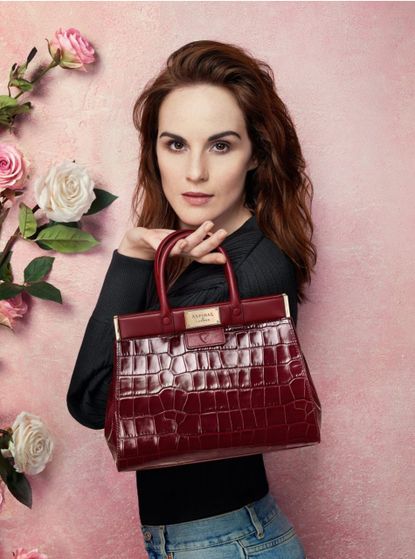 She's best known for playing Lady Mary Crawley in Downton Abbey but now actress Michelle Dockery has teamed up with quintessential British brand Aspinal of London to release a new range of tote bags.
The line was orginally unveiled at Aspinal's London Fashion Week presentation, however this week new photos of Michelle's collection were released to the public. Being a popular British icon, Michelle is in many ways the perfect star for the collaboration with luxury British heritage brand Aspinal of London.
Michelle says the collaboration was inspired by a coverted vintage bag owned by her grandmother which she fondly remembers from her childhood.
The new collection is just as ladylike as you would expect, and will no doubt get the approval from the Middleton sisters - who are huge fans of the Aspinal London brand!
The the aptly named 'Dockery' bags come in two different sizes and two separate shapes, with nine different colours to choose from including grey, snake print trim, pink, peacock blue, nude as well as Aspinal's signature burgundy croc and patent black croc. The bag also features a vintage inspired handle, an old fashioned fastening and a hard structured silhouette.
The design is both timeless and sophisticated so is well worth the investment as it will keep you going for years to come! A large version of the tote bag costs £950 and the smaller one is £795.
There's also The Dockery Snap Bag in the new collection which costs £750 for a large and £495 for the smaller one - and both versions come in nine different colours.
Aspinal's Creative Director, Mariya Dkyalo, said that "Michelle's natural beauty, refinement and poise makes her the perfect partner and ambassador for the Aspinal of London brand. She is such a fabulous talent with an immediate and clearunderstanding of her own style and elegance."
We love the elegant and vintage-inspired collection which is available to buy online and in store now. See the full collection here. (opens in new tab)