M&S launch new version of Duchess of Cambridge's engagement ring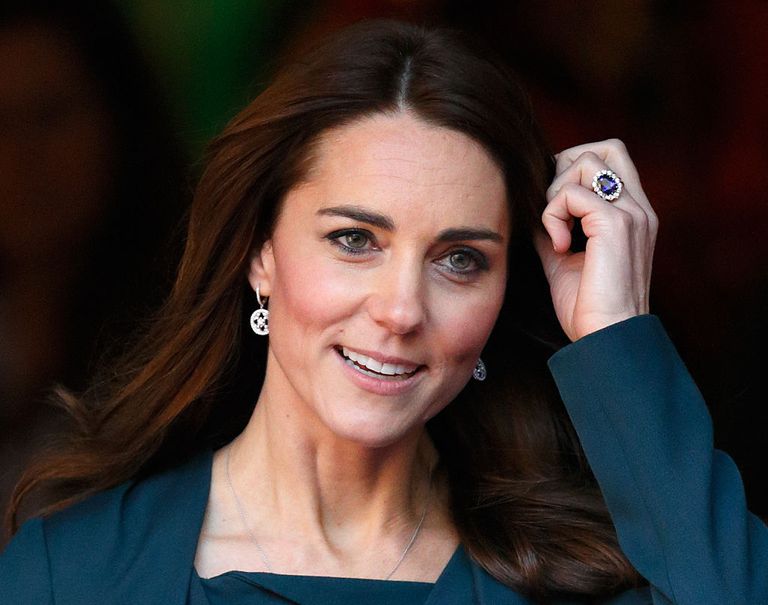 (Image credit: Getty Images)
We all remember the moment Prince William and Kate Middleton announced their engagement, and all eyes were on that gorgeous ring.
The sapphire engagement ring once belonged to the late Princess Diana, with Prince William proposing to the now Duchess of Cambridge with it to ensure his mother "didn't miss out on the wedding day". How romantic!
Of course, an 18K white gold ring with a blue sapphire surrounded by diamonds doesn't come cheap, and that's why there are duplicates available. A popular example is M&S' Platinum Plated Baguette Regal Ring, which is an affordable price of £19.50.
Platinum Plated Baguette Regal Ring
Now it's had an upgrade, with the high street store releasing a brand new one called Platinum Plated Cocktail Ring. This one is also £19.50, but looks a little different.
On the website, the ring is described as: "With its decadent shimmer and striking gem centrepiece, this ring was made for special occasions. Oval shape with prong set stones.
Platinum Plated Cocktail Ring
MORE: Marks & Spencer is selling a replica of Duchess Meghan's christening outfit
"Smooth platinum plated Skin Kind™ band, designed to be gentle on even the most sensitive of skin. Our Skin Kind jewellery goes beyond normal hypoallergenic standards so it's even kinder to sensitive skin."
So if you're looking for a royal-inspired ring that doesn't break the bank, you've now got two duplicates to choose from. We love any opportunity to steal the Duchess of Cambridge's style, and what better place to start than her iconic engagement ring?
MORE: You can buy a replica of Duchess of Cambridge's green Suzannah dress for just £12.99
Both rings would be perfect for a special occasion, and is a great way to wow any friends that are royal fans (or not – we're sure it's gorgeous to everyone!).
Shoppers have already snapped up the new version though, as it's completely sold out online - fingers crossed for a restock soon!