How a £22.50 cardigan from M&S will instantly update your wardrobe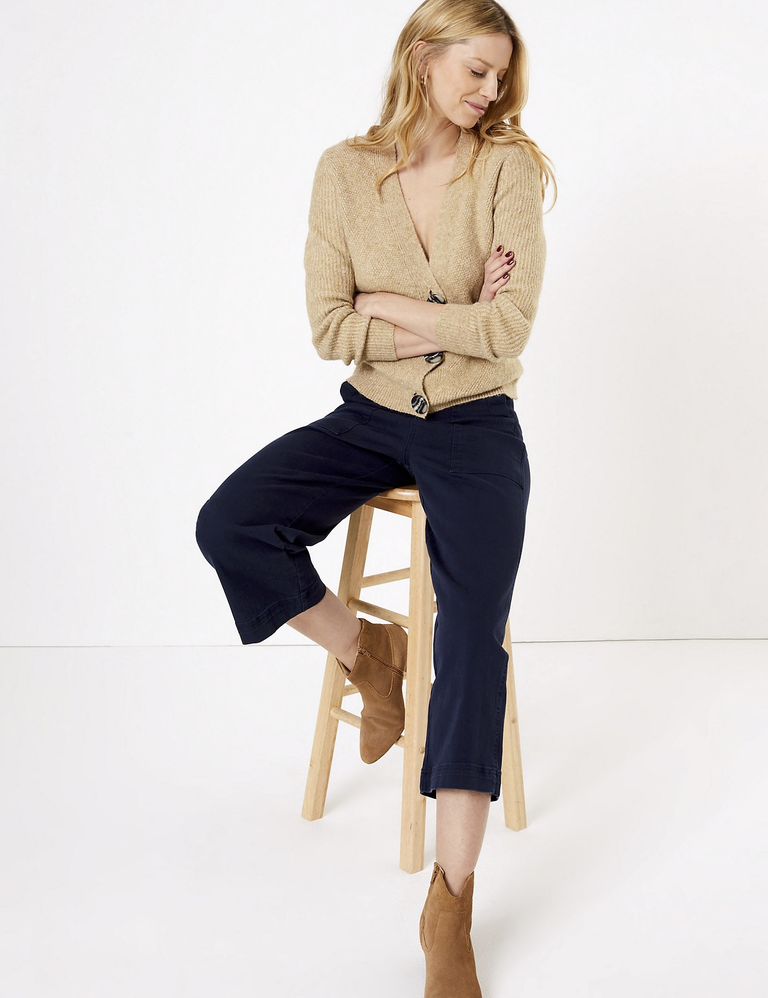 The humble cardigan is enjoying a renaissance. For many years now it's been about a trophy sweater or a luxe sweatshirt, but the trend tide is turning. If you want to look current (and be warm!), the easiest way to do that is by throwing on a cardigan...
Cardigans may initially make you shudder and think of your school days, but the recent fashion runways have moved them on from the land of the frumpy, firmly into the land of the chic. And there is one style in particular that is dominating: cropped cardigans.
From the preppy designs showcased on the Chanel catwalk to the oversized Parisian styles seen on the influencers outside the shows, there are cardigans to suit every fashion taste.
MORE: These sell-out Marks & Spencer heels that look *just* like a Chanel classic are finally back
Is this a trend purely for millenials though we hear you ask? The short answer is no, the right cardigan is an ageless, flattering fashion trend we can all wear. Opting for a hip-length cropped cardigan helps accentuate the waist and create a flattering figure.
How to pick a flattering cropped cardigan
By 'cropped cardigan' we don't mean exposing your midriff, we are referring to hip-length knits as opposed to a longline style. Our top tips when styling a cropped cardi:
Hip-length cardigans worn with a tailored high-waisted skirt or trousers look incredibly sharp, and can create a trim silhouette.
Chunky oversized cardigans look best when balanced out on the bottom half. Pair with a bias cut midi skirt, or slim jeans to create a flowing silhouette. Or wear unbuttoned with a t-shirt underneath to break up the look.
Cropped cardigans can be faked with a clever "tuck" into your jeans, trousers or skirt. The easy tuck in helps to accentuate your waist. We love to add a belt to create extra emphasis.
Cropped cardigans - our fashion team's picks
The high street is full affordable and expensive looking cardigans in an array of styles. We've picked out our favourite pieces that will seriously up your knitwear game.
M&S Ribbed V-Neck Cardigan
We are loving the new-in section at M&S right now, transitional dressing never looked so easy! This cardigan is the perfect layering piece for chillier days. It's also available in navy, camel and black - at only £22.50 we want them all!
SHOP NOW: Ribbed V-Neck Relaxed Fit Cardigan in Light Grey, sizes xs-xl, £22.50, M&S
H&M Boxy Wool Cardigan
SHOP NOW: Boxy Wool Cardigan in Light Purple, sizes xs-xl, £49.99, H&M
& Other Stories Alpaca Wool Blend Cardigan
SHOP NOW: Alpaca Wool Blend Cardigan in Light Green, sizes xs-l, £75, & Other Stories
Zara Cardigan With Gem Buttons
SHOP NOW: Cardigan with gem buttons in ecru, sizes s-l, £29.99, Zara
Selected Femme Cardigan In Yellow
SHOP NOW: Yellow Cardigan, sizes 6-14, £50 reduced to £37.50, Selected Femme at ASOS
AND/OR Cassidy Cardigan
SHOP NOW: AND/OR Cassidy Cardigan in Natural, sizes 8-18, £65
Second Female Brook Knit Cardigan
SHOP NOW: Brook Knit Cardigan in Egg Nog, sizes s-xl, £165, Second Female at John Lewis & Partners
Mango Knit Short Cardigan In Pastel Yellow
SHOP NOW: Knit Short Cardigan in Pastel Yellow, sizes s-l, £35.99, Mango
Fashion Union Knitted Cardigan
SHOP NOW:Knitted cardigan with chevron pattern, sizes 6-16, £45, Fashion Union at ASOS
Zara Knit Cardigan
SHOP NOW: Knit Cardigan in Orange, sizes s-l, £25.99, Zara
What to wear with cardigans
The cardigan is the perfect transitional knit. It can be layered over vests, t-shirts and roll necks to keep you toasty warm or worn alone as the weather gets warmer.
Having long been rejected as a fashionable piece, cardigans are now being recognised as a way to instantly update any outfit. And personally we love the verstatility and playfulness that they offer. Pair a bright or pastel one with denim for a fun and easy-to-wear day time look. Alternatively, choose a chunky version and combine with a slinky skirt for a winning combination that looks effortless.