Best anti chafing shorts: the style trick that will save your thighs this summer
Best anti chafing shorts: protect your thighs under skirts and dresses with these clever buys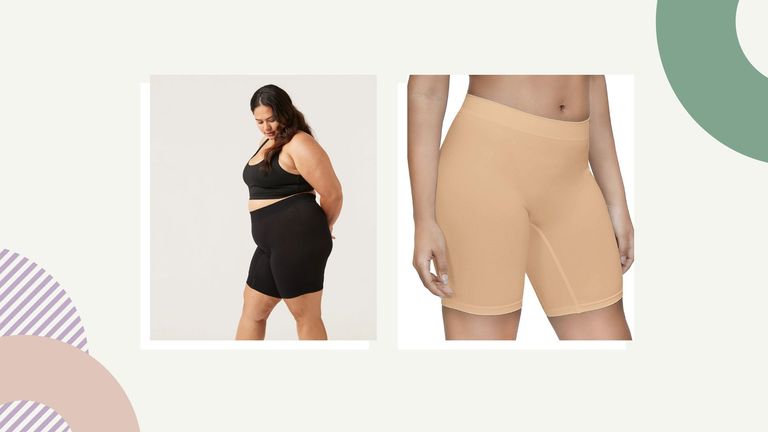 (Image credit: Modibodi / Simiya )
The best anti chafing shorts are a smart way of ensuring your thighs don't rub together this summer. If you suffer from thigh burn, or what has been affectionately coined 'chub-rub', a pair of specially designed shorts could be the answer to banishing sore skin.
The best anti chafing shorts are fashionistas' secret weapon when it comes to wearing dresses and skirts in the summer. Essentially the best underwear to help you avoid thigh rub, anti chafing shorts also offer silhouette sculpting properties, making them some of the best shapewear too. With a number of different lengths available, you can easily slip anti chafe shorts on under the best dresses, from mini to maxi length, ensuring no one is the wiser and you can get on with enjoying your summer capsule wardrobe.
If you find it hard to give up your best jeans and best leggings in the summer months because you fear your thighs rubbing together, you need to get some anti chafe shorts stat. While thigh rub is a common problem amongst plus size women, you can experience this discomfort, particularly in warmer weather at any dress size. The best anti chafing shorts will keep you cool and comfortable whatever the weather and occasion. Made from stretchy fabric, anti chafing shorts will feel similar to various types of body shapers or shapewear you've tried before. With a high rise, they'll also help to contour your silhouette, ideal for those who usually wear stylish dresses to hide a tummy. Wearable either alone or over your regular briefs, they offer great thigh protection, particularly on days when your step count will be high and the weather warm. While they might not be the sexiest item in your lingerie draw, when it comes to practicality, a pair of thigh-protecting shorts are hard to beat.
Best anti chafing shorts - selected by a fashion editor
Thigh rub can really inhibit a summer wardrobe and if you've found yourself avoiding dresses, opting instead for a flattering jumpsuit, simply to protect your thighs, then investing in some great anti chafing shorts will help to open up a whole world of new style opportunities.
When choosing the best anti chafing shorts, fabric and length will be key. Longer line shorts will work well under midi and maxi length dresses and skirts, while you'll want shorter lengths (that still cover your upper thigh area) for shorter hemlines. Make sure to invest in a few pairs, as you'll need to wash them between wears.
Available in a range of hues, consider what you'll wear your shorts under, to avoid them showing through thinner fabrics and invest in styles that offer high waists and sweat-wicking properties for maximum summer comfort and sculpt.
1. M&S Cool Comfort™ Anti-Chafe Shorts
Best color range of anti chaff shorts
Specifications
RRP: $21 / £12
Sizes: US: 6-20 / UK: 8-22
Colorways: 7
Reasons to buy
+
Great price
+
7 colorways
+
Matching bra available
British clothing brand Marks and Spencer is well known for great fashion, food and homeware. With one of the best lingerie collections, it's a label we trust to make quality pieces that won't break the bank and they'll usually solve our practical style problems too. The brand's barely-there anti chafe shorts feature Cool Comfort™ technology, ensuring that you won't overheat in the height of summer. Seam-free on the outer leg, they won't show up under dresses, making them ideal for what to wear to the races or what to wear to a wedding this summer. Combining comfort and practicality, the shorts are available in 7 colors and are stocked up to a US size 20 / UK size 22.
---
2. SKIMS Mid-Thigh Sculpting Shorts
Best sculpting anti chafing shorts
Specifications
RRP: $46.50 / £37
Sizes: US: XXS-5X / UK: 0-30
Colorways: 9
Reasons to buy
+
In-built sculpting
+
Longer-line
+
Great size range
Reasons to avoid
-
Expensive compared to other brands
When it comes to high-quality shapewear, American clothing brand, SKIMS has it down, making some of the best plus size shapewear, they stock up to a 5XL in all styles. Kim Kardashian has built an undergarment brand that solves a multitude of wardrobe dilemmas, so when it comes to the best anti chafing shorts, of course, SKIMS has the answer. The mid-thigh shorts offer protection for your thighs as well as sculpting your natural figure, without compromising on comfort. With an ultra-soft finish, these shorts are seamless to give you a smooth finish under tight-fitting clothing. With a slightly longer leg, they're ideal for wearing under any of the best midi dresses this summer.
---
3. JOCKEY SKIMMIES SHORT LENGTH SLIPSHORT
Best short anti chafing shorts
Specifications
RRP: $20 / £14
Sizes: S-2XL
Colorways: 6
Reasons to buy
+
Great price
+
Comfortable design
+
Great reviews
Reasons to avoid
-
Might be too short for some
Jockey's Skimmies come in two lengths, a short style, ideal for higher hemlines and the classic slip short that finishes mid-thigh. In a silky soft microfiber, they're light and comfortable for all-day wear and while they aren't shapewear per se, they do offer a smooth finish. Like many of the best anti chafing shorts, they have a seam-free finish, making these your best-kept style secret.
"I've loved Jockey's Skimmies for years and while I don't wear them every day of the summer, I certainly would never go on holiday or embark on particularly energetic days without them. I even wore a pair under my wedding dress!" - woman&home fashion editor, Rivkie Baum.
---
4. ASOS DESIGN Curve anti-chafing shorts 2 pack in Golden Bronze
Best longline anti chafing shorts
Specifications
RRP: $20 / £14
Sizes: UK: 20-30
Colorway: 1
Reasons to buy
+
Ideal for plus sizes
+
Amazing customer reviews
+
Won't overheat you in the summer
Reasons to avoid
-
Can only be worn with longer hemlines
Not exclusive a plus size problem, fuller figures will likely be more familiar with the thigh rub issue, particularly those with a pear-shaped body. In a tights style fabric, these light and breathable shorts have a flattering high-rise, making them also ideal for apple body shapes as they gently sculpt a tummy. Sold in packs of two, they feature an elasticated waist for added comfort and a sheer finish, making them airy in the summer. If you're still unsure about this online purchase, the customer reviews should also reassure you.
---
5. Modibodi Anti Chafing Shorts
Best period anti chafing shorts
Specifications
RRP: $35 / £30
Sizes: US: M-6XL / UK: 12-26
Colorways: 2
Reasons to buy
+
Great size range
+
Doubles up as period underwear
+
Longline
Reasons to avoid
-
Highly specialized product
If you've already invested in the best period underwear then you should be familiar with Australian clothing brand, Modibodi. Producing underwear, activewear and some of the best swimsuits that are also absorbent and leakproof during your period, the brand's anti chafe shorts offer a further extension to the range. Made from soft fabric, the mid-length shorts are invisible under clothing and are crafted with a lining that can handle moderate to heavy flow - meaning you don't need any underwear under these shorts. Protecting your thighs and offering a more sustainable way to tackle your period, these are a summer must-have.
---
6. SIMIYA 3 Pack Women Long Briefs Anti Chafing Boy Shorts
Best value anti chafing shorts
Specifications
RRP: $21.99 / £16.99 for pack of 3
Sizes: US: S-3XL / UK: 8-22/24
Colorways: 3
Reasons to buy
+
Available as multi-pack or singular items
+
Excellent reviews
+
Good stretch
Reasons to avoid
-
No specific wicking properties
Tagless and smooth, these shorts are ideal for wearing under light summer dresses. Available in three basic colors, the mid length shorts are designed to stop thighs rubbing together and while the fabric has no specific wicking properties, the length aims to stop sweat gathering and from thighs rubbing together. In a nylon/elastane combo, you can guarantee a figure-hugging fit that will naturally offer light shaping and sculpting. With rave reviews, customers adore the stretchy nature of the shorts, making them the best anti chafing shorts for those that like a little more give.
---
7. Snag Stay Cool Chub Rub Shorts
Best plus size anti chafing shorts
Specifications
RRP: $13.99 / £8.69
Sizes: A-G / UK: 4-36
Colorways: 17
Reasons to buy
+
Amazing size range
+
Great price point
+
Colors for all occasions
Chub rub is the affectionate term given to the thigh burn that many experience when wearing skirts and dresses, and while this is largely pitched as a summer issue, it can, for many women be their experience all year through. Having the best anti chafe shorts can really open up your wardrobe if you suffer from chub rub and whether you choose to make them a feature, in a bright and colorful pair or opt for something discreet, indie clothing brand, Snag has an impressive array of designs that will help you embrace frocks again. The tights are already a favorite amongst plus size shoppers and some of the best fashion bloggers, with the brand's Chub Rub shorts made from the same 80 denier material as its wildly successful tights collection. Enhanced with a special yarn to help you keep you cool, they're designed to be breathable, as well as regulate body temperature, taking heat away from the body as speedily as possible.
The moisture-wicking fabric and cotton gusset will keep you feeling cool and fresh, allowing you to flash those pins without fear of thigh burn. With a high rise, they also offer gentle smoothing - without feeling restrictive. An absolute dream.
---
8. Sloggi Basic Long Leg Briefs
Best cotton anti chaff shorts
Specifications
RRP: £15 (UK Only)
Sizes: 12-26
Colorways: 3
Reasons to buy
+
95% cotton
+
Made to be underwear and shorts in one
+
Great size range
A long line brief, rather than specific anti chafing shorts, these combine the best of both. Wearable without underwear underneath, they're made from 95% cotton, making them comfortable and breathable in the height of summer. With stretchy leg openings, you won't find seams digging in and these machine washable shorts will give excellent coverage from mid-thigh to just under your belly button. Designed for UK sizes 12-26, they're a great option for those who find multiple layers too much and want underwear that will also tackle thigh chafing.
---
9. Next Cotton Blend Anti-Chafe Shorts Two Pack
Best pretty anti chaff shorts
Specifications
RRP: $32 / £20
Sizes: US: 4-20 / UK: 8-24
Colorways: 2
Reasons to buy
+
Sold in packs of two
+
Cotton-blend
+
Great customer reviews
Looking for something a little more feminine? These anti chafe shorts from fashion and homeware retailer Next feature a flirty lace hem for a more designed finish. Created to smooth out the silhouette, as well as protect thighs, they're ideal under tighter fitting garments too. Made from a cotton blend, with excellent stretch, for a comfort finish, they're seam-free for a flattering and discreet fit. Sold in packs of two, the gusset is 100% cotton for added breathability.
---
10. Bandlettes Unisex Thigh Bands
Best anti chaff thigh bands
Specifications
RRP: $19.99 (international shipping available)
Sizes: 21-32 inches
Colorways: 3
Reasons to buy
+
A good alternative to those who don't want shorts
+
Sexier designs available
+
Made with slip resistant silicone
If you don't want the added bulk of shorts around your middle, but do need to protect your thighs then Bandelettes could be the answer to your thigh chafing issues. A sleek and simple, no-nonsense design, as the name suggests, these stretchy bands sit around your thigh area. Available in two different depths, depending on the level of protection needed, they use non-slip silicon trims to avoid them rolling down. Whether you're wearing them under a dress on a first date, or letting them show on a run, Bandlettes are a practical and functional item that will slip easily into your vacation suitcase too. Made in the USA from a soft, microfiber, they're available up to 32inches.
Rivkie is a fashion editor, writer and stylist with over fifteen years' experience in the industry. Having studied design and pattern cutting at the London College of Fashion, Rivkie fell in love with styling and journalism, covering fashion weeks in London, Paris and New York.
Specialising in plus size fashion, Rivkie has long championed that style is for everyBODY and has been a regular talking head on a host of radio stations and television shows, pushing for greater representation for plus size women and fashion throughout her career.