The best scented candles for a warm and cosy home this winter
Taking deep breaths has never been so calming thanks to the best scented candles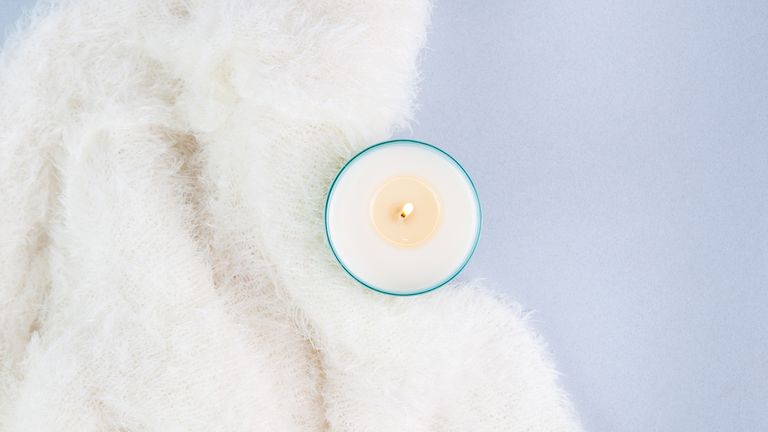 (Image credit: Getty)
Whenever we're feeling in need of a little R&R, the best scented candles are exactly what we need.
Most candle brands change up their offerings throughout the year, meaning there's an abundance of gorgeous winter-centric scents available at the moment.
From luxury cult brands to those lesser-know gems we have compromised a list of the best scented candles that will make your home smell wonderful. We looked at hundreds and tested dozens of scented candles in order to whittle down the list you see here and to select the overall best scented candle buys.
Of course, there are concerns these days that burning candles can release harmful toxins into your environment so we've tried to choose natural wax blend options where we can. But where that wasn't possible (or we were just too obsessed by the gorgeous scent), we made sure to use one of our best air purifiers when burning candles for a prolonged period of time or when we were using several at a time in one room.
So grab a few of these and cuddle up in bed with a hot drink and one of our best pillows for a cosy self-care session...
Best scented candles to stay cosy this winter
1. Crabtree & Evelyn Raw Instinct
W&H's overall best scented candle for winter
If you dream of winters spent in a cosy wood cabin with a crackling fire in the corner and the snow falling outside, then this one is for you.
It blends vibrant fruits with warming earthy tones of smoky woods and a fresh hint of eucalyptus to truly transport you to a winter haven. We love the chic green glass jar that adds a rainforest look to any wood accents in the home and the fancy brushed copper lid that can be used as a coaster to protect your surfaces. Plus the soy wax blend means that you keep this burning as long as you like without breathing in any nasties.
2. Maison Francis Kurdijan Mon Beau Sapin
Best luxury scented candle
Known for delivering one of the best cult fragrances around, Baccarat Rouge 540, Maison Francis Kurdijan is bringing us all the wintry vibes with their Mon Beau Sapin candle that houses a balsam fir fragrance in a festively snowy green and white jar.
3. Sanctuary Spa Signature Sanctuary Candle
Best cheap scented candle
If you've missed your spa escapes throughout this year's coronavirus restrictions, then treat yourself during your winter break and bring the spa to your home with the iconic fragrance that is imbued into all of Sanctuary's popular skincare products.
4. Fox & Ivy Scented Candle Peony Blush
Best supermarket scented candle
While unfortunately we can't be graced with the gorgeous look of peonies all year round, we can get hold of the smell to help us pretend we have a beautiful vaseful on our tables.
And this pocket-friendly Tesco offering is a brilliant way to indulge in the sweet smell of peonies with a soft and powdery scent that even has hints of one of our go-to perfumes.
5. Trish McEvoy 9 Oud
Best soy scented candle
There's been a real switch to soy scented candles in recent years for several reasons - one being that the release less toxins into the air than paraffin candles so are better for your wellbeing, and another being that they take the edge off strong fragrances to give you a more subtle and pleasing scent. So what better note to mix with it than the luxurious oud scent?
We love the soft eastern fragrance that comes with this soy blend and the enchanting black and gold jar speaks to the quality of the product inside.
6. Diptyque Amber Feather candle
Best scented candle for trendsetters
We all secretly want to become a Diptyque candle woman and this purchase has to be one of the best ways to do so. Of course, the brand is known for their more popular Baies, Figuier and Roses options, but this Amber Feather offering has been living under the radar.
It blends sharp orange with warming cinnamon and ginger, softened by a note of amber for a truly delightful winter scent. And the pretty design on the jar is utterly adorable!
7. Jo Malone Pine & Eucalyptus candle
Best classic winter scented candle
Just like Molton Brown candles, Jo Malone always tops our list when it comes to home fragrance. We're the biggest Jo Malone fans over here at woman&home HQ so of course one of their scents had to make it onto our list - the only challenge was, which one?!
We went for Pine & Eucalyptus because nothing says winter quite like the smell of fresh pine trees from the forest.
8. ESPA Winter Spice candle
Best Christmas-smelling candle
Treat yourself to a wintry treat with this candle that brings together the smells of sweet orange and ginger with spicy cinnamon and clove - delicious!
9. Cire Trudon Fir candle
Best woody scented candle
A true masterpiece of a winter candle that wows from the moment of unwrapping with its opulent blue and gold jar that hold the most enticing of fir scents.
Light this up, close your eyes and allow yourself to be transported to a Narnia-like world full of warm coats, crisp snow and enchanting fir trees. This is one of those that will leave you unable to rip yourself away...
10. Floris Hyacinth & Bluebell candle
Best floral scented candle
If you want something wintry but are not a fan of strong woody scents, this floral alternative will allow you to indulge in the season in a more subtle and feminine way.
A delicate blend of florals mix with ylang ylang, heliotrope and woody notes for an elegant scent that is reflected in the gold and glass packaging.
11. Byredo Altar
Best scented candle for meditation
Let yourself be transported to a faraway temple of meditation with the strong woody notes of Byredo's autumn launch.
12. This Works Deep Sleep Heavenly Scented Candle
Best scented candle for sleep
Already a cult favourite that promises to help you drift off, this updated blend will relax you all throughout the evening with its notes of lavender, camomile and vetiver.
13. Creed Aventus scented candle
Best scented candle for men
If you want to burn something for your wintry couple's night in but also want to impress your other half, go for this striking candle that is based on the cult unisex fragrance.
14. NARS Oran scented candle
Best scented candle for makeup lovers
Specifications
RRP: £34.50
Weight: 270g
Burn time: 70 hours
If you're a loyal to your favourite makeup brand, then go for one of the NARS candles to really show your dedication.
We love the Oran that is full of delicate floral notes and smells just like an elegant bouquet of lilies in the hallway.
15. Auli Skydance
Best natural and cruelty-free scented candle
Made from completely natural wax, this candle doesn't expose you to any of the harmful effects of paraffin and parabens. And with a festive wintry scent that was blended to celebrate the phenomenon that is the Northern Lights, this will bring the best parts of winter to your home.
Plus we love the stylish blue jar that it comes in!
16. August & Piers Socialite
Best scented candle for minimalism lovers
If you're one for minimalism then you need an August & Piers candle in your home. The crazily chic jars will add a touch of stylish elegance to any abode while the addictive scents will make you think twice before blowing it out.
We love the Socialite candle that offers a potent honey smell, which is expertly balanced out by sharp pomegranate and warming amber.
17. Ormonde Jayne Mystère
Best citrus scented candle
Packed full of citrusses this candle will give you a hit of bergmot, mandarin and lime, along with the delicious smell of Lapsang Souchong tea - all held together by a humble base of cedarwood and pine needles. A refreshing alternative to the traditional winter scent.
18. Guerlain Winter Délice
Best comforting scented candle
This one will wrap you in comfort with its sweet gingerbread notes balanced with mugwort and patchouli. Soft, powdery, sweet and a true treat. And we love the adorable jar with a little bumblebee on the front.
19. Beauty Pie The Candle Bar Collection
Best mini scented candle set
Specifications
RRP: £24.38 for members, £75 for non-members
Weight: 3 x 75g
What's better than one cult scented candle for winter? A whole set of three. Beauty Pie's famous Bahia de Miel candle wows in this trio with its honey and vanilla notes that blend with sharp basil, wintry fir, woods and musk.
We also love the other smoky inclusions of Sweet Tobacco, Cedarwood & Vanilla and Leather, Violet Leaves & Labdanum so you can choose your scent depending on your mood.
20. Johnson & White New York
Best scented candle for travel lovers
We've all missed heading away on holiday this last year so this brand will let you pretend you didn't have to cancel those plane tickets with their offerings including, Dubai, New York, London and Bali.
Personally we prefer the woody cashmere notes of the New York candle - but we'll let you take your pick!
Which is the best scented candle for me?
The three most important considerations you need to make when choosing the best scented candles for you are:
What fragrances you are drawn to?
Where will the candle will be placed in your home?
Your budget
Everyone loves a scented candle, but what most of us can't agree on is which scent is best. With hundreds of smells on the market, choosing an aroma, whether floral, woody or herbaceous can sometimes be tricky.
From the smell of fresh laundry to give a deliciously welcoming feeling to your home, or a citrusy aroma prefect for the kitchen, believe it or not, your choice of fragrance says a lot about your style and personality.
Once you've nailed your scent, think about the space. For a longer-lasting fragrance in your home, use different scents in different areas. You'll notice the scents as you move from room to room.
The correct way to burn a candle
We asked candle expert Jo Malone, founder of Jo Malone candles and owner of Jo Loves, to share her tips of for getting the most out of our best scented candles by burning them correctly every time. Jo says:
"For the best possible burn and to prolong the life of a candle, it's best to burn the candle for long enough so that the whole surface becomes molten, this usually takes around 2 hours.Candles have memory, so if you blow out a half-melted candle it's less likely to burn down evenly the next time.
"Avoid burning any candle for more than 3-4 hours at a time and once you have put it out, leave the candle to completely cool before relighting it. To get the best longevity out of your candle, it is important to trim the wick each time before relighting it. Trim the wick to between 4mm and 5mm as this allows the candle to burn evenly and also prevents smoking.
"Avoid burning the candle in a draft as this may cause it to smoke."
Happy burning!
4. The White Company Highland Escape
Best high-street scented candle
Specifications
RRP: £20
Weight: 140g
Burn time: 33 hours