9 expert home blow-dry tips that will change how you dry your hair
Master your at-home blow-dry with a little help from the experts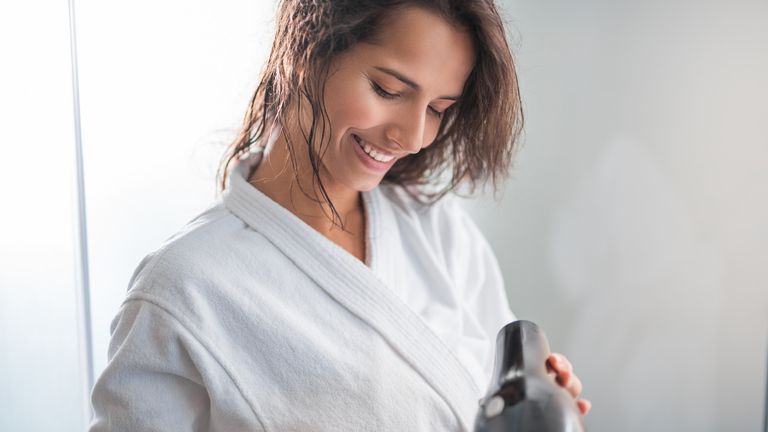 (Image credit: Getty images)
If you could wave a magic wand and give yourself one beauty skill, would creating a home blow-dry that's salon perfect be it? It's certainly nudging the top of the list for me, along with perfectly symmetrical eyeliner flicks. 
Of course, picking the best hair dryer for your hair and styling needs will make things eminently easier, as will working your way through a step-by-step guide that sets out how to blow dry hair like a pro. 
But, a bit like nailing your driving theory, then terrifying the practical examiner so much they have to abort the practical test halfway through (ahem), it's one thing knowing how to do something and quite another actually carrying it out well. 
Want to revive fallen roots, blow-dry a bob hairstyle without it looking too 'done,' or know the finishing product the pros can't get enough of? Where better to get the best home blow-dry tips than pro hairstylists who can replicate the bounce and swish of Kate Middleton's hair as easily as the rest of us tie our shoelaces? Prepare to swish-swish in style! 
1. Don't brush a home blow dry too soon
"At home, blow-dry hair upside down until 90% dry, which will give the root a lift. For the remaining 10%, grab a round vented brush of choice and gently wrap the hair around in large sections."  Award-winning hairdresser Jonathan Andrew 
2. It's all in the angle 
"Don't aim the hair dryer up the hair shaft – that means the hair follicles will dry sticking out and make the hair feel rough and not silky or smooth." Celebrity hairstylist Lyndsey Harrison 
3. Try a comb attachment
"Comb nozzles are a great way of injecting volume right at the root area, plus your hair stays tangle-free. Finish with cold air once hair is dry using the cool-shot button, which will set the hair."  Taylor Taylor London art director Gary Evans
4. Take time to cool your home blow dry
"Once hair is prepped and sectioned, you can start a home blow dry with your brush. To achieve maximum volume, let the hair cool on the round brush before letting it down." T3 ambassador and celebrity hairstylist Laura Polko
5. Lift and spritz
"If applying hair styling products to the hair while blow-drying, make sure you lift the hair up to get to all the sections – don't just spray it on the top visible section." Celebrity hairstylist Lyndsey Harrison 
6. Add height to short hair 
"Lifting hair up and away from the face is a route to making short hair effortlessly stylish. When hair is still wet, create a low side parting, then comb through a lightweight styling mousse for hold.  Blow-dry away from your face, and when it's 100% dry, use a little styling gel to slick back the sides." A-list hairdresser Charles Worthington 
7. Undo a blow-dried bob
"There's a bob for everyone, but what makes a bob great is embracing an element of naturalness. What makes bobs feel wrong, especially if you are a bit older when it's over blow-dried or overworked. If you have created a classic blow-dry on bobbed hair, spritz it with a bit of Evian spray. It'll undo it and stop it becoming too prim."
CEO of Hershesons and Woman & Home Hair Awards judge, Luke Hersheson
8. Finish a home blow-dry with tools
"Seal flyaway and baby hairs by pressing a hair straightener or tong on to the surface of your hair once your look is complete. Running the back of a warm styler across the top of your head along the parting line helps to create added shine and seal down the hair cuticle."  A-list stylist Adam Reed
9. Preserve your style
"If your style drops soon after drying, flick your hair back and forth around the front of your hairline using your fingers to revive product and create natural movement. You can also give yourself a scalp massage to create a natural root lift." Owner and creative director of Hare & Bone Sam Burnett