14 Treatments That Will Transform Your Neck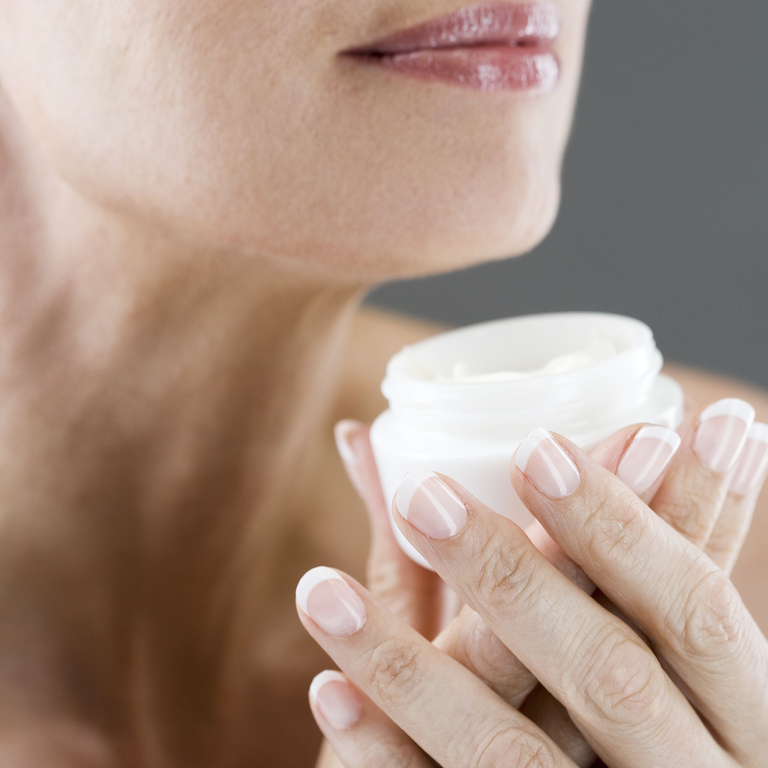 Stop your neck from giving your age away with these firiming treatments...
Time was when our necks didn't become a worry until middle age but, that's all changesd due to smart phones. Experts predicts some of us are looking down at our devices and tablets up to 150 times a day, and all generations are seeing an increase in premature wrinkles and sagging in the neck area - especially those aged 18-39 who are the worst offenders.
An abundance of clever face creams are working hard to combat fine lines and wrinkles but a youthful appearance from the chin up can highlight a neglected neck even more. Constantly exposed to UVA rays and hormones, the skin on our neck and chest ages faster than anywhere else in the body - typically by two or three years.
Facialists frequently report a difference in skin quality between the face and neck, which isn't too surprisingly considering only 32% of women actually use firming neck creams or chest treatments.
Scientific research suggests the neck comprises of 15 times fewer sebaceous glands and far less fatty tissue than the face. What's more, the major muscles running down the sides of our necks are not supported by bones in the same way they are in the face, meaning they are naturally less taut and loosen more easily which leads to sagging skin.
Using the right SPF, chest and neck creams can prevent the pull of gravity and stop that crepe like texture setting in. Because we often forget to slather on sun cream, our chests are one of the top five places we burn, which inevitably accelerates ageing.
In the fight against the sagging, surgeons have seen an 11% rise in chests lifts since last year and dermatologists have revealed that 95% of their rejuvenating face treatments have now been extended to the décolletage at the request of their clients.
But, you don't need to dabble in cosmetic surgery or expensive salon treatments to roll back the years. We've compiled the best at home treatments to help you fight back...
Omorovicza Firming Neck Cream
£95, Omorovicza Now you know why you neck needs special attention, meet the sparkling new product that blends potent actives with a pure and gentle formula that won't irritate or overload this delicate area. As with all Omorovicza skincare, the base carrier in this Firming Neck Cream is Hungarian Thermal Water, packed with skin-healing minerals - no filler here. There's also two forms of plumping hyaluronic acid, plant enzymes (from truffles no less) a firming protein and polysaccharide blend and exfoliating acids to smooth lines and rough skin texture. This is pricy, it's worth noting the cream feels an absolute treat to use - rich and silkily textured with enough 'slip' to be massaged in for a minute before it sinks in and gets to work.
Skin Republic Neck + Décolletage Repair Sheet Mask
£5.49, Fragrance Direct There's a sheet mask for everything these days, and the much-lauded sheet delivery system (using a physical 'shield' to push the product into skin) works particularly well on the often dry, always overlooked skin on our necks. This keenly-priced example contains a mixture of hydrating and brightening actives, like COQ10, Vitamin E and liquorice, to plump up crepiness and tackle pigmentation, another common complaint around this area. A fun quick fix.
Nuface Trinity Facial Toning Device
£315, Space NK Yes, it's expensive, but it's also unarguably effective. This sort device has recently become very popular during salon facials as the little micro-currents sent into the skin have an instantly visible tightening effect, that you can expect to last for a couple of days. Using this Nuface at home on a nightly basis means you'll get that tightening of the jaw line (and wherever else you like) and also a stimulation of blood flow to the skin, which works long-term on skin tone and texture. It's relatively comfortable, if you feel anything it'll be a tiny 'zapping' sting, and you only need a few minutes a night while you watch your favourite box set to make a huge difference.
Timebomb Troubleshooter Neck, Jaw & Chest Cream
£36, Timebomb This isn't brand new, but it sells like nobody's business and scooped best neck and chest cream in The Anti-Ageing Beauty Bible three times, so clearly TimeBomb is on to something good. The cream itself is fairly rich and buttery, just what you want in this area, and contains Vitamin C, a powerful brightener to tackle age spots, a blend of natural plant oils to deeply hydrate and peptides, which communicate with tired skin cells to make them act like younger, firmer ones. These things take time to work their magic, but give it a month and you should see good results.
Elemis Pro Collagen Neck and Decollete Balm
£49, Elemis Infused with Sea Buckthorn oil, one of the richest known plant-sources of Fatty Acid Omega-7, this serum contains Mediterranean algae which helps to hydrate, nourish and reduce the appearance of fine lines and wrinkles. Skin firming Tree Fern extract also helps to visibly improve the appearance of skin elasticity and smoothness, thus reducing the dreaded crepiness! This cream is a brilliant option for mature skin as it deeply moisturises whilst firming and toning the skin.
£33, Amazon This dual action treatment firms and tightens the neck, improving the look of crepey skin both instantly and over time - so you never have to feel guilty about neglecting your neck again! It also hydrates, exfolioates brightens and tightens.
Illuminage Skin Rejuvenating Pillowcase
£50, Look Fantastic Smile lines have taught us every action has a reaction, and that includes repeatedly creasing our necks as we spend more time looking at phone and tablet screens. "Wrinkles and sagging of the jowls and neck used to begin in late middle age," says Dr Christopher Rowland Payne, consultant dermatologist at The London Clinic, "but in the past ten years, because of 'tech neck', it has become a problem for younger women." One way to prevent your chin going south is to sleep on your back, and use the silky Illuminate Rejuvenating Pillowcase which contains copper oxide fibres that promote natural cell renewal.
Clarins Super Restorative Décolléte and Neck Concentrate
£60, Clarins Even pre-tech, a neglected neck always gave the game away - it's exposed to the elements, lacks hydrating oil glands and greasy collar fear stops us slathering on skincare. There's no magic pulls-it-all-back-in-cream (yet) but you can firm a bit and prevent a lot with active ingredients. Fibroblast repair is key as when these cells lose their shape, collagen and skin structure flag too. A daily dose of Clarins Super Restorative Décolléte and Neck Concentrate, with Harungana extract, "anchors" fibroblasts back in place.
YSL Forever Youth Liberator Y-Zone Concentrate
Formulated with a special Glycanactif Y technology, YSL Forever Youth Liberator Y-Zone Concentrate boost collagen production to help re-sculpt the neck area for a more youthful appearance. The soft serum texture is easy to apply and absorbs quickly - pop on a pea-sized amount before bed.
YOSO Compact - Portable Facial Cleanser - Travel Face Cleanser
£150, Amazon Yoso Pro is a cult device that send out tiny vibrations and charged ions to push product deeper into skin. Spread a firming mask like Royal favourite Heaven by Deborah Mitchell Silver Bee Venom Mask, £55, over your chest and neck, and the good vibrations do the work.
Elizabeth Arden Prevage Anti-Aging Neck Lift and Firm Cream
£85, John Lewis Rich in potent antioxidants and hydrating hyaluronic acid, Prevage Anti-Aging Neck Lift and Firm Cream takes a tailored scientifically proven approach to plumping, firming and smoothing the delicate skin on our necks.
£56 for 8, Look Fantastic Soaked in anti-ageing amino acids and nourishing wheat proteins, Rodial Glamtox Neck Mask is a simple an effective way to hydrate and firm the delicate skin on your neck. Place the wrap on your neck for 20 to 30 minutes before removing. Remember to massage in any residue left behind, cosmetic surgeons openly recommend massaging your neck daily to speed up your lymphatic drainage which prevents skin from sagging. 'Done correctly even a for just a few minutes a day can make a difference to muscle firmness', explained plastic surgeon, Dr Marco Lens in a recent interview.
YSL Top Secrets Natural Action Exfoliator
£33, Boots Always extend your exfoliator down to your neck and chest area. Gently sloughing away dead skin cells will help to keep the skin clear, allowing your expensive moisturisers to be more easily absorbed. Try Yves Saint Laurent Top Secrets Natural Action Exfoliator - a gentle, granule-free scrub that will leave the skin smooth and soft without causing irritation.