Stre-e-e-etch Summer A Little Further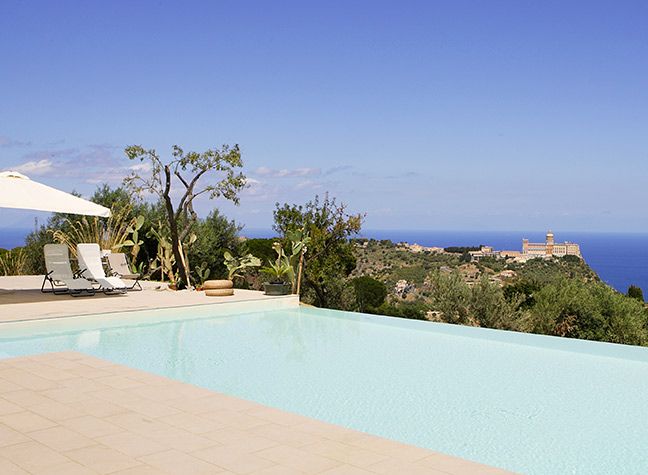 Looking for a sneaky late summer break where you can get some warm sunshine without having to fly half way round the world?
Looking for a sneaky late summer break where you can get some warm sunshine without having to fly half way round the world? We've taken a look at the weather charts – and the travel brochures – to put together a tempting selection of destinations where you'll hopefully find warm, sunny days guaranteed to do you a power of good!
If you want to make your own selection, then October is still going to be very warm in Cyprus, Turkey, Morocco, southern Italy, Greece and Egypt's Red Sea resorts, as well as on the Canary Islands and Madeira. Tunisia, Spain's Costa del Sol and the islands of Malta, Sicily, Sardinia and Corsica generally have lovely warm weather right through to the end of October.
Our selection includes everything from well-priced little apartments through to elegant luxurious resorts. Most are less than four hours' flight from the UK 9and there's even an option to go by train!). Hopefully, then, there's something perfect for you. Case di Tindari, Sicily
October temperatures between 18 and 21⁰C with up to 9 hours of sunshine per day.


A week in October from £803


Easyjet flights to Catania from £132 return


The Case di Tindari estate in north-east Sicily is a short drive from the coast and the archaeological site of Tindari but also within easy reach of the Nebrodi mountains, Sicily's largest national park and a gastronomic high spot in the autumn. Cottages are set amongst rosemary scented pathways framed by olive and oak trees slung with hammocks and there is a shared 18m infinity pool with a view over the Tyrrhenian coast and the Tindari Sanctuary. Each of the cottages has its own bougainvillea-framed terrace and high-quality spacious interiors with antique painted wood furniture and terracotta flooring.
White 1921, St Tropez, France
Rooms from 290 per night including breakfast
Average temperatures in the mid 20s in October, with seven hours of sunshine
Fly to Toulon, Nice or Marseilles, all around two hours' flight from London www.white1921.com
The eight-bedroom boutique hotel is set in the heart of the old town. Preserving the classical beauty of the original mansion, White 1921 celebrates the atmosphere of Saint-Tropez with a contemporary and chic Champagne bar created by architect Jean-Michel Wilmotte. Le Voile de St Tropez' - the renowned regatta and sailing festival – runs until 3 October 2015 and the hotel is hosting the ultimate after-party on 1 October, in partnership with Veuve Cliquot, waving goodbye to the St Tropez season for another summer.
Hillside Beach Club, Fethiye, Turkey
A week in October from £1,062pp based on two adults sharing, full board and including flights 24 degrees on average in October, with 10 hours of sunshine Two spas and three beaches (two are adult only) www.classic-collection.co.uk Hillside Beach Club overlooks its own private bay, and is home to two beautiful spas, three beaches (two of which are adult only) and a world-class watersports centre. It's cocooned in stunning natural surroundings, and you can explore the area's uninhabited islands or enjoy trekking, mountain biking or Jeep safaris.
Hotel Le Champlain, La Rochelle, France
Jump on a train for a late summer break in France's beautiful west coast La Rochelle is Europe's premier leisure port Average daytime temperatures around 18°C www.voyages-sncf.com Founded in the tenth century, La Rochelle started as a town of fishermen and salt merchants. Always turned towards the sea, this port built its expansion on the salt and wine trade. Destroyed by Richelieu in the seventeenth century, the town still has visible vestiges of medieval walls. The Old Town, once a prominent Huguenot and Protestant enclave, is characterised by medieval houses with facades sculpted during the sixteenth and seventeenth centuries, streets with arcades and private mansions of big shipowners. La Rochelle has four ports: the Old Port with its iconic towers, the commercial port La Pallice, the fishing port Chef de Baie' and the Minimes Port which is the premier European pleasure port with 3,500 moorings. The quaint Best Western Hotel Champlain is set in a converted townhouse, five minutes' walk from the Musée des Beaux-Arts.
Residence Mallorca, Portomar, Mallorca
From just £241 for a week for an air-conditioned apartment sleeping three, arriving 12 October Average temperatures 18-24°C with more than six hours' sunshine Return flights to Palma with Easyjet and Ryanair, from £76 www.pierreetvacances.co.uk Located to the east of the island in Porto Colom, this residence is 500m from Cala Marsal, a beautiful sheltered cove. There are two buildings of four and five storeys, each offering a wide range of services and activities: catering, bar, fitness room with jacuzzi, sauna and outdoor swimming pool with sun terrace.
Sheraton Gran Canaria, Saolbre Gold Resort, Canary Islands
October temperatures average 23°C Around four and a half hours' flight from London From £449 for 5 nights – price includes half-board stay and all travel included www.secretesccapes.com Perched on the rocky hillside in southern Gran Canaria, the five-star Sheraton Gran Canaria Salobre Golf Resort is in a peaceful spot overlooking the mountain and miles of ruggedly beautiful island landscape. The 36-hole Salobre Golf Course is next door and there's a shuttle bus to whizz you to the hotel's private beach club.
Asia Gardens Hotel & Thai Spa, Alicante, Spain
Tropical gardens with 160+ botanical species Beautiful private Thai spa cabins From £1778pp bed and breakfast, based on two people sharing www.asiagardens.es The five star Asia Gardens Hotel & Thai Spa in Alicante is a luxurious 311-bedroom five star property is located in one of the most privileged spots on the Mediterranean coast, 150 metres above sea level on the slopes of the Sierra Cortina. Here you will find contemporary luxury combined with the opulence of Indian and Thai palaces gone by – transporting you into another world where Asia meets the Mediterranean. The area surrounding the hotel enjoys a year round microclimate, guaranteeing stable, warm temperatures throughout the year. From the Balinese influence on the rooms, to the private Thai spa cabins and expanse of Asian-styled tropical gardens with spectacular views over the Mediterranean, everything is designed to bring complete peace of mind.
Quinta Splendid, Madeira
Less than four hours' flight from the UK Typical temperatures 23°C with eight hours of sunshine Nightly B&B rates from 95 Fly with Monarch from £69.99 one way www.quintasplendida.com Located in the peaceful cliff side village of Canico de Baixo, Quinta Splendida is home to one of Europe's largest Botanical Gardens and one of the largest spas on the island. The hotel offers 166 suites with gorgeous views over the Atlantic and nearby nature reserve Desertas Islands with a wide range of activities on the doorstep such as fishing, scuba-diving, levada walking, golf, cycling, whale-watching and hiking.