Over 55s surprising travel trends revealed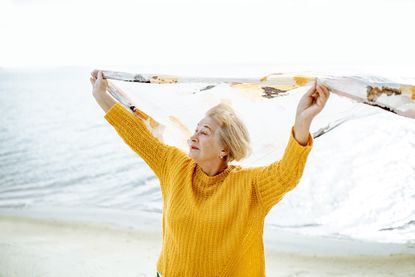 (Image credit: Alamy Stock Photo)
If you thought travel and adventure were only for the young, it turns out you were wrong…
One of our favourite holiday specialists has found some intriguing results after asking 1,800 over 55-year-olds about their holiday habits and bucket list wishes.
Riviera Travel (opens in new tab), who run escorted tours and river cruises around the world, asked keen travellers about the best age to travel, their bucket list destinations and who they'd prefer to travel with.
More like this: Over 60s travel ideas (opens in new tab)
The results show that that 72% of over 55s think travelling later in life is better than doing it before you're 35. "People often think that, as you get older, your appetite for exploration declines" says Will Sarson, head of specialist product at Riviera. "Our survey of British over 55s sought to prove that a sense of adventure doesn't diminish with age. And, so it has proved.
"Not only do a majority of over 55s have a travel must- see, but they can see that now is the best time to complete it. Free from the burdens of a young family and not limited by financial or work-related constraints, people actually find more freedom to explore in older age than when they are young."
The survey also revealed that most over 55s want to travel with their partner, but a solid 10% of them prefer to go it alone. It was women leading the solo travel brigade, with 15% of them more likely to want to travel alone to complete their bucket list.
More like this: The safest places for solo travel (opens in new tab)
Most wanted: the travel experiences the over 55s desire
Riviera Travel's study has now ranked the most popular bucket list items among the over 55s, which include everything from simple wine tasting experiences to full-blown adventure rail holidays.
Below you can see the full ranking.
See the northern lights
Ride the Glacier Express
Go wine tasting
Ride the Siberian Railway
take a safari
Drive Route 66
Go to the opera
Ride in a hot air balloon
Take a gondola trip in Venice
Visit a Yuletide Festival
In terms of destinations, Canada, New Zealand and Italy were at the top of travellers' lists – and who can blame them, all three have spectacular wine regions. Australia, the USA and Norway followed closely behind too. Who could resist the call of those fjords, really?
Lottie is an NCTJ-trained journalist, an experienced travel writer and an expert in creating compelling digital content.
Lottie has been in the travel writing business for nearly a decade and has writing and photography bylines at The Telegraph, The Times, The Independent, the i and National Geographic Traveller. She's done broadcast work for BBC Radio 4 and have contributed to a number of guidebooks and coffee table titles during her career.