Italy has named this beautiful island Capital of Culture for 2022, add it to your travel wishlist immediately
Let the daydreaming commence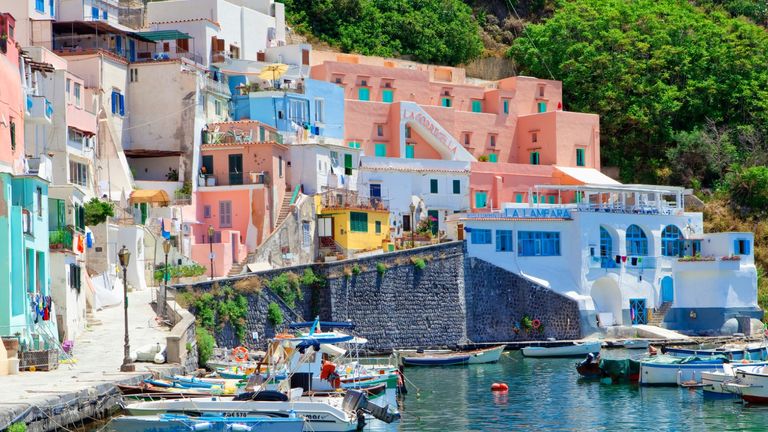 (Image credit: Getty Images)
Colorful Italian island Procida has just scooped the prestigious prize of Italy's Capital of Culture for 2022. 
The commune island, just off the coast of Naples in Southern Italy is known for its stunning landscapes and abundance of quaint, colorful houses, and as the smallest island in the Bay of Naples, it's one of Italy's best-kept secrets, until now.
Travelers in the know have been heading to Procida for years, along with film directors and writers who have been lured to the magical island for its unique aesthetic.  Over 30 movies have in part been filmed in Procida, including The Talented Mr. Ripley and The Postman, as well as scenes from the 1963 movie Cleopatra, featuring Elizabeth Taylor.
As the only island amongst the ten finalists in the competition for Capital of Culture, Dario Franceschini, Minister for Cultural Heritage and Tourism remarked, "It's a complicated year for everyone we are trying to support cultural and tourist activities in every way and today's designation of the Italian capital of culture for 2022 is a signal for the future and for recovery."
He continued, "In 2022 we will be back to normal and culture and tourism will be as important and strong as before the pandemic."
Read more from woman&home:
• Best Kindles to pack in your case
• Best yoga mats for all abilities
• Best mascara tried and tested by our experts 
The tiny island, with its distinctly local feel, features sandy beaches, pastel houses and beautiful churches, as well as an abundance of pretty coastal walks, all accessible without a car. 
Over the past year, with travel for the most part on hold, it's time to start dreaming once again, and, with places like blissful Procida out there it's fairly easy to let your mind wander.
Lydia is Lifestyle News Editor at woman&home
She writes about off-the-radar travel, food & drink, fashion, beauty and wellness.

Her travel writing has been published in BBC Good Food, Oh magazine, Harper's Bazaar, Town&Country and MailOnline.