How to use jojoba oil for hair that's silky smooth to the touch
Bye bye frizz.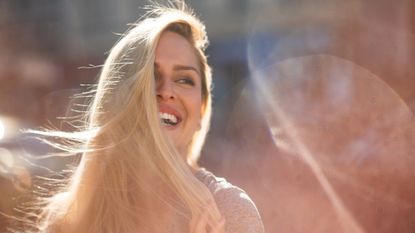 (Image credit: Martin Novak/Getty Images)
The idea of using jojoba oil on hair is likely to make those with finer strands balk at the idea. But if you regularly heat style your hair with the best hairdryer or best hair straighteners, or even just find your ends frazzled from indoor heating, then you might want to reconsider.
Unlike argan or coconut oils, jojoba oil is supremely lightweight. Why? Because it isn't really an 'oil' in the true sense of the word but rather a wax ester, which is similar in molecular structure and function to your skin's sebum. What this means in real terms is that your skin recognises jojoba oil when you massage it into the scalp, making it even more beneficial for taking down inflammation or dry flakes.
Additionally, jojoba oil is what they call a 'hair sealant' in the industry. Translation: it forms a protective film over the hair shaft, which traps moisture. And its sebum-like properties means it then washes away cleanly with shampoo so there is no oily residue to contend with afterwards.
All of which spells good news for those of us not follically blessed as jojoba oil won't weigh down fine, spindly strands. Its sebum-like quality also makes it a go-to for curly hair, which tends to suffer from dry ends as the sebum the scalp naturally produces isn't enough to make its way along the kinky lengths. Cue: frizzy ends.
How do you use jojoba oil for hair?
Probably the method with the least faff is to massage jojoba oil into your scalp and pull it through to your ends before bed. Then simply tie your hair up and let the nourishing liquid work its magic while you sleep.
Alternatively, fine or extremely damaged hair, would benefit most by adding 1-2 tablespoons of jojoba oil to your regular conditioner to ramp up its softening properties.
Fiona Embleton is a beauty writer who is now Acting Beauty Editor at Stylist. She is obsessed with Isabel Marant and cats.