Everyone's talking about Demi Moore's Fendi beauty look
Demi Moore made a surprise appearance on the Fendi runway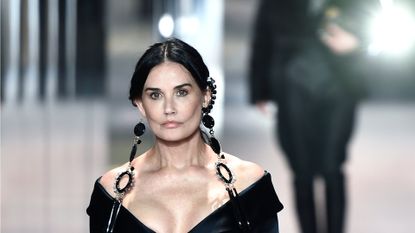 (Image credit: STEPHANE DE SAKUTIN/ Getty Images)
Demi Moore made a surprise appearance on the Fendi runway during Paris Fashion Week on Wednesday walking for the brand in a plunging off-the-shoulder jacket and matching wide-leg trousers, paired with long geometric earrings and cheekbones that appeared more defined than usual.
Artistic Director of Fendi, Kim Jones, revealed exclusively to Vogue, the show was dedicated to "strong women, intelligent women, who know what they're doing in their lives" and Demi certainly lives up to the description.
With her hair scooped back, all eyes were on those incredible glass and crystal ear cuffs and dramatic contouring.
What is contouring?
By using shading to enhance and define facial features you can 'carve' a make-believe line into your cheek.
In keeping with the idea of shadows, all that's needed is a contour powder with a grayish cast - in this case it looks several shades darker than Moore's actual skin tone. Be sure to avoid the yellow undertones from bronzer.
To achieve the contouring effect you simply suck in your cheeks and work a brush loaded with contour powder from the tops of the hollows inward, shading underneath the sunken area.
More on woman&home:
• Best mascara – lengthen, define and volumise your lashes with our favourite formulas
• Best eye cream: our favourite formulas for every skin type
• Best foundation: our favourite formulas for all skin types
There was also, of course, speculation over whether Demi had had facial surgery and fans took to Twitter to question Demi's appearance.
#DemiMoore what in Gods name have you done to your beautiful face?! #toofar #plasticnotfantasticJanuary 29, 2021
See more
Surgeon, Dr Maryam Zamani speculated, "She looks like she might have had buccal fat removed." During this type of plastic surgery, also known as cheek reduction surgery, the buccal fat pads in your cheeks are removed to reduce the width of the face.
Regardless of her appearance, we're just glad catwalks are possible again - especially when they're celebrating women over 40.
Fiona Embleton is a beauty writer who is now Acting Beauty Editor at Stylist. She is obsessed with Isabel Marant and cats.