Why I'm finally splurging on this stunning Le Creuset dish now it's hit the sales
Iconic kitchenware brand Le Creuset is offering 40% off some of its most beloved products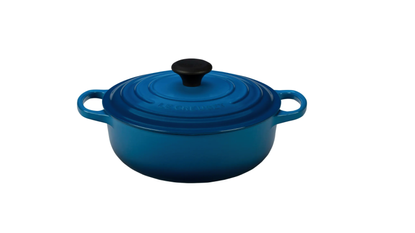 (Image credit: Le Creuset)
They say that if the kitchen utensil is right, the cooking (and food!) will follow—which is why I'm oh-so-excited about the major discounts that iconic brand Le Creuset is currently offering.
As part of an already-in-place Le Creuset Black Friday deal, the beautiful and functional brand is offering up to 40% off some of its most iconic products and, although I've considered investing in the mini round cocotte and, perhaps, some mugs, it is the signature 3.5-quart enameled cast iron sauteuse that I'm going after this holiday season. And I'm not looking back.
Why the excitement, you may ask? First off: Le Creuset's products are beautiful, undoubtedly enhancing the look of any kitchen they are in. I've actually been meaning to invest in a couple of items by the brand for a few years now but, given the fact that a lot of them are made with very delicate ceramic, I've opted against it. This year, however, I decided to take the plunge.
---
---
Originally $300, the signature cast iron sauteuse is now 40% off and will run me back $180. Sure, that's no chump change, but it's certainly worth the magnificent food I'll be able to cook inside of it—especially given the holidays that are around the corner.
I'll be braising some chicken in here and then using the pot to sauté the mushrooms and potatoes I'm planning to serve alongside the poultry when my family comes over next week. I'll, perhaps, even make my infamous vegetarian casserole too.
A note about the lid, which highly contributes to the exceptionality of Le Creuset products—the tight-fitting top is designed to circulate steam and make sure that all ingredients that are being cooked stay nice and moist. No more dry steak for me.
The pot is also dishwasher safe (like many of the best induction pans), which is always a plus. Full disclosure, though: given my love for the item, I'll likely be hand-washing it after the first few times I use it. I would rather stay away from the panic ensued by a potential dish washer-related damage
Unfortunately, this specific sautese is only on sale in blue, and not the signature flame orange color that has come to define the brand. Alas, the blue works pretty well in my tiny-but-mighty kitchen.
Needless to say, the pot makes for a great Christmas gift for anyone in your family—whether they be amateur chefs or more advanced cooks, Le Creuset offer some of the best cookware around—and just have something about them that can up everyone's cooking game.
Anna Rahmanan is a New York-based writer and editor who covers culture, entertainment, food, fashion and travel news. Anna's words have appeared on Time Out New York, the Huffington Post, Fortune, Forbes, Us Weekly, Bon Appetit and Brooklyn Magazine, among other outlets.