13 things I really love...Sophie Van de Vyver
In this series woman&home speak to women with inspirational style and find out the things that they really love and where to find them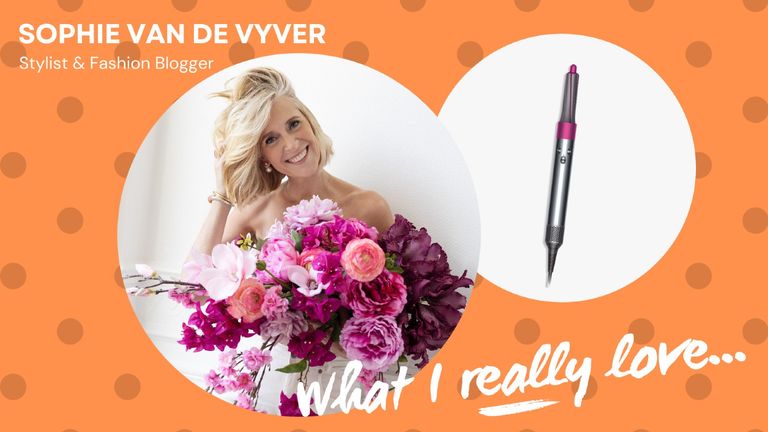 (Image credit: Future/Sophie Van de Vyver/Dyson)
When woman&home meet someone with envy-inducing style, we can't help but ask what they really love and where to find it.
Stylist and fashion blogger Sophie Van de Vyver is known for her chic Instagram posts, her excellent wardrobe, and how she effortlessly puts looks together. Here, she exclusively reveals the things that she really loves and where you can get your hands on them.
Three places I really love to shop
---
13 things Sophie Van de Vyver really loves
1. The Skincare I really love
My daily morning and evening skincare routine is based around the SkinCeutical products. For me, it's the perfect brand and the one I use daily. The range is known for its antioxidant properties and has plenty of options for all skin types.
2. The kitchenware I really love
I'm absolutely not a kitchen princess, but I like cute porcelain items like the ones made by Yvonne Ellen. They add color and classic style to any kitchen and bring vintage and modern style together so perfectly.
Yvonne Ellen Animal Tea Plates, set of 4: RRP $62/£45 View in 🇺🇸 at Yvonne Ellen | View in 🇬🇧 at Yvonne Ellen
This quirky set of Animal Tea Plates is the embodiment of the Yvonne Ellen style: animal life juxtaposed in original, colorful compositions. A variety of shapes and color backgrounds make these four collectible, as well as loveable.
3. What accessory I really love
My favorite jewelry, that I wear daily, is from the Italian design Sentido. As it's interchangeable, it's perfect to mix and match each day. They fuse ceramic with metal and as they're interchangeable you can make personalized jewelry that fits whichever look you've chosen.
Sentido bracelet silver: RRP $80/£59 View at Sophiestore
Sentido bracelet in silver. Handmade in Italy, so the bracelets may show some slight differences in the product. Also available in pleated gold. Beads can be bought separately.
4. What gadget I really love
My bag organizers from Samorga are something everyone needs. I'm a total designer bag lover and I have them in almost all colors and sizes. These organizers are interchangeable which means they can fit my bag collection!
Bag Organizer for LV NÉONOÉ MM:  RRP $59/£44 View at Samorga
High-quality felt organizer which will help keep your bag tidy no matter what. It's stain-resistant and also serves to give shape to your bag too.
5. Where I really love to escape
As I like to be at sea, for me it's all about hitting the water. So cruising is our favorite way to unwind and spend our vacations.
I love the combination of travel and relaxation provided by cruises.
Seabourn Luxury Cruises: Prices from $4,208/£3,149 View at Seabourn
Choose from a myriad of options and enjoy luxury on the seven seas. Seabourn has not only stunning trips across the Mediterranean Sea, Caribbean cruises of a lifetime but they also have incredible expeditions to the Arctic too. 
6. What haircare item I really love
My favorite haircare is from Hair Sisley. I love the quality of their products and how they combine incredible treatment with a commitment to sustainability.
7. The affordable fashion label I really love to wear
I'm a fan of Italian fashion labels as they are always ahead on clothing trends, easy to wear and effortlessly chic. I favor Liviana Conti and Twinset because they are all of the above and more!
Wool Cigarette Trousers: RRP £172 View at Twinset
Easy to wear and classic, these black wool trousers are perfect for day to night chic. 
8. What fragrance I really love
I love sweet candy perfumes as well as spicy scents. At the moment my perfume of choice is from the legendary French brand Hermès. Their Twilly eau Ginger hits all of my favorite notes.
Twilly Eau Ginger Eau de parfum: RRP $136/£111  View in 🇺🇸 at Hermès | View in 🇬🇧 at Hermès
Twilly Eau Ginger, the sparkle of the Hermès girls. A dazzling creation woven with three materials: a generous, vibrating peony, a bright candied ginger, a supple and lively cedar.
A floral, spicy, and woody eau de parfum.
9. What app I really love
I'm always on the gram so definitely an Instagram addict! It's a great way to share my style tips, ideas and favorite things. Also, I can keep an eye on emerging trends too.
Instagram: Join Instagram here 
Instagram is a popular photo-sharing app that lets you connect with brands, celebrities, influencers, thought leaders, friends, family, and more.
10. What I really love to drink at parties
Bubbles are always a good idea, and it's only bubbles for me! Moet Chandon is one of my favourite Champagnes and my drink of choice at a party.
View in 🇺🇸 at Reserve Bar
Moët & Chandon Rosé Impérial: RRP $58/£46 View in 🇺🇸 at Reserve Bar | View in 🇬🇧 at Clos 19
Rosé Impérial is a spontaneous, radiant, romantic expression of the Moët & Chandon style, a style distinguished by its bright fruitiness, its seductive palate and its elegant maturity.
11. What I really love to buy myself as a treat
I'm a true bag lover, especially designer bags those are my investment pieces in my capsule wardrobe for sure. My ultimate treat is a new designer bag every season. In order to make way for something new, I sell clothes and bags online and buy a new release. My current object of desire is one of the best Louis Vuitton bags—the Louis Vuitton Coussin BB bag—it's on my bucket list!
Coussin BB handbag: RRP $3,900/£2,730 View in 🇺🇸 at Louis Vuitton | View in 🇬🇧 at Louis Vuitton
The compact Coussin BB handbag is made from Monogram-embossed puffy lambskin and features a thin removable leather strap as well as a detachable, short chunky chain with translucent resin ornamentations. Body-friendly thanks to its soft foamed lambskin, the bag is a pleasure to carry. Versatile, this little bag is the perfect day-to-evening companion.
12. What I really love to update my home decor with
I love to stroll around at Maisons du Monde. You always find lovely, interesting decorations there—a simple way to update your interiors.
White and Black Dolomite Face Vase: RRP £11 View at Maisons du Monde
Made from Dolomite, this vase is a modern yet classic piece that can add extra pizzazz to your home.
13. What books I really love reading
Although I love reading, these days, I only really get time to read while on vacation. So when I do choose what to read, it has to be a Scandinavian crime thriller. The last one I read was Lazarus by Lars Kepler which I really enjoyed.
Lazarus by Lars Kepler: RRP $11.34/£5.90 View in 🇺🇸 at Amazon | View in 🇬🇧 at Amazon
An international best seller, this book covers a strange case. All across Europe, the most ruthless criminals are suffering gruesome deaths. At first, it seems coincidental that their underworld affiliations are finally catching up to them. But when two of the victims are found to have disturbing connections to Detective Joona Linna, it becomes clear that there's a single killer at work.
About Sophie Van de Vyver
Sophie Van de Vyver, @sophisticatedbox
Sophie—also known as Sophisticated Box—is a personal stylist, color advisor, fashion blogger, and 50+ role model from Belgium. With over 20 years experience, Sophie says her aim is to inspire her legions of followers daily with her 'sophisticated' lifestyle.
Aoife is Junior News Editor at woman&home.
She's an Irish journalist and writer with over 1500 bylines and a background in creative writing, comedy and TV production.
Formerly Aoife was a contributing writer at Bustle and her words can be found in the Metro, Huffpost, Delicious, Imperica, EVOKE and her poetry features in the soon-to-be-published Queer Life, Queer Love anthology.
Outside of work you might bump into her at a garden center, charity shop, hot yoga studio, lifting heavy weights or (most likely) supping/eating some sort of delicious drink/meal.