The Countess of Wessex gives a sneak peek inside her stunning royal home
Sophie, the Countess of Wessex gave fans a glimpse at her royal residence during a virtual award ceremony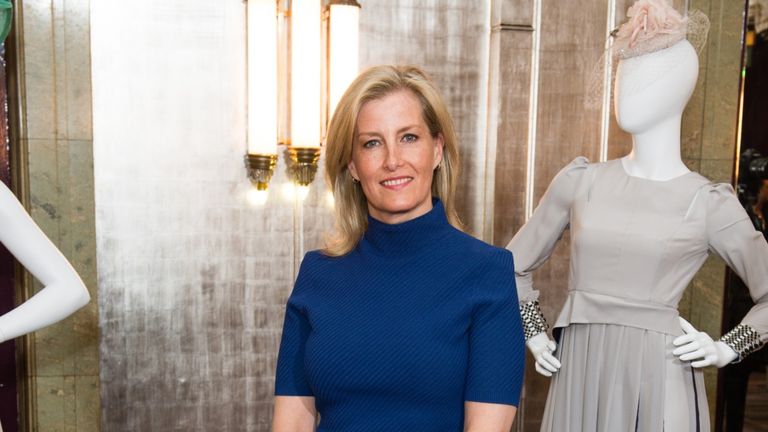 (Image credit: Jeff Spicer / Getty Images)
The countess of Wessex presented the Queen Elizabeth II Award for British Design and also gave fans a glimpse into her home while doing so.
• Sophie, the countess of Sussex and wife to Prince Edward, presented a fashion award to Priya Ahluwalia
• The virtual event gave fans an opportunity to see inside the royals home in Windsor
• This comes after the Royal News that Prince Harry and Meghan Markle are to help rebuild women's shelter in Texas
Sophie, the Countess of Wessex fulfilled her royal duties last night by presenting the Queen Elizabeth II Award for British Design. The award winner, Priya Ahluwalia, is just the fourth winner of the prestigious award since it began in 2018.
During the interview, the Countess of Sussex sat in front of some family photographs that gave fans a closer look at life in Bagshot Park, Prince Edward and Sophie Wessex's sprawling country home in Surrey.
Fans were quick to spot the adorable photo of the Countess and her husband Prince Edward. In the photo, the couple was hugging as the Countess rested her head on her husband of 21-years shoulder.
In another image, posted by the Royal Family Instagram, the Countess of Wessex stood in front of a dresser filled with ornamental plates. The surrounding area looked luxurious and surrounded by family photographs and gold-framed paintings.
Wedding photos from Prince Edward and the countess's wedding day in 1999 were also on display in the household. The Countess also has baby photos on display, presumably of her children, Lady Louise Windsor and James, Viscount Servern who are both teenagers now.
The Royal Family posted a screenshot of the virtual event and wrote, "Congratulations to Priya Ahluwalia, who has been named as this year's winner of The Queen Elizabeth II Award for British Design. Priya was virtually presented with the award by The Countess of Wessex this afternoon."
The Royal Family Instagram account also revealed the true meaning behind the award. The post stated, "The Award recognises the role of the fashion industry in society, and the talent of young British designers."
The Countess of Wessex is a patron of the London College of Fashion and therefore had a particular interest in presenting this award.
During the event, she spoke to award winner Priya Ahluwalia and CEO of the British Fashion Council, Caroline Rush, about how the pandemic has affected the fashion industry and their individual style preferences.
The Countess of Wessex revealed that she coveted the style of various celebrities. When asked whose style she admired, the Countess said, "Angelina Jolie - I always think she looks amazing - and also Queen Rania of Jordan always looks stunning."