Prince Harry and Meghan Markle to help rebuild women's shelter in Texas
Prince Harry and Meghan Markle have provided financial aid to a Dallas domestic violence shelter after it was destroyed by Storm Uri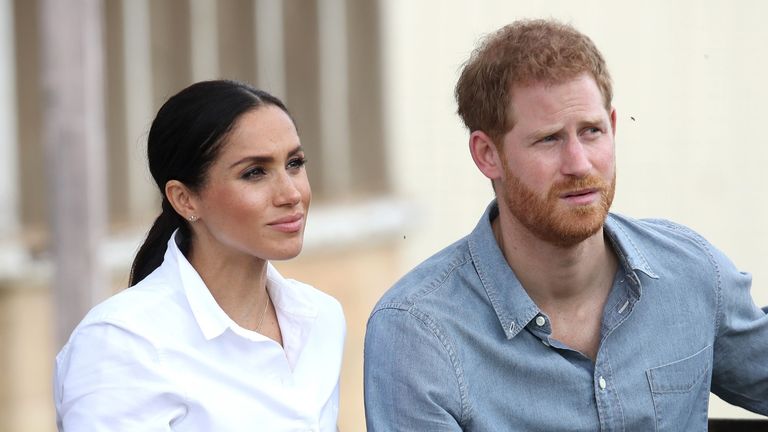 (Image credit: Chris Jackson - Pool/Getty Images)
By Emma Dooney
Prince Harry and Meghan Markle have donated to the Texas relief fund, following the state's devastating storm.
Prince Harry and Meghan Markle have contributed to the relief fund of a domestic violence shelter in Dallas. 
The shelter, which provides transitional housing for women and children, was severely damaged in Storm Uri. 
Prince Harry and Meghan Markle have contributed to the disaster relief efforts in Texas after the southern state was hit by a deadly storm last week.
The Duke and Duchess of Sussex, who are currently living in California, are confirmed to be helping with the reparations of a destroyed women's shelter in Dallas by providing essential financial aid. 
The Genesis Women's Shelter and Support, a charity that has been helping survivors of domestic violence for over 35 years, was forced to close after the ceiling and pipes at its transition housing unit were shattered by Storm Uri. The life-saving service, which provides emergency accommodation to over 650 women and children every year, has now been forced to find alternative accommodation for its residents. 
A spokesperson for Harry and Meghan provided further details on the couple's involvement with the charity to BAZAAR.com. They are apparently keen to fulfill the 'shelter's pressing need for resources to replace the roof and make repairs at Annie's House, their transitional housing facility for women and children.' The facility, which is located at a secret address in Dallas, consists of 19 apartment-style units, as well as counseling, conference, and office rooms. 
"The Duke and Duchess said to the Genesis team today that their hearts remain with the community, with the families Genesis serves, and with the volunteers and workers on the ground who selflessly provide care and support to those in need," the spokesperson continued. 
The couple will fund the reparations through their non-profit Archewell Foundation, which they launched in June 2020. 
In response to the generous donation, the CEO Genesis, Jan Langbein, released the following statement: "Today, we were notified that through the actions of The Duke and Duchess of Sussex's nonprofit, Archewell Foundation, Prince Harry and Meghan will make a donation to help us get back on our feet. Not only will this gift provide for our critical needs, it shines an international spotlight on violence against women and children, letting survivors know that they are not alone."
The news of the couple's latest charitable act comes in the midst of their highly publicized departure from royal life. The Queen officially confirmed that they are never coming back to the royal family last week, in a statement released by Buckingham Palace.