J. Crew's first home collection with Liberty London is too pretty for words
J. Crew and British print house Liberty London's first-ever home collection is filled with colorful and floral prints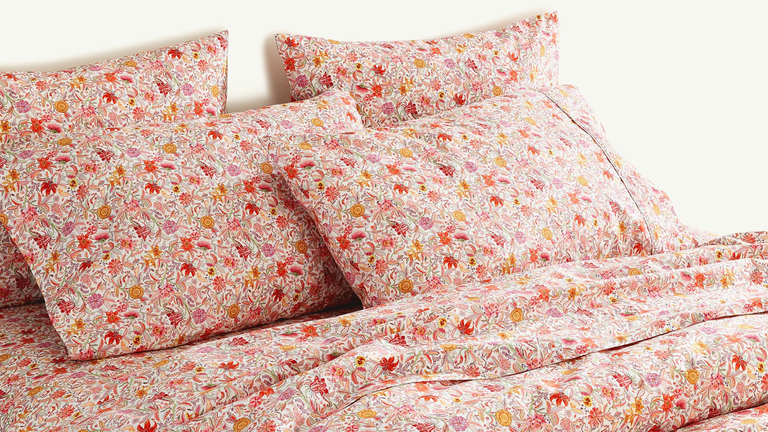 (Image credit: J Crew)
J. Crew and British print house Liberty London, known for its iconic floral prints, have joined forces to launch their first-ever home collection—and the results will make you want to redecorate immediately.
You'll only be able to shop the limited-time collection online at J.Crew, the American clothing brand always on fashionistas' radars, so you might want to start browsing through the offerings immediately.
There are a total of four creative prints to choose from: navy, white, purple blue and blue coral—each color functioning as the background to as super-fun, floral design.
---
Printed tablecloth ($80) | J. Crew x Liberty London
The dinner-party-ready tablecloth made with cotton is machine washable and boasts Liberty's iconic floral prints
The limited variety of prints will make it easier to browse through the substantially larger number of items available for purchase. The collaboration includes comfortable bed sheets sets (including some ideal for cribs!), stunning tablecloths, decorative placemats, useful napkins and cozy sleep masks.
The collection also features the sorts of products that are sure to jazz up your home–especially if you're into hosting: the two brands have released a fun two-sided puzzle, a beautiful note card set and playing cards that you'll want to keep nearby for when friends and family visit.
The best part of it all? The sleep masks, puzzles, note card sets and playing cards are currently 30% off (just use the code SPRING upon check out).
---
Price-wise, the other items aren't too steep and they are certainly worth the investment given the quality that both J. Crew and Liberty London customers are accustomed to. Although this is the first home collection that the companies have collaborated on, fans will notice that the four marketed prints aren't entirely new: a previous partnership between the brands birthed a slew of fashion items (cotton shirts! Dresses!) boasting the designs.
"J.Crew and Liberty work closely on our seasonal prints within clothing items, so we were excited to extend that partnership into home pieces," said Olympia Gayot, the head of women's design at J. Crew, in an official statement about the collection. "Liberty's prints are the essence of all that they do, and are so inspiring themselves, we wanted to bring this to life with the collection."
And so, if you've always dreamed of your bed sheets matching your pajamas, you're in luck: J. Crew and Liberty London's latest items will allow you to do just that.
Anna Rahmanan is a New York-based writer and editor who covers news, entertainment, lifestyle, culture, food, travel and more. Read more of her work at annabenyehuda.com.