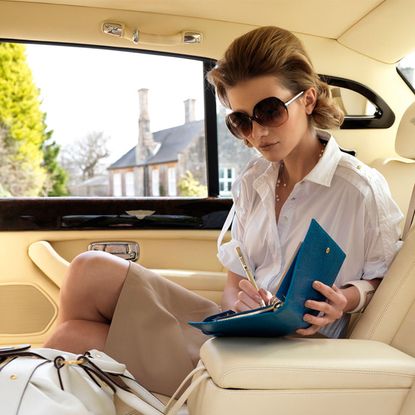 Stationery is suddenly upwardly mobile, probably because, when times are tight, most of us will plump for more affordable luxuries. British heritage firms, from Mulberry to Burberry, have never been more fashionable, and if you can point to the Prime Minister's wife as your chief creative driving force, while celebrating 125 years of trading this year, then Smythson can officially be said to have acceded to heritage super-brand status.
Not that Smythson of Bond Street was ever really less than smart, of course, having sold stationery to royalty and the stars since the firm's inception in 1887. But, only since 1996 and the advent of Samantha Cameron and her iconic handbags can it be said to have become a modern, British "notes to totes" superstar. And yet, most of the attributes of the contemporary brand can be identified in Smythson's early history.
Smythson's breakthrough moment
From the start, Frank Smythson sold a great deal more than stationery, from silver letter openers and jewellery to Christmas cards and sewing kits. The firm always sold handbags, among other fine leather work. And yet, the vast array of items sold by the early Smythson suggests a company that hadn't yet found its métier. This was to change when Frank considered the problem of the personal calendar.
In the early 20th century, diaries were vast desk-bound affairs that could scarcely be carted around an office. Then in 1908, Frank came up with "featherweight" paper, which had the thinnest gram opacity of any paper that could still be written on without ink seeping through. This meant pages could be written on both sides and so the portable personal diary - the Panama - was born.
Archivist Victoria Britton describes the diary as the brand's breakthrough item: "It was the first diary to be designed to be mobile. Before that, they weren't carried about. We like to think of it as the iPad of its time!"
The Panama's phenomenal sales helped the firm survive the harsh economic conditions of the First World War. With the innovation of the Wafer Diary, designed to fit in a woman's handbag, sales soared further and by the Second World War, Smythson was firmly established as stationer to the establishment and the Hollywood stars, with Ginger Rogers, John Wayne and Katharine Hepburn on the books.
Super-brand status
The visitor to today's Smythson's in Mayfair may therefore be surprised to see the diaries and cards are at the back of the store, while the front galleries are devoted to handbags. But since Sam Cam arrived, first as designer, then as creative consultant, has centred on the production of desirable, recognisable handbags.
She has kept the company's flashes of wit and whimsy, producing a Fashion Diary that is now a fixture on every front row, and quietly modernised the firm into a contemporary British heritage super brand.
In her current position, Samantha was involved in the creation of this year's Eliot range of bags, celebrating the brand's 125th anniversary. Although now she can only work two days a week, owing to her husband'spolitical commitment, and although Smythson has been bought by an Italian leather firm, there's no doubt the brand's quintessential Britishness and quirkiness will survive intact.