Why Duchess Camilla was 'trembling like a leaf' when she first met Prince William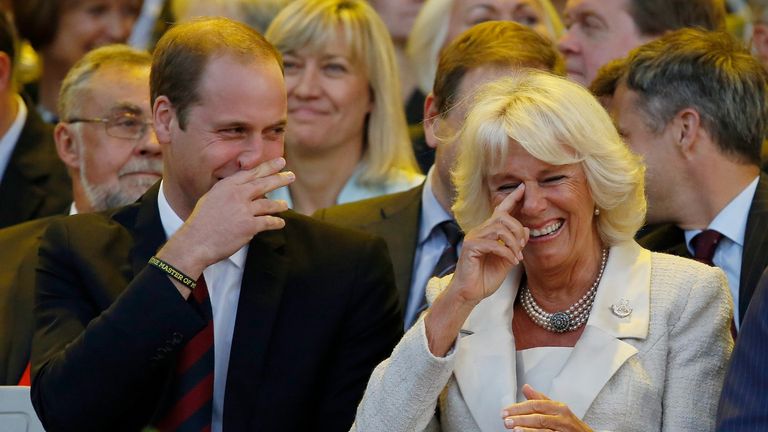 The Duchess of Cornwall was, by her own admission, "trembling like a leaf" the first time she met one of Prince Charles' sons.
Duchess Camilla was apprehensive ahead of her first meeting with Prince Charles' eldest son, Prince William.
Royal biographer, Robert Lacey, writes about the meeting in his new book, Battle of Brothers - which took place just months after Prince William's mother, Princess Diana of Wales, tragically passed away.
With rumours of a relationship between Camilla Parker Bowles and his father, Prince Charles, William was keen to acknowledge the woman who had captured his father's heart.
And so, aged 15 and in the summer of 1998, Robert Lacey recalls William returning home from Eton to surprise his father.
He writes, "Her first instinct was to bolt when Charles told her that Wills was on the way.
"But she powdered her nose, put on a brave face and smilingly bobbed William a curtsy."
With details of Camilla and Charles' relationship still largely under wraps, Prince William put her at ease by leading the conversation - according to the royal expert.
"It was William who led the conversation, Camilla recalled, trying to put her at ease with Gloucestershire talk of horses, the hunt and polo.
"After half an hour of the professional chit-chat in which the prince was already quite practised, the ever-composed teenager made his excuses and left for the movies.
"William appeared quite unruffled by the encounter - but the momentous meeting had left Camilla, by her own account, 'trembling like a leaf'."
While the Duchess of Cornwall has been accepted by both Prince William and Prince Harry, their mother's death affected them both greatly.
Recalling his own struggles with mental healthin a documentary Football, Prince William and Our Mental Health, the future King explained, "When you've been through something traumatic in life, that is, your dad not being around, my mother dying when I was younger, your emotions come back in leaps and bounds because it's a very different phase of life, and there's no one there to kind of help you."
While he now has a family of his own with Duchess Catherine and their three children, Prince George, Princess Charlotte and Prince Louis, he can still be caught off-guard by the grief.
"Emotionally, things come out of the blue that you don't ever expect or that maybe you think you've dealt with," the father of three explained. "Children coming along ... is one of the most amazing moments of life, but it's also one of the scariest."
Georgia studied Print Journalism at university in Nottingham, England before going on to work on several leading celebrity magazines, as well as freelance writing for international magazine Grazia Middle East. An enthusiastic, hard-working and ambitious writer, Georgia recently launched her own communications consultancy, farq media. As Director and Founder, Georgia helps businesses with their Public Relations strategy, as well as influencer and celebrity marketing. She also represents several influencers of her own. She lives with this motto in mind; "if your dreams don't scare you, they aren't big enough."