Prince William expresses fears for NHS 'heroes' and their mental health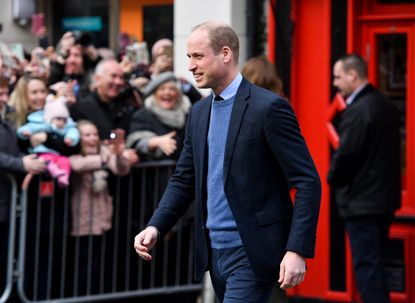 (Image credit: Sam Barnes)
The Duke of Cambridge has confessed he worries NHS frontline workers being labelled as "heroes" could affect their mental wellbeing.
Prince William said NHS workers fighting against coronavirus are "heroes" but we should use caution with the word
The future King likened it to soldiers in war who often feel like they "have to be this pillar of strength"
The Duke said frontline workers should feel able to ask for support with their mental health
Prince William has expressed his concerns over hailing NHS frontline workers "heroes".
While he said the label is justified and deserved, he fears they could feel pressure to be "this strong pillar of strength" and not ask for support with their mental health.
Warning that "caution" should be used in order to not "alienate" NHS staff, he said, "We made the NHS frontline staff, rightly, heroes.
"But in doing so, we once again, give them the burden that we gave our soldiers fighting in the war, where everyone was so grateful and wanted to show their appreciation as to their fighting for their freedoms and everything. And I think we've got to be very careful with the language that we use."
"They should rightly be hailed as superstars, and brave, and wonderful staff; but I'm very conscious from a mental health point of view that we don't alienate some of them.
"Where they feel that once they have this hero tag, they can no longer shake that, and therefore they can't ask for support, they have to be this strong pillar of strength, when actual fact what we need them to be is examples of positive mental health."
The Duke of Cambridge appeared on BBC's One Show on Thursday night ahead of the documentary, Football, Prince William and Our Mental Health.
He said while beating the pandemic is their job, we must not allow NHS staff to feel "broken" after the crisis is over.
"Doing the job, beating this pandemic, helping and caring for so many people, but also looking after themselves so that they come through this in one piece and we're not having broken NHS staff all over the country."
Georgia writes across Woman & Home and Good to Know and specialises in all things royal. Previously labelled the "Queen of the royals," Georgia knows the whose who and what's what when it comes to the monarchy. When she's not eagerly following the royal family, Georgia enjoys shopping and self-care. She lives with this motto in mind; "if your dreams don't scare you, they aren't big enough."