The shocking comments about Archie that made Oprah gasp in horror during Harry and Meghan interview
The show aired in the US last night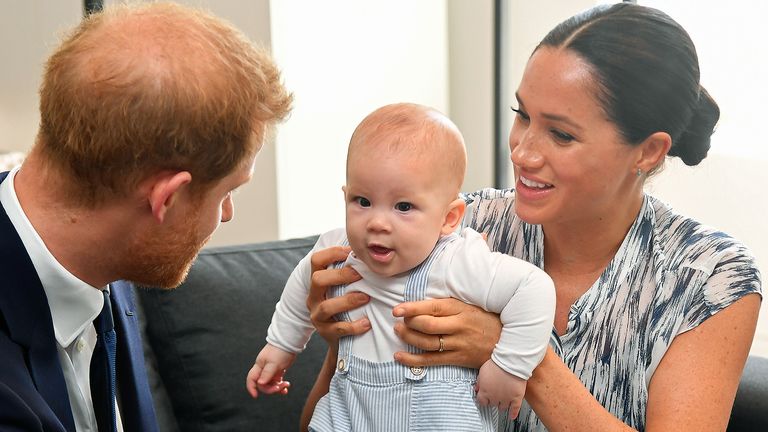 (Image credit: Getty)
Prince Harry and Meghan Markle made Oprah Winfrey gasp with Royal Family's shocking comments about baby Archie.
Prince Harry and Meghan Markle revealed shocking comments that were made about son Archie by the Royal Family.
The Duke and Duchess of Sussex left interviewer Oprah Winfrey visibly stunned when they revealed comments that were made about Archie's skin color.
Harry and Meghan's explosive interview with Oprah aired in the US last night, revealing some shocking recollections of Meghan and Harry's time in 'The Firm'.
The Duke and Duchess of Sussex sat down with the broadcasting legend to speak about their life together and the ups and downs they have experienced with the media and the Royal Family.
And there was one moment in particular that left Oprah physically shocked by what Duchess Meghan revealed.
When speaking about a conversation that took place about the couple's son Archie before he was born during the Duchess's pregnancy, a visibly stunned Oprah cut in and asked, "What? Who is having THAT conversation... with you? What? Hold up, hold up. There's a conversation with you..."
"With Harry," Meghan replied.
"About how dark your baby is going to be?" clarified Oprah.
"Potentially. And what that would mean or look like," Meghan replied.
Meghan explained that it was Prince Harry that was questioned about the potential skin color of the couple's son rather than herself.
However, the Duchess of Sussex would not reveal which member of the Royal Family had posed the question to her husband, as it "would be very damaging to them."
"In those months, when I was pregnant, all around this same time, we had in tandem the conversation of he won't be given security, he won't be given a title...and also concerns and conversations about how dark his skin will be when he's born," continued Meghan.
"That was relayed to me from Harry, that was from conversations that family had with him. It was really hard to see those as compartmentalized conversations."
"That conversation I am never going to share," added Prince Harry, "but at the time it was awkward, I was in shock."
"I've spent many years doing the work and doing my own learning," continued Prince Harry, acknowledging the racial bias that both his wife and son have experience in the past and are expected to face in the future. "But then my upbringing and the system, in which I was brought up in, and what I've been exposed to, I wasn't aware of it to start with. But my God, it doesn't take very long to suddenly become aware of it."