The secret estate Prince William and Princess Catherine have inherited following the Queen's death
Prince William and Princess Catherine have inherited a new estate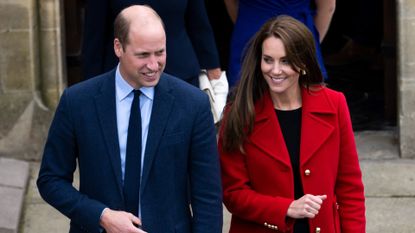 (Image credit: Getty)
Prince William and Princess Catherine have inherited a 'secret' home in rural Wales since the death of Queen Elizabeth II.
King Charles bought the home 15 years ago and enjoyed spending time there every year around St David's Day.
Llwynywermod Estate is now owned by William and Catherine.
---
Llwynywermod Estate is an ancient property situated in a corner of Carmarthenshire. It was bought by King Charles 15 years ago.
Following the death of the Queen, William and Catherine, who are now the Prince and Princess of Wales now owns the Duchy of Cornwall, a private estate established in 1337 by Edward III to provide independence to his son and heir, Prince Edward.
Kensington Palace has confirmed that everything which forms part of the Duchy Estate belongs to the Duchy of Cornwall, and that includes Llwynywermod Estate, which is situated in a corner of Carmarthenshire. The estate was bought by King Charles back in 2007 for a reported cost of £1.2m.
Charles and his wife Camilla would use the estate - which is made up of three cottages, a Grade-II listed barn and a main house - to enjoy breaks surrounded by 192 acres of the Welsh countryside.
Charles and Camilla used to spend time at the estate around St David's Day each March and during this time, Charles would have a packed schedule of duties around Wales. The royal couple also spent time there in April 2021 following the death of Prince Philip.
Charles reportedly spent as long as 40 years searching for the perfect country retreat before settling on Llwynywermod, parts of which can be booked out for vacations.
Llwynywermod boasts a sprawling main reception room with grand high ceilings and exposed wooden beams, plus three bedrooms, and a bathroom with cream walls and tiles. The interiors were designed by Annabel Elliot, who used predominantly local furniture, textiles and objects.
The stunning estate is surrounded by 192 acres of Welsh Countryside, which includes six English field maples, and locals say that Charles would attend church services on Sunday mornings with minimal fanfare, donated prizes for local raffles, and even officially opened the new village hall.
Robyn is a celebrity and entertainment journalist and editor with over eight years experience in the industry. As well as contributing regular to woman&home, she also often writes for Woman, Woman's Own, Woman's Weekly and The Sun.