The Duchess of Cambridge's wedding bouquet featured a flower called Sweet William and hinted at the couple they were to become years later
Prince William and Catherine are celebrating their 12th wedding anniversary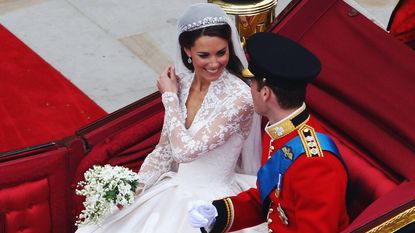 (Image credit: Georges De Keerle/GP/Getty Images)
Just one week before his father's coronation, Prince William is celebrating something more personal this weekend – his 12th wedding anniversary to Catherine, Princess of Wales. The pair were wed on Saturday, April 29, 2011 in one of the most anticipated weddings in modern history. While most of the details have been well covered, there are still some surprising touches that reveal just how intimate the day was for the pair, despite all the grandeur.
On their 12th anniversary, we look back at William and Kate's wedding day – and the sweet thought Kate put into her bouquet
Kate chose a lot of seasonable flowers, which many saw as a promotion of reusability and eco-friendliness, proving that the latest drive for sustainability was always close to their heart
---
The Prince and Princess of Wales shared a new photo with their many fans on social media this morning, revealing a never-before-seen snap of the outdoorsy couple looking sun-kissed and relax on a family outing.
The photo was shared to mark their 12th wedding anniversary, and it certainly looks like the pair are just as happy as they were on that iconic wedding day at Westminster Abbey.
From William's first words to Kate to the details behind her stunning wedding dress, there's so much we already know (and love!) about the day, but there are still some details that often get overlooked.
Like the flowers. Nothing was accidental about the floral arrangements on the day, and it was actually one way Kate could make such a spectacle feel more personal and special for the pair.
Kate's bouquet included Lily of the Valley, myrtle, ivy, hyacinths, and lilacs.
However, the real delight she snuck in was a little message to her husband, with the flower Sweet William included.
All of the flowers were in season and it was thought that the overall effect was intended to feel like a country wedding - something small like the couple apparently craved.
The other nod to this was the oak leaves featured in Kate's earrings – a reference to her beloved Berkshire hometown.
The flowers for the day overall were reported to have cost a staggering £800,000, which included the cost of transporting a collection of homegrown trees inside the Abbey for a touch of spring freshness.
Kate followed something known as Queen Victoria's "language of flowers" when choosing them. Queen Victoria and Prince Albert were known to use the symbolism of flowers to express their love for each other and their family.
With Kate's flowers, the flowers could be read as messages to those looking for them. The signature lily of the valley means trustworthiness and myrtle means hope and love, as an example.
Another message, though more subtle, was one of their principles. Kate intentionally chose local, seasonal flowers to promote a sense of sustainability, it's thought.
"The choice of British flowers - and of living trees that can be replanted - is very green, very zeitgeisty. And in that old-fashioned royal way, Kate and William have used this opportunity to encourage people to buy British. I'm very pleased," said Georgie Newbery, a prominent British florist at the time.
Jack Slater is not the Last Action Hero, but that's what comes up first when you Google him. Preferring a much more sedentary life, Jack gets his thrills by covering news, entertainment, celebrity, film and culture for woman&home, and other digital publications.
Having written for various print and online publications—ranging from national syndicates to niche magazines—Jack has written about nearly everything there is to write about, covering LGBTQ+ news, celebrity features, TV and film scoops, reviewing the latest theatre shows lighting up London's West End and the most pressing of SEO based stories.