Blue or green? Why everyone is talking about the Queen's dress
Do you think it's turquoise blue or mint green?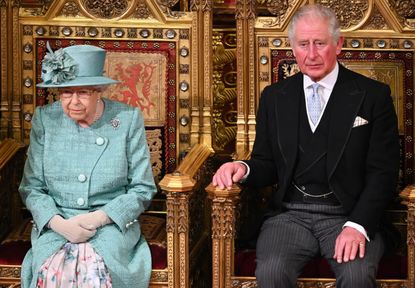 A dress worn by the Queen has left the nation divided - just when we thought tensions couldn't get any worse.
The monarch opened Parliament today but (for once) it wasn't politics that got viewers talking - it was the colour of her dress.
The garment sent Twitter users into a frenzy - with many comparing the item to the famous white and gold/black and royal blue viral dress of 2015.
Some viewers saw the Queen's dress as blue, whereas other could clearly see green.
Many took to social media to voice their thoughts and confusion.
One person tweeted, "The Queen looks like the green triangle that no one eats at Christmas."
While another said, "The Queen looks chuffed she's wearing blue."
Someone else commented, "Brexit blue dress for the Queen?"
The 93-year-old arrived at the Houses of Parliament to give the Queen's speech to mark the State Opening of Parliament - following the Conservative Party's victory in the general election.
But many were quick to point out that the Queen was sporting a "dressed-down" look, compared to the previous State Opening of Parliament earlier this year - when Boris first became Prime Minister.
Back in October, Queen Elizabeth II wore a formal regal white gown and a crown to mark the occasion. So people were quick to comment that she appeared a lot more casual for this event.
One person tweeted, "Dress down Thursday for the Queen, who is going without ceremonial robes for her second Queen's Speech in as many months."
Others also noted that she wasn't wearing the blue and yellow outfit she sported at the ceremony in 2017 - the colours of the EU flag.
The Queen opened her speech this morning by saying that the Conservative government would ensure the UK left the EU by the proposed deadline of January 31 2020.
The Queen's Speech at these events is written by the Prime Minister, but MPs are then able to debate its content.
Lizzie Thomson is a regular contributor to woman&home, and also contributes to Metro.co.uk, Ideal Home, Culture Trip, and Evening Standard, covering all things lifestyle.