Princess Catherine's 'very clever strategy' for when it comes to her outfits
Princess Catherine's style strategy is 'very clever' according to one royal fashion expert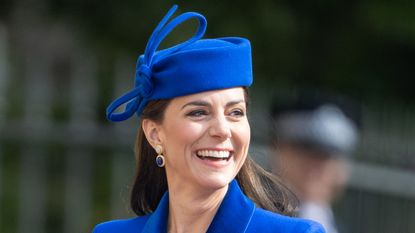 (Image credit: Getty Images)
Princess Catherine has used a 'very clever strategy' during her time in the royal spotlight to ensure she has never outgrown her regal fashion sense, according to an expert.
The Princess of Wales is said to have used a smart strategy to make sure her style has always had her prepped for her future role as Queen.
A royal fashion expert has pointed out how Princess Catherine's style hasn't changed much over the years, allowing her to really grow into her look.
---
Kate Middleton's dresses, her heels and her jewelry collection are the envy of royal fashion lovers all over the world, with the Princess of Wales having gained a reputation for being seriously influential when it comes to what she wears over the years.
Having officially joined the royal fold when she married Prince William in 2011, Princess Catherine and her fashion choices have been a seriously hot topic over the years - with everything from her sparkly crystal-embellished heels to her burgundy Karen Millen trench dress impressing royal fans.
Now, a royal expert has pointed out that Princess Catherine has been rather clever with styling herself over the past decade or so, seemingly focussing on her future as Queen Consort.
The Princess of Wales will become Queen when Prince William, who is first in the royal line of succession, eventually takes the throne after his father, King Charles.
According to journalist Tessa Dunlop, Catherine makes 'evergreen' outfit choices and has a fashion sense that seemingly hasn't changed much since she became a royal all those years ago - and that's helping her fit into her role as future Queen more and more.
"Kate's look is really evergreen, where I think for about ten years, she styled herself as older than she is," Tessa told the Daily Mail's Palace Confidential, "So now she's entered her fifth decade, and it's like 'wow, she is rocking that look.' And it's a very clever strategy."
She added, "It's almost as if [Princess Catherine] is growing into her look and her role."