Princess Catherine's 'gown' warning to Prince William in order to avoid coronation mishap revealed by lip reader
A lip reader has deciphered the moment Princess Catherine gave Prince William a warning over her coronation gown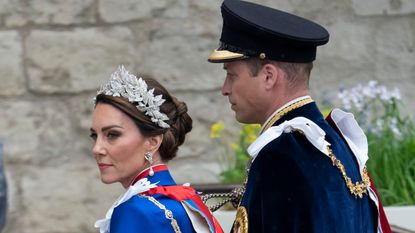 (Image credit: Getty Images)
Princess Catherine's warning to Prince William during King Charles III's coronation ceremony has reportedly been revealed by a lip reader.
Princess Catherine is said to have given Prince William a warning in order to avoid an awkward mishap at the coronation ceremony.
According to a lip reading pro, the Princess of Wales ordered her husband to be careful of their gowns, likely amid fears of tripping during the proceedings at Westminster Abbey.
In other royal news, the job Prince Louis wants when he 'grows up' isn't out of the question like Prince George's 'dream' career.
---
While King Charles III's long-awaited coronation ceremony provided royal fans with utterly lovely moments such as Prince Louis and Princess Charlotte's sweet sibling moment, Prince George taking on a special role as Page of Honor and Princess Catherine mirroring her daughter in matching tiaras, the Wales family were undoubtedly under lots of pressure on the day.
With Princess Catherine looking ethereal in her white Alexander McQueen dress and Prince William channeling serious heir energy, the Prince and Princess of Wales both wore regal, ceremonial mantles that made their arrival at Westminster Abbey a little more hazardous.
Both Kate's Royal Victorian Order mantle and William's Order of the Garter mantle feature luxe, floor-length gowns - and it seems Catherine was concerned by the potential of tripping, according to a lip reader.
As the Prince and Princess of Wales arrived at the Abbey with Princess Charlotte and Prince Louis beside them, the family prepared to begin the procession into the iconic venue, which hosted Kate and William's wedding day back in April 2011.
According to pro lip reader Jeremy Freeman, Kate told William to "just mind the gown".
Speaking to the Daily Star, Jeremy claims that Prince William replied, "Don't worry. I've got [or caught] it."
Luckily, the coronation ceremony went smoothly with Kate and William avoiding any trips. However, it's also been claimed that an irritated King Charles complained of boredom while he was waiting for the Wales family, who were late for a rather relatable reason, to show up.
As the new monarch sat outside of the Abbey in his carriage, five minutes behind schedule, he is said to have ranted to Queen Camilla, saying, "We can never be on time."
According to a lip reader who spoke to Sky News, the King then added, "There is always something. This is boring."