Princess Anne was mistaken for Prince Charles and her reaction was excellent
The Princess Royal's response to being mistaken for her brother was hilarious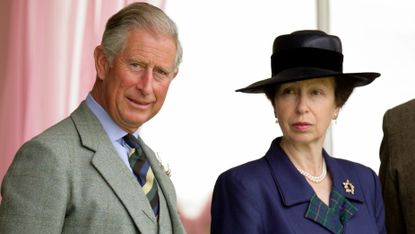 (Image credit: Photo by Indigo/Getty Images)
Princess Anne is known for being a royal with a cheeky sense of humour and she had a fantastic response when she was mistaken for her older brother, Prince Charles.
Princess Anne was mistaken for her older brother, Prince Charles at an official engagement and she had a brilliant response.
The Princess Royal's quick wit left fans praising her wonderful "down to earth" nature and pointing out that Princess Charlotte is likely set to grow up to be just like her.
---
The Queen's daughter was sure to show a glimpse of her funny side and famous light hearted streak when she was once mistaken for her older brother, Prince Charles.
At an official royal engagement back in 2012, Princess Anne was wrongly introduced by speaker David Bolton as "Her Royal Highness, the Prince of Wales".
The Prince of Wales is, of course, the official title of future King and Anne's older brother, Prince Charles.
Luckily, Princess Anne, who is regularly dubbed the hardest working royal, saw the funny side to the introductory slip-up and began laughing with the rest of the room.
As the Princess Royal, who resides on the Gatcombe Park estate in Gloucestershire, rolled her eyes at the blunder, David explained, "It's the excitement!"
Playfully replying, Anne added, "There's a worry!"
Going on to assure the crowd that she and Charles have been mixed up in the past, Princess Anne recalled a time when the heir to the throne was mistaken for his sister by a royal fan, thanks to his traditional Scottish attire.
Anne recounted, "My brother tells a story of having visited an elderly care home in Scotland, and at the time he was in a kilt.
"He actually heard, when he was engaged in conversation down the other end, an old lady saying, 'Is that the Princess Royal?'
"Thought it was quite funny. And I am wearing trousers today," she went on, thoroughly excusing David's mistake.
A video clip of the moment has been shared on social media, capturing the attention of plenty of Princess Anne fans, with many applauding her relaxed and laid back personality.
"She is wonderfully down to earth," one wrote online.
"She does have a wonderful sense of humour," added another.
"What a good spot she is," a third chipped in.
One more pointed out that they can envisage Anne's great-niece, Princess Charlotte, growing up to have a similarly happy nature, writing, "Why can I see this being Princess Charlotte in many years to come?"
It does seem likely that little Princess Charlotte will grow up to be as famously confident as Princess Anne, with the Prince William and Kate Middleton's daughter already earning a reputation for her feistiness.
While Princess Anne's rare royal title might be passed onto Princess Charlotte in recent years, the second born Cambridge kid appears to be on her way to inheriting her great-aunt's bold and cheeky ways.
The Princesses are both the second born sibling and have older brothers that are likely to be King some day — and royal experts predict Charlotte will thrive in the "spare to the heir" role that Anne also took on.
"She's the most outspoken of the Cambridge children because she's got a huge personality," royal journalist Katie Nicholl told The Mirror.
"Charlotte is the most buoyant and outgoing of the three Cambridge children. It's that strength of character that will stand her in good stead when she's older."