Princess Anne awarded star role at King Charles III's upcoming coronation
Princess Anne's prestigious role in the coronation has a very important and sentimental meaning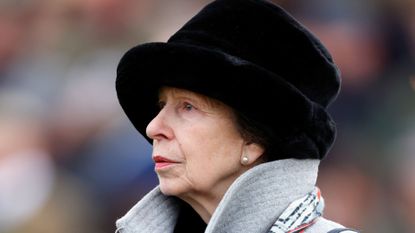 (Image credit: Max Mumby/Indigo/Getty Images)
Princess Anne is said to be "incredibly honored" after being awarded a starring role at King Charles III's upcoming Coronation.
Princess Anne will take on the prestigious role of 'Gold-Stick-in-Waiting' for her brother King Charles III's upcoming Coronation ceremony.
The starring role has historically been given to the person most trusted by the monarch as the 'Gold-Stick-in-Waiting' is entrusted with their personal safety.
---
The big event may be less than a month away, but we are all still waiting in anticipation to get confirmation of everyone who is invited to King Charles' coronation, which will take place on May 6. It's a given that most of the immediate and extended Royal Family will make an appearance but exactly what roles each of them will play is still largely yet to be seen.
While some speculate over Princess Eugenie's reported 'unofficial role' and Kate Middleton prepares Prince George to take on his confirmed job as Page of Honor, it has now been reported that Princess Anne, King Charles III's younger sister, has been awarded a starring role in the historic ceremony.
In honor of her 'loyalty' and 'unwavering devotion to duty,' Princess Anne has been handed the prestigious job role of 'Gold-Stick-in-Waiting' and will feature prominently in the Coronation procession from Westminster Abbey.
The prestigious 'Gold-Stick-in-Waiting' is a position that has historically been handed to a person who the sovereign trusts fiercely as they are tasked with ensuring their personal safety.
Also known as a 'personal aide-de-camp' to His Majesty, as 'Gold-Stick-in-Waiting,' Anne will travel on horseback behind Charles and Camilla as they ride in the Gold State Coach back to Buckingham Palace after they are both jointly crowned at Westminster Abbey. The Princess Royal will lead the large procession of 6,000 armed services personnel in a show whose extravagance will not only look brilliant but work brilliantly to protect the Monarch.
According to royal sources who spoke to The Mirror about Anne's new role, The King reportedly personally told his sister of his wish for her to take the prestigious title and that she was "incredibly honored" to be taking on the role.
For some royal insiders, Anne's starring position is no surprise. The King often leans on Anne as his most trusted lieutenant and often goes to her for advice as he is a fan of her "no-nonsense attitude".
A 'well-placed palace source' told The Mirror, "The direction of the King's decision is clear for all to see. He is rewarding the Princess Royal for her loyalty and her unwavering devotion to duty above all else. The King values his sister as a trusted lieutenant and this is the perfect example of such a relationship."
With Anne as his 'Gold-Stick-in-Waiting,' Charles knows he will be in good hands. As colonel of the Blues and Royals cavalry regiment of the British Army, and as part of the Household Cavalry, Anne has experience in holding such responsibilities as do come with her Coronation role and she has executed the exact role of 'Gold-Stick-in-Waiting' during many previous state and ceremonial occasions.
The Princess was the former personal Aide-de-Camp to her mother the late Queen and for several years rode on horseback during the Trooping the Colour celebrations in London that marked The Queen's official birthday.
With Anne at the helm, the impressive procession from Westminster Abbey to Buckingham Palace following the Coronation ceremony will boast members of the Armed Forces from across the Commonwealth and the British Overseas Territories, as well as all Services of the Armed Forces of the United Kingdom, alongside The Sovereign's Bodyguard and Royal Watermen.
Charlie Elizabeth Culverhouse is royal news and entertainment writer. She began her freelance journalism career after graduating from Nottingham Trent University with an MA in Magazine Journalism, receiving an NCTJ diploma, and earning a First Class BA (Hons) in Journalism at the British and Irish Modern Music Institute. She has also worked with Good To, BBC Good Food and The Independent.